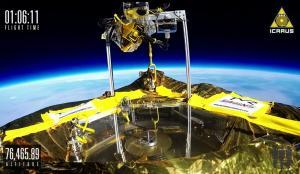 On July 2nd, Third Man Records made history once again by successfully launching and playing the first vinyl record in space. The result of three years of planning, Jack White's record label was able to launch their Icarus Craft turntable via balloon, playing Carl Sagan's "A Glorious Dawn."  The craft ascended to a maximum altitude of 94,413 feet following 81 minutes of flight time, with the record playing throughout (on repeat).
During the craft's return from the beckoning call of space back to the comforting arms of Mother Earth, the record continued to play, and in fact, it was still playing when people reached the craft in its resting place in a vineyard.
The effort was made to celebrate the 3 millionth album pressed by Third Man Records, as well as their seventh anniversary. Regarding the launch, Jack White said, "Our main goal from inception to completion of this project was to inject imagination and inspiration into the daily discourse of music and vinyl lovers. Combining our creative impulses with those of discovery and science is our passion, and even on the scale that we are working with here, it was exhilarating to decide to do something that hasn't been done before and to work towards its completion. And, it brings us great fulfillment to pay tribute to the incredible scientist and dreamer that Carl Sagan was. We hope that in meeting our goal we inspire others to dream big and start their own missions, whatever they may be."
Third Man Records are known for being on the cutting edge of what's new in the vinyl universe. They have been on the forefront of preservation of music that was thought to have been lost forever, as well as old masters in need of some love, and rediscovered treasures from days long since passed.