Editor's note: Since this article was first published, we've added two more acts, making it 14 in all. We've also added links to music videos for each artist so that our readers' can enjoy the music as much as we do. Note that links to videos will OPEN IN A NEW WINDOW.

For a few years now, there has been a ripple in the deep waters of the music known as soul. True soul music hearkens back to the 1950s and early 1960s when black artists were combining blues, jazz, doo-wop, gospel and r&b into a brand new genre. Soul was the music of pride in being black in America. It was the African-American, urban experience, sung in a gospel style, with secular lyrics.
The artists who founded soul became household names. James Brown, Ray Charles, Aretha Franklin, Sam Cooke, and Otis Redding, were but a handful of the hundreds of artists who popularized soul to a world-wide audience. Soul seemingly came from everywhere. New York, Chicago, Detroit, New Orleans, Memphis, Philadelphia, Muscle Shoals, and Jackson were the major meccas. Labels such as Stax, Motown, Atlantic, Malaco, and Hi were cranking out the music that dominated the r&b charts and crossed over to the pop charts with relative ease. At least a dozen sub-genres formed and it crossed the Atlantic Ocean, catching on with British artists, who brought it right back to the states.
Today, that ripple has become a wave of "new, old soul," crashing onto the radio airwaves, festival stages, and music charts. The artists are from varied races and backgrounds, having one thing in common: Soul. Here is a list of some of the acts bringing the genre back to life, that we believe you should check out immediately.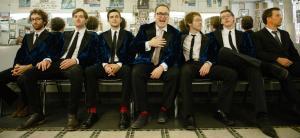 St. Paul and the Broken Bones – Click here for music video. In 2012 this original sextet formed in Birmingham, Alabama, with lead vocalist Paul Janeway at the helm. Janeway grew up in a devout Christian family, listening only to gospel music and the occasional Sam Cooke or Stylistics record. Groomed to be a preacher, he sang in his church choir, but didn't start singing lead until performing at some local open mic nights. He also met band mate Jesse Phillips around that time and soon began writing original material. The Broken Bones are made up of guitar, bass, drums, keyboards and horn section. Their first EP, Greetings From St. Paul and the Broken Bones, released before they ever played a live gig, garnered them a great deal of attention from managers and labels. In 2014, their debut album, Half the City, gained a lot of media attention and hit the Billboard 200 in its first week of release. Once the horn players graduated college, they began a full-tilt touring schedule, both in the US and abroad. We caught a live show of theirs recently, as they blew the roof off the legendary Knuckleheads Saloon. It was their second time playing in Kansas City. The first was for a group of fewer than 200 people in a small club. This night was a sold out show of screaming fans. Look for their sophomore LP, Sea of Noise, to be released next month.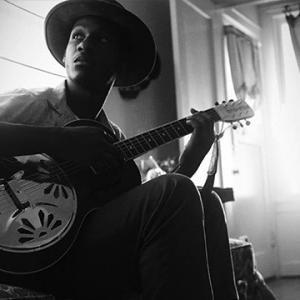 Leon Bridges – Click here for music video. Leon Bridges was 26 years old and working as a dishwasher in Ft. Worth, Texas when he was signed by Columbia Records in 2014. He had released a couple of original songs on Soundcloud in the latter part of the year. One of them, "Coming Home," got some radio airplay and before he knew it, 40 labels were vying for his music. Bridges says he, "loves the realness and simplicity of soul." "I'm not saying I can hold a candle to any soul musician from the '50s and '60s," Bridges says, "but I want to carry the torch." Carry the torch he does. His debut album, Coming Home, was released in June of 2015 with the title track having been released as a single 4 months prior.  Since the album's release, Bridges has toured the US and the UK. He's performed at SXSW, the Sundance Film Festival, Apple Music Festival, had his music in an Apple iPhone6 commercial, recorded with Macklemore & Ryan Lewis, and been nominated for a Grammy. He adds to the mystique by wearing vintage clothing during live performances.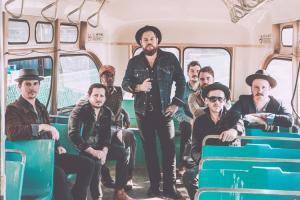 Nathaniel Rateliff & The Night Sweats – Click here for music video. Nathaniel Rateliff was raised in rural Missouri. He learned to play drums at age seven and taught himself guitar as a teenager. It was then he also began writing original, folk-based songs. At the age of 18, he moved to Denver to do missionary work. He also formed his first band, The Wheel, and in 2007, they released Desire and Dissolving Men. As a solo artist, he released 2 albums, In Memory of Loss, in 2010 and Falling Faster Than You Can Run in 2013. He toured with The Lumineers and shared the stage with artists including Iron and Wine, Mumford & Sons, Roseanne Cash, and many others. His course changed, yet again, when he formed The Night Sweats and released the eponymous debut album on Stax Records in August of 2015. Driven by the hit song, "S.O.B.," the 11 track, all original release broke into the Billboard Top 200 and scored in the Top 10 of the Alternative, Rock, and Folk album charts. It also landed in various Top 100 positions in charts all over Europe and Australia. Keeping a bit of his folk style intact, he has been compared in songwriting skills to Chuck Berry, Van Morrison and Otis Redding. Most recently, Rateliff starred in a Kia Soul commercial featuring other musicians from a variety of world genres. They are also scheduled to appear at the upcoming Roots N Blues N BBQ Festival in Columbia, Missouri before an extensive, month-long European tour.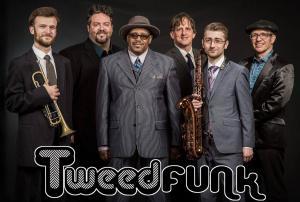 Tweed Funk – Click here for music video. The Milwaukee, Wisconsin-based, 6 piece soul-blues revue is led by none other than Joseph "Smokey" Holman, who had recorded for Stax, Motown, and CurTom Records, under Curtis Mayfield, all before he graduated high school. The group has released 4 albums, Bringin' It, in 2011, Love Is, in 2012, First Name Lucky, in 2014, and their latest hit album, Come Together, just a couple months ago. Their sound is soul, funk, and blues, and wrapped up in a package that's tighter than Dick's hatband. Veteran musicians, JD Optekar on guitar, Eric Madunic on bass, drummer, Dave Schoepke create the near flawless rhythm section, while Travis Drow on trumpet and Andrew Spadafora on sax, bring the sound of Memphis on their horns. Every artist in the band is an award winner in their own right, and while backing Holman, they are pure bliss. Some recent news from the group is that Holman is currently fighting multiple myeloma cancer. Ever the optimists, Holman is undergoing stem cell treatment for the disease, and while the band is on hiatus for the remainder of the year, they are looking forward to a triumphant return to the stage in 2017.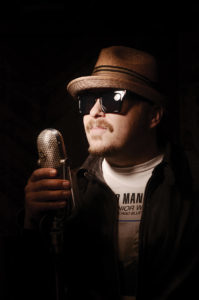 John Németh – Click here for music video. Growing up in Boise, Idaho didn't keep Nemeth from a career in soul and blues. Like many of his predecessors, he began singing in church, then playing in local groups throughout his teenage years, finally forming Fat John & the 3 Slims. For almost a decade, he performed between 5 and 7 nights a week, and by 2000, he was backing Junior Watson and fronting his own band, The Jacks. A soulful vocalist and talented harmonica player, Nemeth self-produced and released his first two albums; The Jack of Harps, in 2002, and Come and Get It, in 2004. Six more albums followed 3 of which were on the Blind Pig label. He's opened for artists such as Keb' Mo' and Robert Cray and backed Watson, Anson Funderburgh, and Elvin Bishop. Currently headquartered in Memphis, Nemeth recorded his most recent album, Memphis Grease, with the legendary Bo-Keys, who backed such original Memphis soul artists as Isaac Hayes, Bobby "Blue" Bland, Ike Turner, O.V. Wright, Rufus Thomas and Syl Johnson. The 2014 release won the BMA for Best Soul Blues Album and Nemeth was also nominated for BB King Artist of the Year. "When it comes to more traditional styles of music, people expect to hear a tribute record. But you can get into a real rut if you're just doing rewrites," Németh says. "We're creating fresh music here. Our arrangements sound just like they would back then, but what we're doing is so much more innovative."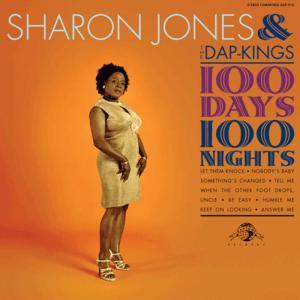 Sharon Jones & The Dap-Kings – Click here for music video. This is a 10-piece soul and funk band, made up of the remains of two former groups; The Soul Providers, and The Mighty Imperials. Based in Brooklyn, New York, they're led by singer, Sharon Jones, who was born and raised in North Augusta, South Carolina, and whose mother knew James Brown. She was a gospel singer in church, a backup singer for early 70s funk bands, a corrections officer, and armored car driver until she got her career break at the tender age of 40. The Dap-Kings got their start in conjunction with the founding of a new record label, Daptone Records. Since then, they have released 7 albums are considered by many to be the spearhead of the current soul revivalist movement. They've collaborated with artists Amy Winehouse, Mark Ronson, Ben Westbeech, Wax Tailor, Michael Buble', MUSE, and many others. Their music has appeared in motion pictures, television, video games, commercials, and has garnered a Grammy nomination. A cancer survivor, dubbed, "the female James Brown," Jones still leads the band with a powerhouse voice and never say die attitude. A film about her life, Miss Sharon Jones!, is currently playing in select theaters around the country.
Durand Jones & The Indications – Click here for music video. Durand Jones was born in the bayou area of Hillaryville, Louisiana, and began singing in church at the insistence of his grandmother, who thought he sang too much at home. When his music career took him to Bloomington, Indiana, he was selected to join the legendary Indiana University Soul Revue, and it was through his involvement that he met writer/producer duo Aaron Frazer and Blake Rhein. The three began writing original soul music, recording themselves straight to tape in the basements of Bloomington. That is the philosophy of the group today. Formed in 2012, The Indications believe that soul music should be written, recorded, and performed live, without the use of electronic gadgetry. Their "what you hear is what you get," attitude brought their eponymous debut album to soul label, Coalmine Records and was released in July. The band did release a single, "Smile," in 2015. Compared in vocal ability to Leon Bridges, Jones can flat out wail. You can't fake real soul. You either have it, or you don't. Durand Jones & The Indications have it.
Johnny Rawls – Click here for music video. You don't have to be a youngster to be involved in the soul revival, and Johnny Rawls is living proof. The 64-year-old singer, songwriter, producer and guitarist got his start in Hattiesburg, Mississippi, learning guitar from his blind grandfather, then clarinet and saxophone while in high school. He joined the backing band of original soul blues artist O.V. Wright in the mid-1970s, became his musical director and kept the group, Ace of Spades Band, touring after Wright's death in 1980. Touring with artists such as BB King, Bobby "Blue" Bland, Little Johnny Taylor, ZZ Hill and Little Milton, kept him steeped in the southern soul blues. With a powerful voice that could "make mediocre material sound convincing," he released his first solo album Here We Go, in 1996. 14 albums and 12 BMA nominations, with one win,  followed. His 2013 album, Remembering O. V., on Catfood Records, garnered him the win for Best Soul Blues Album. The album also featured the great Otis Clay. Rawls has released his newest, Tiger In A Cage, and is still a prolific songwriter as well. He has toured the world and still appears at as many as 15 festivals a year.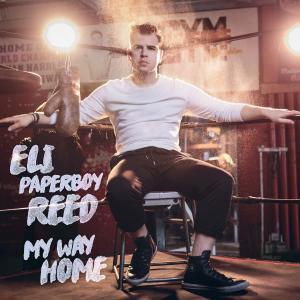 Eli "Paperboy" Reed – Click here for music video. One wouldn't naturally think that Brookline, Massachusetts, would be a hotbed for soul music. But Reed isn't the average Brooklinian. After graduating high school in 2002, Reed moved to Clarksdale, Mississippi, to immerse himself in the juke joint culture of the Deep South. After a year there, he followed the great migrations straight to Chicago where he enrolled in the University of Chicago as a sociology major. He hosted a campus radio show called, We Got More Soul, played organ in the church where gospel/soul great, Mitty Collier is the pastor, and soaked up the Windy City atmosphere. Another year passed and he was back in Boston, focusing on music and releasing his first album, Sings Walkin' & Talkin' & Other Smash Hits! In 2008, his first album of original material, Roll With You, was released on Q Division Records and garnered him an international following. Two more albums followed. Come And Get It! on Capitol Records in 2009, was strongly influenced by Chicago soul artists, Tyrone Davis and Mel & Tim. He signed with Warner Brothers in 2012, releasing Nights Like This, two years later. His most recent album, My Way Home on the Yep Roc label, was released on June 10th of this year. "The idea of salvation doesn't have to mean salvation in terms of finding God," explains Reed. "My goal is just to make good music that moves people and meets them wherever they are."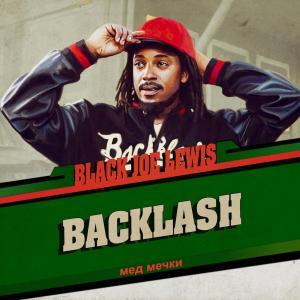 Black Joe Lewis – Click here for music video. Born in Tucson, Arizona, Joe Lewis first picked up a guitar while working in a pawn shop in Austin, Texas. He'd always been into the blues and soul scene, with his musical idols including James Brown and Howlin' Wolf. He immersed himself in the music scene there, releasing his first EP, Black Joe Lewis, and The Cold Breeze, in 2005 on the Italian label, Shake Yo Ass Records. The standout track was titled, "Bitch I Love You," and featured long-time Willie Nelson keyboardist, Matt Hubbard. He formed Black Joe Lewis & The Honeybears in 2007 and has since released 4 more studio albums. Their latest, Electric Slave, on Vagrant Records, was released in 2013, but the band keeps busy playing major festivals including SXSW, Bonnaroo, Bumbershoot, Wakarusa, Coachella, and Musikfest. Lewis stated that he was trying to shed the 'Honeybears' portion of the band's name, and had never intended for it to continue for so long. Their songwriting, while brilliantly played, sometimes leans to the left of society, with songs like, "I'm Broke," "Come to My Party," and "Mustang Ranch," the latter written about their stop at the famous Nevada brothel.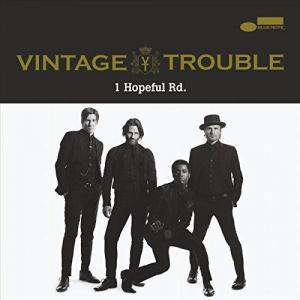 Vintage Trouble – Click here for music video. When describing their own sound, Vintage Trouble use the term "formatted recklessness": a fantastically paradoxical phrase that captures the spirit of a band whose music is wildly unhinged but rooted in real musicality, gut-punching but thought-provoking, steeped in the heritage of old-school soul but utterly and irresistibly timeless. Founded in the Los Angeles, California area in 2010, they have nailed that description. Their idols have always been the more flamboyant artists of soul, Ike & Tina Turner, Little Richard and Chuck Berry among them. Within a year of their formation, Vintage Trouble had gone from playing local venues to opening for Brian May, and Bon Jovi on tour. The band's first album, The Bomb Shelter Sessions, also came out in the UK in 2011, and went straight to the Top 40. When it was released in the US in 2012, the group was described as "a modern-day answer to Otis Redding." Since that time, they've toured almost non-stop, with artists including The Who, Rolling Stones, AC/DC and Lenny Kravitz. A powerful, charismatic, talented group, they keep busier than most bands ever dream, releasing a fans only EP, The Swing House Acoustic Sessions, in 2014 and 1 Hopeful Rd. in 2015. A relatively small group for today's soul, this phenomenal 4 piece is made up of singer, Ty Taylor, guitarist, Nalle Colt, bassist, Rick Barrio Dill, and drummer, Richard Danielson.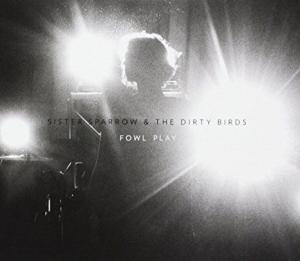 Sister Sparrow & The Dirty Birds – Click here for music video. We can't imagine anyone not hearing of this Brooklyn, New York-based, hard soul act. But if you haven't, buy one of their records immediately. The 7 member group is lead by Sister Sparrow, herself, aka singer/songwriter Arleigh Kincheloe. They first got together in the fall of 2008 and released their eponymous debut album in 2010. It was recorded almost completely live, in one night at the Avatar Studios in New York. It captured the unique, live sound they had been honing in the city clubs for 2 years. The band embarked on its first tour at the end of April 2011. By the end of the year, they had driven over 50,000 miles to play 150 shows in 28 states. During that stretch, they opened for acts including Dr. John, Sharon Jones & The Dap-Kings, and The Soul Rebels Brass Band. Since then, they have continued their hectic touring schedule and released the albums, Pound of Dirt, in 2012, The Weather Below, in 2015, and in March of this year, their first live album, Fowl Play. Their current tour has them performing all over the US until late November, and then on the Legendary Rhythm & Blues Cruise in January 2017.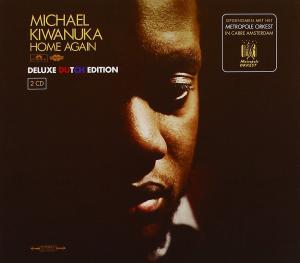 Michael Kiwanuka – Click here for music video. Kiwanuka is British-born son of Ugandan parents who fled their country under the regime of Idi Amin. Raised in Muswell Hill, North London, this singer/guitarist was influenced by artists including Bill Withers, Otis Redding, Pops Staples, and Eric Bibb. He studied media arts and design at the University of Westminster and began working as a session guitarist. His first two EPs were released by Communion Records before he signed with Polydor in 2011. His first album, Home Again, went to the number 4 spot on the UK charts, and his most recent release, Love &  Hate, went straight to number 1. He is currently in the middle of an extensive European tour and will make his way to the US at the end of November. True to his Ugandan family's roots, his brand of soul adds perceptible African rhythms and instruments making it authentically his.
Lake Street Dive – Click here for music video. Made up of 4 musicians who met while attending the New England Conservatory of Music in Boston, Lake Street Dive was originally meant to be a country band. Luckily, for the world of soul, they decided to go with something that "actually sounded good", according to Mike "McDuck" Olson, who plays trumpet, guitar, organ, electric piano,  and synthesizer. The other members of the group, lead singer Rachael Price, bassist Bridget Kearney and drummer Mike Calabrese, also add ukulele, guitar, piano, organ, and vocals. They took their name from an infamous street in Minneapolis, that boasts a number of dive bars. Although they put out a couple of self-released albums in 2006 and 2007 with money and CDs they won from the John Lennon Songwriting Contest, it wasn't easy for this group to come together to record. Price was still under contract with another label and Kearney left the group she was in, to finally pull it all together. In 2010, they signed with Signature Sounds and released their eponymous album the next year. Two more albums followed, and in 2015 they signed with Nonesuch Records and released Side Pony, in February of this year. Although all 4 artists are steeped in jazz and classical music, they were also influenced by the music their parents listened to which ranged from The Beatles to the Drifters, to the Jackson 5. The group has put out several YouTube videos including their very popular Halloween-themed covers each year. Lake Street Dive's current tour is taking place with stops in Canada and the Eastern US before they head to the UK via Iceland in November.