Paul Thorn is a modern day, Renaissance man. A true polymath, skilled in comedy, songwriting, art, guitar,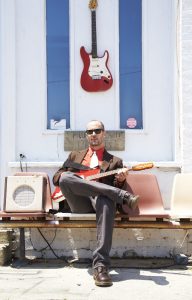 multi-genre music, boxing, and creating personal connections with those around him, he's successfully made a name in Americana, blues, country and rock. The son of a preacher, raised in Tupelo, Mississippi, Thorn has an uncanny grasp on the feelings of the common people, and relates in a way that some musicians have long forgotten.
He has issued more than 13 albums since his music career took off in 1997, all but one of which are self-produced and self-released. He's had hit records, garnered fans world wide, and become a staple on the festival circuit. We had a chance to talk to Thorn, amidst his hectic touring schedule, and he shared some history, inspiration and an upcoming project.
JD Nash for American Blues Scene :
I know you do a ton of festivals, but this show coming up on September 10th, in Helena, Arkansas is a fund raiser for the King Biscuit Festival. Is that right?
Paul Thorn:
That's what I've been told, yes sir.
You've got a special love for King Biscuit?
Yeah. I love the King Biscuit. I've played it, I don't know, maybe six times and they keep inviting us back. I love it. The people are really nice and I always look forward to it. Due to a scheduling conflict, I couldn't make it to King Biscuit this year, but I like to play there, so if I can't do the festival, I can still play the town. I'm still excited that I get to come to Helena and play.
Following the success of your most recent album, Too Blessed to Be Stressed, do you have anything new in the works?
Yes, I do actually. I'm fixing to do a Gospel record with the Blind Boys of Alabama. I've always talked about doing a Gospel record, and things have just lined up. The Blind Boys are wanting to do it and I'm just thrilled about it. We haven't started collaborating yet, but we'll start getting together after the first of 2017. Oh, and also The McCrary Sisters will be singing on the record too. I think this record will be a lot of fun. It represents the roots of where I came from. Church was pretty segregated, where I was, growing up with black churches and white churches. They still do have those, but my family would go to all the churches, black and white, so I got all my music from that. That's where it all came from.
How did it come about, you getting with these other acts?
I've known them for a long time. Coincidentally, at this point in my career, we're managed by the same management company, so we have direct access. We have a good relationship with them, and the stars just lined up. They want to do it, I want to do it, and its going to be something really special, I believe.
Your last record, Too Blessed to Be Stressed was even a take off from what you've done in the past.
Yes, it was. There's a lot of positivity on that record, and there's going to be positivity on this Gospel record too. I mean, why not spread positivity? There's nothing wrong with that.
You seem to have a perfect connection with the audience, wherever you play. It seems that many artists don't have that.
Well, if you can't connect with your audience, you need to go do something else. That's the whole purpose of putting on a show, is to connect with your audience. The challenge for the artist is to insure that the audience has a good time. People have gotten off work, got their babysitters, bought a ticket to hear you play, and the artist owes it to the fans to give them the best show they can.
You're also an artist?
Yeah, not too long ago I did the album cover for Elvin Bishop's last record. I've done a lot of my own album covers also, and it's a lot of fun. Art is something I enjoy. It clears my mind when I'm doing it. I only do it when I'm on the road. When I'm at home, I'm busy doing domestic stuff. When you're a musician, there's a lot of sitting around, doing nothing, going on. When you're traveling from Point A to Point B, there's a whole lot of downtime, so sometimes I'll do a piece of art just to pass the time. Other artists have approached me about doing album covers for them, but those things take a lot of time. I did the one for Elvin, but I haven't been able to do them for anybody else so far.
With your active touring schedule, would you rather be on tour, or in the studio working on new material?
I don't know if I like one more than the other. They're two different things, completely. I enjoy the fans and doing live shows, but when we get to work in the studio, I enjoy that too. Recording is a very time consuming thing. There's a lot of work involved.
What about your songwriting process?
Inspiration comes in different ways. I'll have something pop into my head and I'll write it down. Then I'll think of a little guitar hook or something. Every day I try to create something. I don't always get something, but the repetition of picking up your guitar every day, and walking around with it, sooner or later, something will come. I don't have any particular way. They just come when they come. A lot of people say, "God gave them songs." I don't believe God gives you songs. I believe life gives you songs. Going out, living, and writing about what you know, that's where songs come from.
I know you were a boxer at one time. Do you still have time to hit the gym?
I actually work out five days a week. I don't get in the ring and punch it with anybody anymore. I'm too old for that. I mean, at a certain point you don't need to be getting hit in the head anymore. I punch the bag and stuff, but I'm not going to get in there and fight somebody unless I absolutely have to.
You fought Roberto Duran in Atlantic City some years ago. Is that fight part of the new film, Hands of Stone?
No, they didn't put anything about that in there, because I wasn't a very important part of the story. In the boxing world, just like in the music world, there are stars. Of the people that Duran fought, the only ones they're going to mention in the movie are boxing stars, like Sugar Ray Leonard. Folks like, who were pretty good, won't be. I was pretty good, but not good enough to win at the very top level. I am glad they made a movie about him. The generation coming up, they don't even know who he is. New generations don't really have much knowledge about things like that. They don't care. They're on to the next thing. Luckily, I was able to transition into a music career that's still going pretty well.
Paul Thorn has a great many stops remaining on his current US tour. Some of the festivals at which he'll be appearing include Helena, Arkansas on September 10th, Bogalusa Blues & Heritage Festival on September 24th, Best of the Bayou Festival on September 25th, Roots N Blues N BBQ Festival on October 5th, and the Pennsylvania Music Festival on October 30th.