Deadline Hollywood is reporting that Leonardo DiCaprio will portray Sun Studio founder, and Blues Hall of Fame
inductee, Sam Phillips in an upcoming Paramount Pictures biopic. Paramount has acquired the Peter Guralnick book, Sam Phillips: The Man Who Invented Rock 'N' Roll, and assigned DiCaprio's production company, Appian Way Productions, to develop the film.

Phillips opened Sun Studio, originally called Memphis Recording Service, in the same building as his Sun Records label, at 706 Union Avenue, Memphis, Tennessee, on January 3rd, 1950. The studio allowed amateurs as well as professionals, to record, and during its sixteen year run, produced 226 singles. Artists from the Memphis area and beyond flocked to the studio. Performers included BB King, Bobby "Blue" Bland, Howlin' Wolf, Jerry Lee Lewis, Junior Parker, James Cotton, Carl Perkins, Johnny Cash, Roy Orbison, Ike Turner, and, of course, Elvis Presley. Presley cut his first single, "That's All Right," at the studio, effectively launching his career as the "King of Rock and Roll." Another legendary song, "Rocket 88," was recorded by Ike Turner's band at Sun in 1951, laying arguable claim to the first rock and roll record.
Phillips was also a force for integration in the "Jim Crow" South, helping to forever change the face of popular music.
DiCaprio and President of Production for Appian Way, Jennifer Davisson, will be among an array of producers that  include Mick Jagger, Victoria Pearman, Steve Bing, Ian Montone, Rick Yorn, and the author, Guralnick, whose book was published by Little Brown in 2015 and who previously authored the definitive Presley books Last Train To Memphis and Careless Love.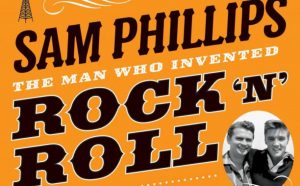 Jagger most recently was executive producer of HBO's Vinyl, the high-profile, big-budget series that was canceled after one season. The iconic rocker was invaluable in forming that series, however, and is looked upon to be a similar asset to the story of Phillips' iconic Sun Studio.
Reports are that producers will move quickly to set a writer and filmmaker, as this becomes just the latest high-profile book project bought by Paramount for Appian Way.