Back in May, 2016, Smithsonian Folkways acquired the Arhoolie Records catalog from its founder, Blues Hall of Fame inductee, Chris Strachwitz, and his business partner Tom Diamente. Beginning on October, 21st, they have made over 300 standout Arhoolie albums and tracks available digitally, and on CD. A selected number of titles unearthed from Arhoolie's El Cerrito warehouse are also available on vinyl, in limited quantity. All combined, that makes more than 5,500 Arhoolie tracks available today.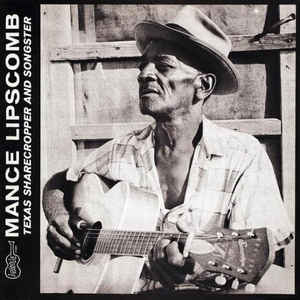 Strachwitz moved to the United States from Germany in 1947 and fell in love with American roots music. His first love was New Orleans jazz, but radio broadcasts from Los Angeles and Baja California introduced him to hillbilly, rhythm & blues, gospel, Mexican norteño music and beyond. A major collector of 78s, Strachwitz traveled to Texas in 1959 to meet his idol Lightning Hopkins, and was lucky enough to hear him perform live in a small beer joint. Struck by the exchange between Hopkins and his audience, and by the poetry of his improvised lyrics, Chris decided, right then and there, that someone had to capture this man's music live in one of those joints and put it on a record. The following year, Chris returned to Houston only to find Hopkins leaving for California, so he and Mack McCormick, his guide to all things Texas, ventured north out of the city to Navasota, where they encountered and recorded outstanding local songster Mance Lipscomb. A few months later, in November 1960, Arhoolie LP 1001 introduced Chris' new label and that small town Texas songster to the world. (An arhoolie is a field holler; the name was suggested by McCormick.) Over the next 55 years, Chris and Arhoolie Records put out over 350 albums. A passionate seeker of just the right music, Strachwitz' many recordings included Cajun, zydeco, norteño, bluegrass, gospel and blues. Regional forms like zydeco may have never had national exposure without Arhoolie.
Smithsonian Folkways Recordings is dedicated to supporting cultural diversity and increased understanding among people through the documentation, preservation, production, and dissemination of sound. Part of the Smithsonian Center for Folklife and Cultural Heritage, it is the nonprofit record label of the Smithsonian Institution, the national museum of the United States.
This is the largest addition to the Smithsonian Folkways catalog since it launched in 1987, bringing the total number of available tracks to almost 60,000. The collection features seminal recordings by artists such as Hopkins, Lipscomb, Bukka White, Big Mama Thornton, Mississippi Fred McDowell, Big Joe Williams, and Clifton Chenier. More recent releases include titles from the Savoy Family Band, the Magnolia Sisters, and the Pine Leaf Boys. Hear Me Howling, a collection of recordings made in the San Francisco Bay area during the 1960s, won a GRAMMY Award in 2011. That same year, the label issued a GRAMMY-nominated retrospective box set celebrating Arhoolie's 50th anniversary.
The Arhoolie acquisition brings more than 1,000 new artists into the Folkways family and includes 350+ albums released going back to 1960, as well as recordings from three South Texas regional labels specializing in Mexican music (Ideal, Falcon, and Rio), Andean Huayno music from the Peruvian label Discos Smith, and archival materials. Remaining titles from the roughly 650-album collection will be released on an ongoing basis.