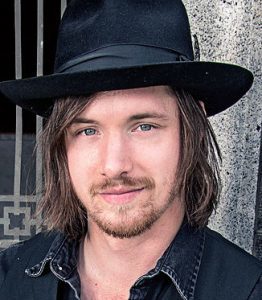 Americana music artist, David Luning, was studying music scoring at the Berklee College of Music when he first heard of John Prine. His response was immediate. He dropped out of school, moved back to his native California,and devoted himself to songwriting and performing.
Since then, his original compositions have blurred the lines of Americana/Alternative Country, Folk and Blues to great success. Beyond his critically acclaimed releases, he has toured the festival circuit and opened for acts that include Junior Brown, Phil & Dave Alvin, and Blues Hall of Famer, Elvin Bishop.
His current project, Restless, is scheduled for release on the Blue Rose Music label on February 3rd, 2017. The first single, "Gonna Forget About You," debuted on November 7th. The song, and accompanying video, captures the artist wrestling with the emotions of a broken heart. Filmed at Nashville's Drake Motel and Franklin Theater, the video makes a powerful statement.
Luning says, "'Gonna Forget About You' is a song about a heartbroken man trying to convince himself that he is going to get over this girl when it is clear that he hasn't."
"We kept the room empty so David could portray the lonely feeling of isolation," director, David Abbott, added. "The b-roll expands the lyric with a story of a guy who goes back to a specific hotel room, hoping to face his fear of letting go where their most vivid memory was made."