Lamont "Showboat" Robinson, former player/coach of the Harlem Globetrotters, is also the founder of the Rhythm and Blues Hall of Fame. Using his skills as an entrepreneur, and music historian, he founded the organization in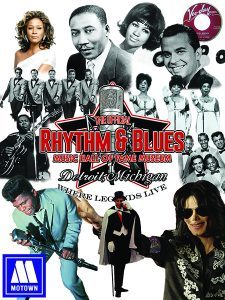 2010, with a simple mission. The aim was, and still is to retain and honor the legacy of rhythm & blues music and preserve its history. Establishing, administering and promoting the R&B Hall of Fame would honor and perpetuate the names and accomplishments of artists, establishments, establishment owners, media personalities, songwriters, record companies, managers, agencies and all those whose dedication and contributions had an impact, influenced and brought lasting fame to rhythm & blues music.
Rhythm and Blues is a genre of popular African-American music that originated in the 1940's. The term was originally used by record companies to describe recordings marketed predominantly to urban blacks. Jerry Wexler of Billboard magazine coined the term "rhythm and blues" in 1948 as a musical marketing term in the United States. It replaced the term "race music", which originally came from within the black community, but was deemed offensive in the postwar world.
Writer/producer Robert Palmer defined rhythm & blues as, "a catchall term referring to any music that was made by and for black Americans". He used the term "R&B" as a synonym for jump blues. Starting in the mid-1950's, after this style of music contributed to the development of rock and roll, the term "R&B" became used to refer to music styles that developed from and incorporated electric blues, as well as gospel and soul music. By the 1970's, rhythm and blues was used as a blanket term for soul and funk. In the 1980's, a newer style of R&B developed, becoming known as "Contemporary R&B", which, today, also includes elements of hip-hop, neo-soul, trap, and incorporates more sonic elements than before, as it expands its appeal and commercial viability.
The Rhythm and Blues Hall of Fame currently boasts over 135 inductees. The first class of 31 was in 2013. It included artists such as Otis Redding, James Brown, and The Supremes. Not adhering to artists only, radio personalities, Tim Marshall, and Tom Joyner, and journalist Larry Cotton were also inducted along with the publication, Call and Post, and Leo's Casino Nightclub. It was at Leo's in Cleveland, Ohio, that Redding played his last shows prior to the plane crash that took his life.
Part of Robinson's dream is to establish a brick and mortar museum, that will not only house the artifacts of its inductees, but also provide innovative educational programs for children. Using music as a mechanism for teaching history, math, reading and social studies, through the vehicle of high technology, the programs would also emphasize diversity.
Cheryl Ruffin, president of the Rhythm & Blues Music Group, and the daughter of the late, great David Ruffin of the Temptations, says that the Rhythm & Blues Hall of Fame will be a 3-D, highly interactive educational experience. It will include a wall of fame, a music-themed restaurant and a 250 seat theater. Robinson adds that any city should interested in having this international tourist attraction. He claims it will bring more than 250,000 visitors per year, plus the annual induction ceremony, that will boost their economy. "For example," he says, "look at what the Rock & Roll Hall of Fame and the Country Music Hall of Fame have done for the cities of Cleveland and Nashville."
For some time, the R&B Hall of Fame has been using a mobile museum for these purposes. The traveling exhibit, housing memorabilia spanning the era of R&B, jazz, and blues, travels throughout the country setting up at various locations such as libraries, schools, churches, community centers and special events.
At first, Cleveland, Ohio was the focus city for a museum home. When that didn't materialize, other cities, including Chicago, Philadelphia, East St. Louis, Canton and Detroit were placed in contention. Although Philadelphia is making a concentrated effort to bring the museum to the City of Brotherly Love, Robinson is focusing on the city where he lives, Detroit.
The goal is to have a partnership with UAW-General Motors to build a 50,000 sq. ft. LEED certified, 3D, highly interactive state-of-the-art, permanent hall of fame museum in the Motor City. The plan also involves developing a partnership with the Detroit Public Schools System. However, Robinson's grand plan is running into some snags in the support department.
Detroit is already home to the Motown Museum, which recently announced plans for a $50 million expansion. Robinson feels that a project of that size could be obstructing the public's opinion of his proposed plan. He also thinks, however, that the expansion of Motown along with his project would be a win-win for the city. Robinson believes Detroit is one of the music capitals of the world and that bringing the Hall of Fame to the city could cement that status.
He is prepared to make one final push to rally support for bringing the project to Detroit. A rally is set for 10 a.m. on Wednesday, Dec. 7th, at Bert's Entertainment Complex. Prominent guest speakers, along with several soul legends, Motown stars, and other celebrities have been invited to take part.
Whether or not Detroit becomes the permanent home of the Rhythm and Blues Hall of Fame, Robinson's group is dedicated to finalizing its city choice by year's end. He is prepared to move on if unable to find more support in Detroit. Any city that wants the title of "The Rhythm & Blues Music Capital of the World," should contact the Rhythm & Blues Music Foundation at (313) 936-9616 or via their website.