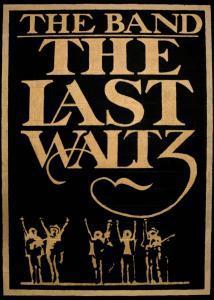 It was forty years ago today. Thanksgiving Day, November 25th, 1976. The Winterland Ballroom in San Francisco, California played host to one of the most remarkable concert events ever. In the beginning, The Band decided to hold a concert in the first place they had played, some sixteen years earlier. What began as a concert, turned into one of the most recognized music movie events of a generation. Forty years later, it is beyond legend, it is iconic. We're taking a look back at The Last Waltz, warts and all.
Perhaps the Sixties are still too near, but the effects of The Last Waltz are not always gratifying. Like scrupulous caretakers making merry at a wake, the Band brings on the best of the survivors — an impressive cast of stars not unlike the Hollywood has-beens who often take cameo roles in airport disaster films.  – Jim Miller, Rolling Stone Magazine
Planned, not as a final concert ever, it was to be an event that would see members of The Band go their own ways, for a time. Members of the group were looking into solo projects, recovering from injuries, and suffering from road fatigue. Lead guitarist, Robbie Robertson, came up with the idea to give their fans a Thanksgiving gift. A show that would reunite the group with their earliest influences and allow a jumping off point for band members to launch their solo projects, recuperate, and then, eventually, return bigger and better than ever. Almost from its very inception, the simple plan began to snowball.
We wanted to bring it to a conclusion. We'd been together 16 years, and we'd kind of done everything…we thought. And so we said, 'let's have a musical celebration,' then we'll close this episode and then come back with a new creative spirit. It started as a very modest idea. We'll play a last concert where we played our first concert as The Band. We'll invite Ronnie Hawkins, who we started out with, and Bob Dylan. That would be the respectful thing to do. And then someone said, 'I know, but we can't do this and not invite Eric Clapton. That's just wrong. He's been waving the flag since the beginning.' Then I said, 'ah geez, if we invite Eric Clapton, then we have to invite Van Morrison.' Then we have to get Neil Young, you know, get the Canadians in there.  – Robbie Robertson
When all was said and done, those five artists, and over a dozen more, joined in the celebration. Dr. John, Bobby Charles, Paul Butterfield, Muddy Waters (with his band members, Pinetop Perkins and Bob Margolin), Joni Mitchell, Neil Diamond, Ron Wood, Ringo Starr, Stephen Stills, Carl Radle, the Staple Singers and Emmylou Harris all took part. Several poets also took to the stage, and the 5,000 fans in the crowd were treated to a full Thanksgiving dinner, compliments of promoter extraordinaire, and Winterland owner, Bill Graham. As we all know, it didn't stop there.
Famed film director, Martin Scorsese, was brought in to record the entire extravaganza. With him came several well known cinematographers, including Michael Chapman, Vilmos Zsigmond, and László Kovács, who operated seven 35MM cameras. This was the first time in history that 35MM had been used to record a concert and it caused major problems as the shoot went on. Hollywood production designer, Boris Leven, was hired to decorate the stage and design the lighting. Among his decorations were the crystal chandeliers used in Gone With the Wind.
Chandeliers? I don't think that's going to go over with Neil or Bob or the rest of the musicians. These people don't do chandeliers, Boris.  – Robbie Robertson
For those lucky, or wealthy enough, to afford the $25 tickets, the concert was, as many are, fraught with technical issues. Out of tune instruments, lackluster performances, and timing issues plagued the show, but for the millions who saw the concert on film, it was spectacular. Chicago Tribune film critic, Michael Wilmington, called it, "the greatest rock concert movie ever made – and maybe the best rock movie, period." Terry Lawson, of the Detroit Free Press, wrote, "This is one of the great movie experiences." Why? Because the glitches were all fixed in post-production.
As far as I was concerned, the movie was a disaster. For two hours [at a screening] we watched as the camera focused almost exclusively on Robbie Robertson, long and loving close-ups of his heavily made-up face and expensive haircut. The film was edited so it looked like Robbie was conducting the band with expansive waves of his guitar neck. The muscles on his neck stood out like cords when he sang so powerfully into his switched-off microphone.  – Levon Helm
Band drummer, Helm, wasn't the only one to point out the differences between the live show and what fans saw on film. Another example was the horn section, with their parts arranged by famed New Orleans musician, Allen Toussaint. Although their performance throughout the concert was spot on, there were issues in how they were recorded in the remote truck.
I'm pretty sure that Levon is the only honest, live element in The Last Waltz, with the exception of Muddy Water's vocal. Everything else was overdubbed and redone. Levon was basically gone, because he was disgusted with certain aspects of the business practices. Robbie asked him to do his part over again, but Levon had nothing to do with it. Robbie was right in that there were some good reasons for overdubbing the whole thing. Richard wasn't singing well, Rick's bass was out of tune, and Robbie wanted to improve his guitar solos. Also, the horns were recorded completely out of balance and had to be redone in New York with arrangements Henry Glove and I put together.  – John Simon (Producer)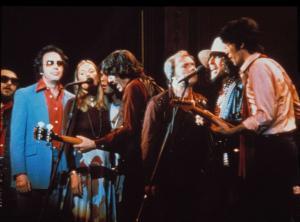 That isn't where the issues ceased. One particular artist, Bob Dylan, negotiated his performance right up the last minute. Fifteen minutes before he was scheduled to go on, Dylan arrived at the venue and announced that he would not be appearing in the film after all. He was reluctant largely out of concern that The Last Waltz would compete with his own upcoming concert film, Renaldo & Clara (1978). With five minutes to go, Graham convinced Dylan to agree to be filmed for his last two songs only. To make it clear that he wasn't being filmed, the cameras were physically turned away from the stage during his first few songs. After the show, Dylan's lawyer seized the footage for future negotiation purposes.
Luckily, one of the high points of the production was captured, without Dylan's knowledge at the time, and preserved for posterity. As the crews tried to wrap up at the agreed-upon time, Bill Graham rushed in to countermand those instructions. That is how the sing-along of "I Shall Be Released," which featured Dylan, and The Band, along with Wood and Starr, was documented.
Fuck you! Roll the fucking cameras! Roll 'em!  – Bill Graham
The performance by Chicago blues great, Muddy Waters, almost didn't happen at all.
I was shocked to find that because of time and budget constraints and Band politics, Muddy was nearly bumped from the show. Levon fought bitterly behind the scenes and prevailed to not only keep Muddy in but to indulge him with me and Pinetop too. We were treated as honored guests at The Last Waltz and I enjoyed the once-in-a-lifetime jam afterwards, but Levon never told us about making a stand for us. He just made us welcome. Ultimately, this gracious, classy, and tough gentleman was responsible for my good time there.  – Bob Margolin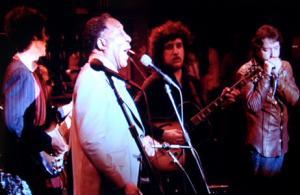 However, Waters' performance may not have been captured on camera, if not for sheer luck, and director, Martin Scorsese's temper. Thanks to The Band making some changes on the fly, Scorsese grew frustrated, screaming into his headphones to make last-second cue changes to his camera crew. Cinematographer, László Kovács, couldn't handle it and ripped off his headset. With Scorsese thinking a different song was coming up, he ordered all the cameras to shut down, just as the blues legend launched into "Mannish Boy." Fortunately for us, Kovács didn't hear Scorsese's order, which is why the only footage of Waters' performance came from his camera.
When that great, pounding rhythm on 'Mannish Boy' started up, I certainly did go into a panic. As Jonathan remembers, I didn't know the song's alternate title: like a lot of people my age, I was still learning my way through the blues by way of rock and roll. It was indeed fortunate that one of the cameramen kept on shooting, for whatever reason, and doubly fortunate that the cameraman happened to be the great cinematographer László Kovács.  – Martin Scorsese
It did seem that most of the guest artists had a connection to The Band. They were original masters of the genres that Robertson, Helm and company emulated, or they were artists or groups that they had worked with in the past. Again, most of them. Enter Neil Diamond. Diamond appeared at the insistence of Robertson, who had recently produced Diamond's album, Beautiful Noise, which also featured himself on guitar, Garth Hudson and Dr. John on Hammond organ. The song that Diamond performed, "Dry Your Eyes," from that album was also co-written by Robertson.
When I heard that Neil Diamond was going to play I asked, 'What the hell does Neil Diamond have to do with us?' – Levon Helm
Diamond was also involved in a couple of humorous situations while in attendance. One of them was when Neil Young introduced himself backstage.
Nice to meet you. I'm Neil Sedaka.  – Neil Young to Neil Diamond
The other has its base in rumor. As the story goes, Diamond, feeling pretty good after his performance of "Dry Your Eyes," challenged Dylan to, "follow that." Dylan allegedly responded by asking, "What do I have to do, go on stage and fall asleep?" When Rolling Stone asked Diamond about the incident in 2010, the story had somewhat changed. Dylan apparently replied only with a quizzical look to Diamond's statement, which also differed from the original story.
Actually, it was before we both went on. He was tuning his guitar and I came over to him and I said, 'You know, Bob, those are really my people out there.'  – Neil Diamond
With the exception of the Staple Singers and Emmylou Harris, who were recorded on an MGM studio soundstage days after the show, all the acts performed live on the Winterland stage. The concert, which began at 9 pm, was still going strong into the early morning hours, with encores and two jam sessions. When it finally came to a close, the artists were physically and mentally exhausted. After all, The Band had to learn twenty or more songs they had never played before, and then play them with their guests.
I was on stage for five and a half hours. They could do a Son of The Last Waltz, because we've got some great material. We only used a small amount of it.  – Rick Danko
In his recent book, Testimony, Robertson remembered,
At the end of the tune, everybody looked a bit stunned that it was all over. The audience wasn't going to accept it. As many of the performers left the stage, some just couldn't do it. Levon and Ringo weren't going anywhere yet. They kicked into a feel-good beat, and I put my guitar back on. Eric, Ronnie, Neil, and Butterfield all started trading licks. Dr. John took over at the piano. Rick, Garth, and I continued our duties as hosts and let the good times roll.  – Robbie Robertson
Perhaps the coolest performances in San Francisco on that day, the night before, and the day after, were only heard by the musicians themselves. The Band had reserved the entire Miyako Hotel for their guests, and where you have all that talent in one place, impromptu jam sessions are bound to break out. Some took place the evening before the big show. In a 2013 interview with American Blues Scene, Dr. John recalled the pre-concert get together.
I seen Muddy Waters playing The Last Waltz. He played 'Nine Below Zero' the night before they filmed it. I saw every so-called bad-ass guitar player with his jaw droopin' and saggin'… I wish they'd filmed that.  – Dr. John
With the actual concert over, and the artists safely back at the Miyako, the music still didn't stop. The blues artists, with the exception of Waters and Perkins, gathered together and another jam session broke out. It began around 7 AM, and lasted well into the day.
We had Dr. John on piano, Ron Wood on bass, Levon on drums, Butterfield on harp, and Clapton, Dylan, and myself playing guitars. There were no vocal microphones, and we all played softly enough to hear Dylan sing, 'Kind Hearted Woman,' and a few other well-known blues songs. His trademark vocal eccentricities sounded outlandish in the blues, but he did make them his own. Generally, the blues we played that morning were not remarkable, but I was honored to be jamming with these fine musicians, and I realize that they belong to the same 'club' as you do — deep blues lovers.  – Bob Margolin
The main thing, however, is that even with all its flaws and glitches, The Last Waltz will be remembered as one of the greatest gatherings of a generation. Some people, such as Helm, remembered it as a catastrophe.
People ask me about The Last Waltz all the time. Rick Danko dying at fifty-six is what I think about The Last Waltz. It was the biggest fuckin' rip-off that ever happened to The Band without a doubt.  – Levon Helm
Others, such as the aforementioned journalists, the millions of people, all over the world, that have seen the film, or heard the soundtrack, and Robertson himself, look at it from a 40 year distance and are satisfied.
So we thought, good, this is a good way to shuffle the deck, we'll do this and when we come back we can get these things sorted out. And everybody went off to do these things and nobody came back. But over time it looked like I put together this idea of breaking up The Band and that's why I'm saying that was never the plan at all.  – Robbie Robertson
All we know, is that there are two great musical accompaniments to the Thanksgiving holiday. Arlo Guthrie's Alice's Restaurant, and The Last Waltz. You can bet your pumpkin pie that we'll be playing them both today. We'll also be following the instructions on the opening placard: "This film should be played loud!"