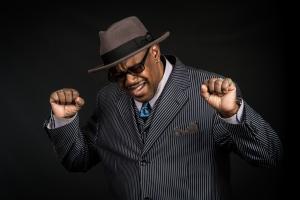 This past April, the phenomenon that is Tweed Funk announced that lead vocalist Joseph "Smokey" Holman had been diagnosed with Multiple Myeloma and that he'd begun treatment with chemotherapy. "Smokey" would later also receive a Stem Cell transplant and other medical therapy.
Formed in late 2010, Tweed Funk's national ascent has been driven by their horn-fueled, Memphis flavored blues, roots, and soul. This Milwaukee, Wisconsin 6 piece soul-blues revue is fronted by Joseph "Smokey" Holman, who recorded under Curtis Mayfield in the early 70's. Tweed Funk boasts 5 Wisconsin Area Music Industry (WAMI) Wins in the last 4 years for the band and its members. On April 29, 2016 Tweed Funk released their 4th album, Come Together, which consists of 10 new original songs.
American Blues Scene recently spoke with Smokey, and we discussed his early career, his darkest days, coming to Tweed Funk, and battling his cancer.
Barry Kerzner for American Blues Scene:
So how are doing these days?
Smokey:
Feeling a lot better; getting my strength back. My legs – I'm slowly but surely getting those back. I had a lot of problems walking when I got out of the hospital.
You accomplished so much before you even got out of High School. You were in a group, recorded at Stax Records, Motown Records, and CurTom under Curtis Mayfield! You were a busy fella. Take a minute and tell the fans about that, will you?
I started out singing with some guys – we used to do tunes in the bathroom of my school. I wound up getting hooked up with a band and we named ourselves the Domestic Four. Since that was so close to the Jackson Five, we just called ourselves The Domestics. We were hot in Chicago and Gary, Indiana. Willie Mitchell and Rufus Thomas came to Gary to do a show, and we were the local band that they picked to open for his act.

They told us if we could get to Memphis, we'll record you. So we all piled into our bass player's father's station wagon, and went to Memphis, and we actually stayed at the YMCA. We recorded at Willie's studio, which he was still actually building at the time, for Hi Records. But that didn't pan out.

Later on we had a new lead singer who just happened was Stevie Wonder's first cousin. So we got a chance to go up to Motown and audition. After that we went out to studio B and we recorded two or three demos. Once again, there was problems with our manager and the record company.

As I said, we were hot in Chicago, and one my older brothers had a band and they were playing at a club in Chicago and they put us on the bill, to draw people out to the club to see his band. The second night after the first set, we went back to the dressing room and Curtis Mayfield and his bass player were in there. They said they had been trying to catch our act, they had heard about us and they wanted to be the next people to bring a band out of Gary.

So, he invited us to Curtom Records to sing for Eddie Thomas, the president of the company. We recorded quite a few tunes, we put out two 45 rpm records, but negotiations broke down. Something was going on between our manager the record company, and it didn't pan out.

It came time for me to move on, and I got a job in the steel mill, worked about a year, and then I went into the Marines, where I stayed for a few years. I got out, went back into the steel mill, but that was around the time when the steel mils were downsizing. They laid a lot of people off.

During this time, I got into some questionable things; drugs is what it was. I kinda looked at my life… You know how you can have something planned and you can actually see it materialize as you get closer to that goal?
Right.
Well when I looked at my life, I didn't see anything but black. And I perceived it as, death.

It kind of opened some doors for me though. I met some guys when I moved up to Milwaukee in 1986, and we were doing a cappella in bars and we'd put a hat on the floor, and people would put money into the hat. Eventually a friend came to me and said he said, 'I need help with some harmony. I got another band.'

I went and helped him out. We were on stage and he was dealing with a new keyboard, and there came a part where he was supposed to start singing again but he was messing with the keyboards. I grabbed the mike and I started singing and what came out surprised me. I hadn't realized that my head had finally got hooked up with my ass. I could feel emotionally the songs that I was doing, and not just emulating.

I went to an open jam here, about six or seven years ago, and I met JD (Optekar, guitarist for Tweed Funk). He came over to me and said, 'Where have you been?' I told him I'd been around.

He said he had an idea for a project. He said he had wanted a female vocalist, but he said, 'No. I want you.' I actually didn't want to do it because of someone else that was in the band and I really didn't care for him much. JD said 'Well just come over and talk with him.' So we talked and he assured me that it wasn't gonna be those type of issues. So Tweed Funk was born.
Tweed Funk is on a roll, receiving award nominations, and you've released four well received albums. Your sound is a throwback to the soul of yesterday, with a blues vibe, and a modern twist. It's working well for y'all.
Yes, definitely! Great bunch of guys that I'm with. We owe a lot of it to JD; he's a good marketing person. He has a way with presentation.
Tell us a bit about your health, the difficulties you have faced, and the road back from all that.
Actually, I was experiencing some dizzy spells, and it got to the point where I actually thought I would fall. I was on stage, sitting in the chair, but I was still performing. I kept going to the emergency room, and they couldn't find anything wrong with me. I wound up talking to a patient advocate at the VA, and that night some doctors called me and this lady doctor asked me to come out and let her run some tests. She ran some tests and she asked me back the next day. She told me my blood count was low, and they couldn't figure out why. She told me she was gonna send me to the blood people in hematology.

Among other testing, they did a bone marrow biopsy on me. That's how they found the cancer.
You have been out for a while now, getting treatment?
Yeah; we did our last show the end of July. I concentrated on going through the cancer treatment. I did four regiments of taking these cancer pills and getting a shot in the back of my arm every week, and a massive amount of steroids. It looked like it was working, so they decided to put me in the hospital then.
There was still more to do, of course?
I wound up getting the Stem Cell transplant done here (VA in Milwaukee), and I was scared. I was really scared. I really was. I had some emotional changes that I went through, because I didn't know what to expect. Came time for me to go in the hospital, and I actually came through the chemo treatment fine. The hardest part was I donated my own stem cells. They gave me the chemo, and then, two days later, they gave me the stem cells back.

I felt pretty good, and I was wondering what the big brouhaha was and why was I so scared. I hadn't been through the worst part of it yet, because they told me that everything was gonna drop out and rebuild itself.

They took me down to Xray one day, and when they brought me back upstairs, all my strength had left me. That's when I started the recovery.
So basically, when they gave you that transplant, it flushed your system out, and you had to rebuild.
Right! My white cells have to rebuild…
That was a couple months ago?
That was back in October; yeah.
So how are you feeling now? Do you feel better?
Yeah, slowly but surely. Like I had said, I have problems with my legs; they aren't all that steady. But, we decided to start back up in February. So, I'm working on some songs myself because it's been a while since I've sang, you know? I'm a soldier, so I know what I have to do.
So, basically, for now, your game plan is to get better and get stronger?
Right. Yes sir. That's exactly what's got to happen.
So, you'll take it easy, do whatever therapy is needed, checkups, spend time with family, and maybe do some writing too?
JD and I talked about the writing process. Yeah, that's basically it. My youngest brother, he had a stroke.
Yes, we were sorry to hear about that.
I'm not really sure that he's gonna come back from this. I'm prayin' because … You know, prayer does work. A lot of people prayed for me and I came through. Prayer does work.
You did a fundraiser.
That was overwhelming. I didn't realize that so many people cared about me.
Walter and Marie Trout said the same thing. Walter was really sick as well…
I remember.
They both said the same thing: They were so overwhelmed, with the response, and the love that everyone showed for them through their fundraiser. So, that had to be a good feeling for you.
It was so helpful! They made sure that I wasn't worried about money, so I could concentrate on going though this and getting well. It's a wonderful thing. I have to figure out a way to thank everybody. A lot people told me, 'You don't have to thank us, just get back on stage.'
That's pretty much it. The people that gave to you, that was out of love, because they want to see you do what you do.
It's gonna happen.
Good, because there's a lot of people out there rooting for you, that you don't even know are out there. Once you get stronger and you are out there doing your thing with the guys again, are there plans for a live album, or DVD?
Actually, that's the plan! We're going to some new stuff, mix it with some of the old, and another song as a video. It's all in the works right now; it's really waiting on me.
Anything that you want to say to your fans?
Well, I'll tell you; sometimes life can throw you a curve. Take a swing. Who knows? You may hit a home run, but you got to stay in the game.