Editor's Note: The great, Sam Cooke would be 86 this week, if he'd lived past his 33rd year. An artist who many regard as the founder of soul music, we offer 10 things you may not know about the "King of Soul."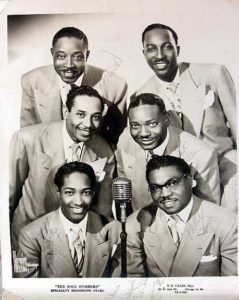 1. It's been said of Sam Cooke, that he was blues-born and church-bred. He was born Samuel Cook, in the bosom of the Delta, Clarksdale, Mississippi, on January 22nd, 1931. One of eight children born to a Church of Christ (Holiness) minister and his wife, Sam moved, with his family, to Chicago in 1933. His singing career began in a group made up of his siblings, when he was just six years old. By age 14, he had become a lead singer with the Highway QC's, a Gospel group known for producing secular singing greats. In 1951, when Sam left the group to join the Soul Stirrers, his neighbor and friend, Lou Rawls, took his place. Two years later, when Rawls left the QC's to join the Chosen Gospel Singers, it was none other than Johnnie Taylor who succeeded him. Coincidentally, it was Taylor who replaced Cooke in the Soul Stirrers, in 1957.
2. Sam had a duality about him in regards to superstition. His father had taught him to always stand up for himself, no matter what. Although admonished to respect his elders, and authority, he was never to back down if he was in the right. These teachings worked against Rev. Cook in later years. Sam, the middle child, was never willing to wait for a heavenly reward, as his father often preached. He saw those sermons as a tactic, using fear and superstition, to keep the flock in line. Conversely, when it came to choosing a stage name, Sam simply added an 'e' to the end of his family name. He reasoned that a full name, with an even amount of letters, was good luck.
3. Despite the fact that Cooke had 30 Top-40 hits in a span of just seven years, he was no stranger to tragedy, conflict, nor the price of fame. A bit of a philanderer, Cooke is said to have had 3 pregnant girlfriends, all at one time, during his stint with the Soul Stirrers. Cooke's first wife, Delores, was killed in an automobile accident in 1959. Although already divorced, Sam insisted on paying for her funeral. His youngest son, Vincent, from his second marriage, drowned in the family swimming pool when he was only 18 months old. His manager, Allen Klein, owned Tracey, Ltd., the organization that eventually owned all rights to Cooke's music. Sam Cooke, himself, was shot and killed by the manager of the Hacienda Motel in Los Angeles, on December 11th, 1964. Decades of speculation, accusations, and finger-pointing have followed his death, which was determined to be "justifiable homicide," by a coroner's inquest.
4. Cooke was an insatiable reader. At every opportunity, he would be buried in a book or periodical. He even ordered an airplane swivel light installed in his car, so that he could read on the road. Stopping at drug stores along the tour route, neither his band, nor his brothers, Charles and LC, who accompanied him everywhere, were surprised to see him buy a copy of every magazine on display. He would devour everything from Playboy, and The New Yorker, to War and Peace, and The Rise and Fall of the Third Reich. He studied the writings of Aristotle, and of historian, John Hope Franklin. According to his brothers, Sam's thirst for knowledge began in early childhood, and never left him.
5. It is fairly well known that protege, Bobby Womack, married Cooke's widow, Barbara, just three months after his death, and that Cooke's daughter, Linda, later married Bobby's brother, Cecil Womack. But there is more to the story. Cooke's family was livid when Bobby and Barbara married. So much so that three of the Cooke brothers met the couple in a Chicago hotel and beat Womack senseless. Also, according to Womack's autobiography, Midnight Mover, he would sneak out of his bedroom at night, to carry on a tryst with step-daughter, Linda. When Barbara found out, she held a gun to his head, ordering him out of the house. As he ran toward the garage, she fired one shot, grazing Bobby's scalp. This was the cause of their divorce. Linda went on to marry Cecil, often working musically with Bobby as well, although she never spoke to her mother again. Such is part of Cooke's tragic legacy.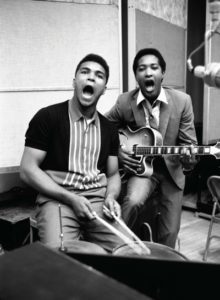 6. Womack wasn't the only one whose career Cooke aided. He founded his own label, SAR Records, which released albums by the latter day Soul Stirrers, Billy Preston, Mel Carter, and Johnnie Taylor, to name a few. He also owned the publishing and management company, Kags. Because he was acknowledged as a pioneer of soul music, his influence directly effected the careers of Aretha Franklin (who toured with him when she was just 19), Al Green, Curtis Mayfield, Stevie Wonder, Marvin Gaye, and many others. Although not allowed to play sports as a child, he befriended Cassius Clay, the professional boxer who converted to Islam, and changed his name to Muhammad Ali. Through this friendship, he fell in with a tight-knit group of civil rights supporters that also included football legend, Jim Brown, and Malcolm X.
7. The only show anyone can remember Cooke canceling was in Memphis, Tennessee. He received a telegram from the local NAACP stating that the audience for that night's show was to be heavily segregated. With only one side of three balconies being reserved for black audience members, they would make up only one fourth of the audience, and none would be on the floor level. He sent his brother, Charlie, to check it out, and when word came back that the telegram was true, Cooke canceled his appearance on the spot. He released a statement to the Negro press, stating that although it was the first time he's ever refused to perform, it was, "against his policy and the policy of his promoter to play to a forced segregated audience."
8. Just after Christmas, 1963, Cooke invited his friend and business partner, JW Alexander, over to hear a new song he had written. Inspired by Bob Dylan's, "Blowin' in the Wind," Cooke had penned what would become the anthem of the Civil Rights Movement, "A Change is Gonna Come." Cooke had heard Dylan's song several months earlier and was moved that such a profound, and poignant song could be written by a white man. A bit ashamed that he hadn't written one like it himself, he held back in doing so for fear of alienating his predominantly white fan base, but had almost immediately made, "Blowin' in the Wind," part of his repertoire. Remembering back to events in his own life, such as his arrest in Louisiana after being denied motel rooms, the die was cast for him to write an anti-racism song of his own. Composed by Renê Hall, it was recorded on January 30th, 1964. Hall had composed such a grandiose piece, that there were 30 artists contributing to the song. This included five backing vocalists, four guitars, a complete string section, a brass section including a french horn, and kettle drums. Cooke performed the song only once, on Johnny Carson's Tonight Show, just 8 days after recording it. His performance should have been a career milestone, but it was overshadowed by the Beatles' appearance on the Ed Sullivan Show, two days later. The song wasn't released until December 22nd, 1964, two weeks after Cooke was killed.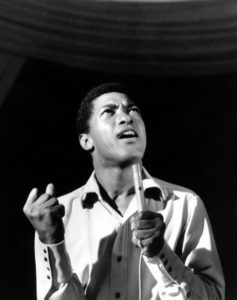 9. Sam Cooke actually had two funerals. After what can be best described as a shoddy job by Los Angeles morticians, Cooke's body was flown to Chicago. There, an estimated 200,000 fans, as well as family and friends gathered for the viewing on December 18th. At the Tabernacle Baptist Church, the services were performed by Rev. Clay Evans, who, himself, had been a member of the Highway QC's. The Staple Singers sang, "Old Rugged Cross," with Mavis Staples in tears throughout. Afterward, his body was flown back to Los Angeles for a second service the next day. This one took place at the Mount Sinai Baptist Church. Gospel great, Bessie Griffin was too overcome with grief to sing at the funeral, so the rendition of, "The Angels Keep Watching Over Me," was performed, instead, by Ray Charles.
10. Cooke has received a great many posthumous honors. In 1986, he was among the first inductees into the Rock and Roll Hall of Fame. He was also inducted into the Songwriter's Hall of Fame in 1987 and the Rhythm and Blues Music Hall of Fame in 2013. In 1994, he was honored with a Grammy Lifetime Achievement Award. Rolling Stone Magazine has listed him on both their "100 Greatest Artists of All Time," and "Greatest Singers of All Time," lists.