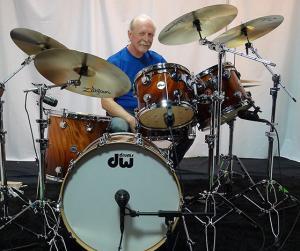 West Palm Beach, FL – Allman Brothers founding member Butch Trucks has died; he was 69 years old. At this time, the cause of death is undetermined. Trucks had performed his last show with his Freight Train Band on January 6th, and he and the band had shows scheduled for the spring.
He was born Claude Hudson "Butch" Trucks on May 11th, 1947 in Jacksonville, Florida to parents who were devoted Baptists. By the time he was in eighth grade, Trucks was playing drums in his school's band. He would not have a drum set of his own until his junior year in high school when his parents finally bought one for him.
In 1969, Trucks would help found the Allman Brothers Band along with Duane and Gregg Allman, only three years after first meeting the brothers in Daytona Beach, Florida. The other founding members were Dickey Betts, Jai Johanny Johanson, and Berry Oakley. The dual drum attack of Trucks and Jaimoe would become as much a trademark sound of the band as the dual guitar sound of Duane and Dickey Betts.
The band really began to gain a following with their shows at the Fillmore East, immortalized for posterity on the 1971 classic, Live at the Fillmore East. Everything came together for them there: the right venue, the right audience, the right music, at the right time.
Duane died in a motorcycle accident in 1971, and the band released Eat a Peach in 1972, dedicating the album to their lost brother Duane. Berry Oakley died in 1972, also the result of a motorcycle accident. This caused a change in the lineup of the band.
The group would disband and reform several more times with several lineups over the years. The last years of the band saw the addition of Warren Haynes on guitar, and Trucks' nephew, Derek on slide guitar. This lineup breathed new life into the band.
The Allman Brothers Band played their last show at their home away from home, the Beacon Theatre, on October 28th, 2014. With the departure of Derek Trucks to spend more time with his own project he shares with his wife Susan, The Tedeschi Trucks Band, and Warren Haynes leaving to devote more time to his work including Gov't Mule, the band "retired."
Following the retirement of the band, Trucks spent time relaxing with his wife Melinda and working on their home in France. Then he began to perform again. He said, "Nobody is out there, picking up where the Allman Brothers left off. I decided that I would do that. So I put together the Freight Train Band and found people that grew up listening to the Allman Brothers and had a love for and were capable of actually playing it. The result is the Freight Train Band." He also played in another band, Les Brers.
The Freight Train Band is a melting pot of sorts in that Trucks had younger talent like Heather Gillis on guitar, with Damon Fowler, a mentor to her who is a little more experienced, and then a still more experienced generation musician, represented by himself.
Recently, Trucks told us here at American Blues Scene, "So, what we're doing is taking what the Allman Brothers did, and doing it our way, and trying to make it better and never being afraid to just dive off the cliff and see where you land, you know? That's what it was all about until Duane died. With the Allman Brothers, you just never knew what was gonna happen."
The Allman Brothers Band garnered a bounty of recognition, every bit of it earned through their persistence, exploration, determination, innovation, sweat, laughter, tears, and sheer ability.
The band was inducted into the Rock and Roll Hall of Fame in 1995 and received the  Grammy Lifetime Achievement Award in 2012. In 1996 they received the Grammy Award for Best Rock Instrumental Performance for "Jessica." In 2004, the band was listed on Rolling Stone Magazine's "100 Greatest Artists of All Time" at number 52.
In addition to these accomplishments, Trucks was part of a unity that forever changed the way music was played, and the way it was received by an audience, almost as though it was nourishment for the soul.
Trucks is survived by his wife Melinda, their four children and four grandchildren.
According to Doug Deutsch, Trucks' tour publicist, a statement will be forthcoming from the family regarding the cause of death. A tribute is in the works and we will publish information once it becomes available.