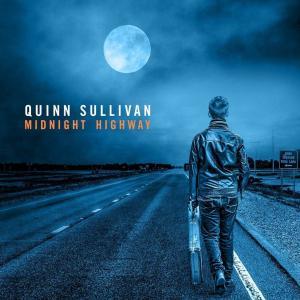 Quinn Sullivan has been a professional musician for a decade, yet he won't be old enough to vote until March. A protégé of Blues Hall of Famer, Buddy Guy, he is now set to launch his third career album. Midnight Highway is scheduled for release in North America January 27th, on the Provogue/Mascot Label, and will be available worldwide on March 24th.
It's been a whirlwind passage for Sullivan over the last several years. His journey began with him jamming with the kids music combo, Toe Jam Puppet Band, at age three, and he's never looked back. Sold out venues, arena audiences, and sharing stages, the world over, with blues legends is commonplace for the teen phenom. He now enters adulthood with a total dedication to his craft.
"I wanted to see how far we could get musically on this album," Quinn said of Midnight Highway. "I had a lot more creative input on this one and was more active in writing, so it's something of a mixture.  I didn't want to completely break away from the blues – that'll always be my home ground – but I just wanted to stretch out." Stretch out he did, compiling 13 tracks that run the gamut, from 12-bar, electric blues, to acoustic pop, to southern rock.
The opening track, "Something For Me," has our vote as the album's breakout single. Beginning with Sullivan's voice, a bit disguised through the use of a harmonica mic, it breaks into an absolute guitar onslaught. His vocals come through more powerful than anything he's done previously. Quinn's voice has matured and is out-and-out stunning.
"Mastering the vocals was important too and was the result of a lot of playing and touring, and studying with a vocal coach," he stated.  "I'll admit I hit an awkward stage with my voice when it was changing a few years ago, but I like the way things have worked out so far."
The album takes a hard turn with "Tell Me I'm Not Dreaming." This a pop ditty, the likes of which you would expect to hear on your teenage daughter's iPod. Why not play one to get the girls' attention right? Sullivan changes up again with the title track. "Midnight Highway," is almost southern anthem(ish). It's filled with blistering guitar licks and lots of Hammond B3 organ from none other than Double Trouble veteran, Reese Wynans. Quinn then travels another tangent, slathering some funk all over, "Crazy Into You."
Just as we were wondering, what's next, comes a complete shocker. Sullivan trades his Strat for an acoustic guitar, playing a nicely unplugged, "Eyes For You." This is one of three songs on the album that Sullivan co-wrote, and where his Beatles fandom comes through. Shades of their 1968, "Blackbird," are evident on the track, and he makes it work. Speaking of the Beatles, Sullivan not only tackles, but performs a consummate cover of George Harrison's, "While My Guitar Gently Weeps." Unlike the recent, Spanish-flavored offering by Carlos Santana, Quinn's cover is spot-on. So much so, that we had to listen a few times to make sure that Sullivan's vocals and guitar weren't just added over the original track.
"We really tried to make it sound like it was off the White Album," producer Tom Hambridge remarked, "so we researched everything about the track, where the mic placement should be, how to get the organ to sound like the original. Quinn is such a huge Beatles fan so, of course, he really loved the process."
Multi-Grammy winner, Hambridge, is more than the project's producer. He was also a key songwriter for Midnight Highway and is also Sullivan's studio and road drummer. The album was recorded primarily at Nashville's prestigious Blackbird Studio with some of Music City's greatest players. Many of the same musicians who played on the Buddy Guy albums that Hambridge produced participated, including bassists Michael Rhodes and Tommy MacDonald, and guitarist Rob McNelley.
One of our favorites is the bonus track, "Big Sky." A four-and-a-half minute instrumental, relying heavily on Quinn's guitar and Reese's piano, it comes across as gentle as a lullaby. Another instrumental, "Buffalo Nickel," closes out the the album. An eight-minute epic that showcases Sullivan's guitar virtuosity.
Midnight Highway is Quinn Sullivan's coming of age. If you weren't a fan before, you will be now. The album is available to pre-order, on vinyl, CD or MP3 download.
Title: Midnight Highway
Label: Provogue/Mascot Label Group
Release Dates: January 27th, in North America and March 24th, worldwide.
Running Time: 58:50