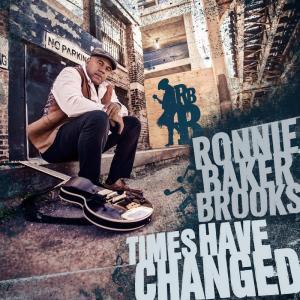 Second generation Chicago artist, Ronnie Baker Brooks, was only nine years old when he first appeared on stage with his famous father, Lonnie. That was 1976. Now 49 years old, Brooks will drop his first album in 10 years, just 10 days from now. Entitled, Times Have Changed, the release will be his first on the Provogue/Mascot Label Group.
Times have indeed changed for this soulful blues guitar giant. Then again, they have stayed the same too. Brooks has always pushed the envelope in using genre bending artists to produce, and perform on his albums. He has had releases produced by Janet Jackson, and "Jellybean" Johnson, and has utilized a bevy of guest artists on them. This time, Grammy-winning producer and drummer, Steve Jordan, takes the helm.
Jordan's first order of business was to have Brooks put his pedal board back in the van. For the first time in his professional life, Brooks would plug a Gibson into a TKTK amp and rip it straight from there. "Back to the basics. The pedals get in the way of your tone – your natural tone. Any distortion I had came straight out of the amp," Brooks remembers from the sessions. "It was almost like going to college, or grad school. It was definitely an education."
Next, they went down south to make the album. Recording at Royal Studios in Memphis, and Blackbird Studio in Nashville, gave Brooks access to the mint press of music royalty he employed for this project. Steve Cropper, Archie Turner, Lannie McMillan, Angie Stone, the Hodges Brothers (better known as the Hi Rhythm Section), and Memphis rapper, Al Kapone, were all involved. In fact, it is Kapone, a long-time friend of Brooks, who drops 32 bars on this stunning, original, title track.
"He's a bridge," Brooks says of Kapone. "He's a bridge from blues to hip-hop. With music, it all comes from the heart. It comes from the heart and from the soul. In blues, it doesn't matter what you're talking about, it definitely relates. That was my intention on this record: to build that bridge."
We're proud to bring our readers the world premiere video of, "Times Have Changed."