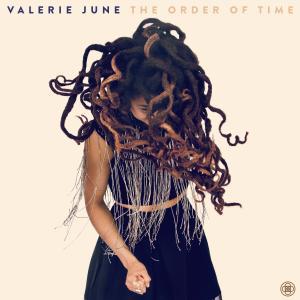 Self-described, "organic moonshine roots," musician, Valerie June, has shared the new video for "Shakedown," via VEVO. The powerful, Gospel flavored, electric track comes off her highly anticipated second full-length solo album, The Order of Time. The video, directed by Steven Lippman, is a tribute June's father Emerson Hockett, who contributed vocals to "Shakedown," and passed away late last year. The track also features backup vocals from June's brothers as well as Norah Jones.
Produced by Matt Marinelli, The Order of Time includes twelve original songs that find the Tennessee-bred, Brooklyn-based songwriter weaving southern sounds, African rhythms, and cosmic atmospherics into an absorbing, soulful reflection on love, family, struggle and the passing of time. The collection's finely sketched character studies brim with richness and detail while June's ethereal, wide-open soundscapes provide a sterling backdrop for her distinctive voice.
The Order of Time is scheduled for release, March 10th, on the Concord Records label.
Check out "Shakedown," here.