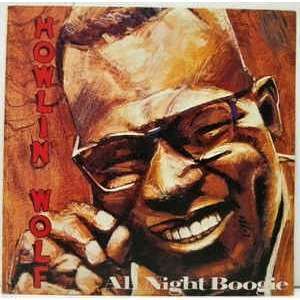 Editor's Note: On January 10th, 1976, one of the founding fathers of Chicago blues left us. While we would no longer hear that gritty, booming voice that sounded like someone grinding up gravel, nor witness his incredible stage presence, we would have his music to keep him very much alive in our memories. This week, we look at the sheer force of nature that is Howlin' Wolf!
Chester Arthur Burnett, aka Howlin' Wolf, was born on June 10, 1910, in White Station, Mississippi, near West Point. Burnett did not have an easy childhood, and it was not really stable until he ran away to live with his father.
Howlin' Wolf would say that he got the name "Howlin' Wolf" from his grandfather who told him of wolves in the area and admonished him to behave or the "howling wolves" would get him.
As a young adult, he learned a lot of the showmanship and guitar antics he would use most of his life from the great Charlie Patton, who he had come to know. Patton also taught him how to play the guitar. As time wore on, Howlin' Wolf was also influenced by the likes of Ma Rainey, Tampa Red, the Mississippi Sheiks, Blind Lemon Jefferson, Blind Blake, Lonnie Johnson, Tommy Johnson, and more.
Seeing Howlin' Wolf perform was not an experience soon to be forgotten. Here was a man that was more like a building than a man, standing six feet, six inches tall, weighing an average of 275 pounds, and possessing a voice that sounded as though it had been piped up from the very center of the earth. There was nothing like it.
Recording for labels that included Chess Records, Cadet Records, and MCA, over the years Howlin' Wolf had many hits including "How Many More Years," "Moanin' At Midnight," "Evil Is Goin' On," "Smokestack Lightning," "Spoonful," "Down In The Bottom," and still more.
While many have incorrectly assumed that Howlin' Wolf and Muddy Waters were bitter rivals, in fact, they greatly admired and respected each other. This did not discourage an intense need to compete with each other, each artist striving to present the better show. In the long run, it would be fair to say that while Muddy Waters had the better band, Howlin' Wolf and his band put on the higher energy, animated performance.
Besides having guitarist Hubert Sumlin as his ace in the hole, Howlin' Wolf could reach down into the deepest depths of a listener's soul, where the primal recesses of his spirit reside and touch that in a way that left them in a disheveled heap, shaken and stirred!
Another interesting aspect of Howlin' Wolf as a bandleader was that he never stiffed his band; they were paid, and on time too. Later after he married Lillie, who was extremely adept at managing his financial situation, in addition to offering players a fair, steady wage, he was able to offer them health insurance as well.
During his career, Howlin' Wolf would perform and/or record with some of the finest artists in the world including, Bo Diddley, Muddy Waters, Pete Cosey, Eric Clapton, Steve Winwood, Ian Stewart, Bill Wyman, Charlie Watts and more.
Howlin' Wolf was inducted into multiple institutions including the Blues Hall of Fame in 1980, the Rock and Roll Hall of Fame in 1991, and the inaugural class of the Memphis Music Hall of Fame in 2012. The United States Post Office issued a 29 cent commemorative stamp depicting him in his honor on September 17th, 1994.
In 1999 his recording of "Smokestack Lightning" was selected for a Grammy Hall of Fame Award. In the Rock and Roll Hall of Fame, three of his songs, "Smokestack Lightning," "Spoonful," and "The Red Rooster" are listed in the "500 Songs That Shaped Rock and Roll."
But oh my, that voice! There will never be another quite like it.