Editor's Note: On February 3rd, Johnny "Guitar" Watson would have been 82 years old. A master of the guitar, and several other instruments, Watson re-invented himself, more than once, during his career. In doing so, he amassed a number of awards and inductions, including a spot in the Blues Hall of Fame. Today, we offer 10 things you may not know about the "Gangster of Love."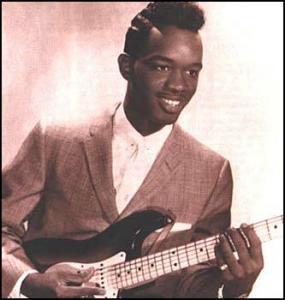 1. John Watson, Jr. was born in Houston, Texas on February 3rd, 1935. His father was a pianist, and taught him that instrument as a child. His grandfather, a preacher, played guitar and promised to give the youngster one of his own, as long as he didn't play the "devil's music." Inspired by the showmanship of T-Bone Walker, and the style of Clarence "Gatemouth" Brown, Young John Watson, as he was known as the time, was playing with Texas blues greats, Albert Collins, and Johnny Copeland before his 15th birthday.
2. After his parents separated, Watson moved, with his mother, to Los Angeles, in 1950. It wasn't long before he was making a name for himself in the City of Angels. He first recorded with Chuck Higgins' band in 1952, playing piano and providing the vocals. Watson had said, "Wardell Gray, Dexter Gordon, Dizzy Gillespie, Charlie Parker, Count Basie and Illinois Jacquet, they were all playing around, and jazz and blues were all mixed up." The next year he cut his own first record, on the Federal label. It was 1954, however, when things really began taking off. He picked up his six string and recorded the staggering instrumental, "Space Guitar." Without using a pick, Watson had recorded one of the most savage guitar works of it's time. It helped pioneer guitar feedback and reverb, and it took famed rock guitarists, such as Jimi Hendrix, almost a generation to catch up.
3. Staying in the blues realm, Watson's first charting single was a perfect cover of Earl King's, "Those Lonely, Lonely Nights," in 1955. The previous year, he had seen the western movie, Johnny Guitar, starring Joan Crawford and Sterling Hayden. Whether it was just the name, or the character of a reformed gunslinger, the moniker, Johnny "Guitar" Watson was born. It was the stage name he used for the remainder of his career.
4. In 1957, he first released his song, "Gangster of Love," on the Keen label. It would eventually become his most popular song, but not until it was re-released in 1962 for King Records, and then again, in 1978. One person who really took a shine to the song was Steve Miller. Miller covered the song on his 1968 album, Sailor, but also referenced it in 1969 on "Space Cowboy," and, again in 1973 on, "The Joker." In 1971, Miller released the album, Rock Love, and the first track was titled, "The Gangster is Back." Four years later, Watson released his own album, The Gangster is Back. A sure case of art imitating art.
5. Johnny was an in demand sideman and touring partner. He and friend, Larry Williams, both toured and cut two albums together. Watson also worked with Little Richard, Don and Dewey, The Olympics, Johnny Otis, and Frank Zappa. Zappa credited Johnny's 1956 song, "Three Hours Past Midnight," as inspiring him to play guitar. He also had Watson appear on four different records of his, including, One Size Fits All, his last studio album with the Mothers of Invention.
6. With R&B and blues music fading behind the glaring disco and funk of the 1970s, Watson re-invented himself, and his music, to fit in. Dressing in the style of a pimp, complete with bell-bottom suits, platform shoes, gold teeth, oversized fedoras, and Elton John like shades, his Texas blues melded into bass heavy funk. He signed with DJM Records and released Ain't That a Bitch in 1976, and, A Real Mother for Ya, the following year. Watson was on the cutting edge of the funk movement, influencing artists such as Sly Stone, and George Clinton. It was Watson's catchphrase, "bow wow wow yippi-yo yippi-yay," that Clinton used in his final hit with Parliament-Funkadelic, "Atomic Dog." His stylized version was then used by Snoop Dogg, Bow Wow, and several other rap stars. In fact, Watson's music has been heavily sampled by hip-hop artists including Ice Cube, Dr. Dre, Jay-Z, Redman, Mary J. Blige, and dozens more.
7. Johnny "Guitar" Watson, as we've pointed out, played guitar and piano. However, a talented composer, producer, and master musician, he also contributed drums, keyboards, bass, and saxophone to several of his own records. Most of these were on his gold-record releases while with DJM. On tour, he traveled with a six-piece band, which included a horn section, known as, The Watsonian Institute.
8. In the early 1980s, following the suicide of his long time friend, and band mate, Larry Williams, Watson seemed to change. His US appearances were fewer and further between, yet he still successfully toured Europe and Japan. After his charting single, "Strike on Computers," in 1984, a decade went by before the charts saw him again. Although he contributed guitar to Dr. Dre's Grammy winning, "Let Me Ride," in 93, Watson's next charting song was, "Bow Wow," in 1994.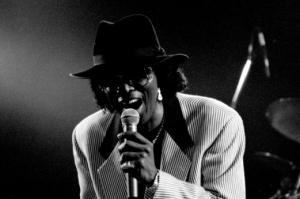 9. On May 17th, 1996, during a tour of Japan with James Cotton, and Ukadan, Watson stepped on stage for the very last time. At around 7:40 that evening, Johnny was performing his first song of the night, his 1976 hit, "Superman Lover," at the Ocean Boulevard Blues Cafe in Yokohama. After singing the first verse, he made a gesture like pushing the microphone stand towards the audience with his hand on his chest and fell down on his back. Suffering a heart attack on stage, he was pronounced dead, at a nearby hospital, less than two hours later. Two days afterward, at a break in the show, one of Watson's band mates told the audience, "Johnny once said that if he were to die, he wanted to die on stage." His body was flown back to the US for burial at Forest Lawn Memorial Park, in Glendale, California.
10. Watson's influence was extensive. Jimmie and Stevie Ray Vaughan both had him at the top of a very selective list of artists they idolized. He had a major impact on Hendrix, Miller, and Zappa. Soul artist, Bobby Womack, called Watson, "the most dangerous gunslinger out there." It was blues, R&B, and soul diva, Etta James, who may have loved him most. James toured with Watson and Johnny Otis in the 1950s, when she was just getting started. She adopted his ballad singing style when she was about 17. In her words, "They call Elvis the King; but the sure-enough King was Johnny 'Guitar' Watson."
Is there anything you know about Johnny "Guitar" Watson, that we may have missed? Please feel free to add your stories or info in the comments.