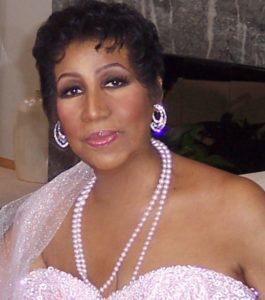 Detroit, MI – Renowned Motown recording artist, Aretha Franklin, plans to retire this year, after six decades as a hit-maker. Her retirement will be following the release of her next album this fall.
The "Queen of Soul," made the announcement this week, during an interview with WDIV Local 4 television in Detroit. "I must tell you, I am retiring this year," Franklin told Evrod Cassimy. "This will be my last year," Franklin said. "I will be recording, but this will be my last year in concert. This is it."
Her decision comes as her grandchildren are growing up, and she intends to spend more time with them before they leave for college. Family focus is what began her career as a child. Born in Memphis, Tennessee, she started out singing in her father's church. Rev. C.L. Franklin began managing his daughter's Gospel career when Aretha was 14 years old. By her 18th birthday, she made the decision to move into secular music, and her father stayed on as her manager and confidant.
Today, Aretha Franklin is one of the most recognized voices in all of American music. She has charted 112 songs, with 37 of those coming in at number one. A songstress in the veins of Gospel, blues, jazz, R&B, pop, and soul, Franklin has garnered 18 Grammy awards and is an inductee in the Rock and Roll, UK Music, and Gospel Music Halls of Fame. She has also been granted several honorary degrees and is the recipient of the National Medal of Arts, and Presidential Medal of Freedom.
Franklin told Cassimy, that she is, "exuberant" about her new album and "can't wait to get in the studio." The new album, produced by Stevie Wonder,  is expected to be issued in September. Following the release, will be a tour that includes only select dates. She won't have more than one date planned per month, and the full tour will last, "maybe for six months."
The new record will be a collection of original songs, which go in different directions. "We're not pigeonholed to any one thing," she said. She also plans to record in the Motor City, saying, "I keep my business in Detroit, or as close to Detroit as possible."
Saying, herself, that the retirement announcement is, "bittersweet," she won't be leaving music for good. She plans to do, "some select things, many one a month, for six months out of the year." "I feel very, very enriched and satisfied with respect to where my career came from, and where it is now," Franklin said. "I'll be pretty much satisfied, but I'm not going to go anywhere and just sit down and do nothing. That wouldn't be good either."