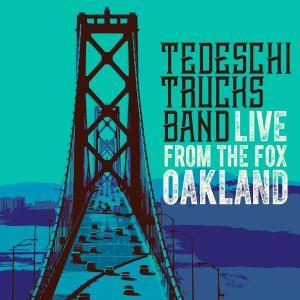 New York, NY – On March 17th, 2017, Tedeschi Trucks Band will release their second live album and first ever concert film, Live From The Fox Oakland, on Fantasy Records. Led by the husband-and-wife duo of guitar master Derek Trucks, and singer-guitarist Susan Tedeschi, the 12-piece ensemble's breathtaking live show is captured on 15 blistering tracks. The film also features extensive behind the scenes footage.
The project was filmed and recorded in a single night, September 9th, 2016, at Oakland, California's gorgeous Fox Theater. Both the concert film and audio were mixed using a vintage Neve console to achieve an exquisitely immersive sound experience, and mastering guru Bob Ludwig added his craft to the full 5.1 surround sound mix and album audio. The film was produced and directed by Jesse Lauter, and Grant James, with Trucks continuing in his role as producer on all music elements.
Live From The Fox Oakland will be released in multiple formats including vinyl, DVD and Blu-ray. The collection includes cuts from TTB's 2016 album, Let Me Get By, as well as their own interpretations of Leonard Cohen's, "Bird on the Wire," and Bobby "Blue" Bland's, "I Pity the Fool," two songs which feature the full range and power of Tedeschi's vocals. On Derek and the Dominos', "Keep On Growing," it's Trucks' guitar work that grabs the spotlight for a stunning extended solo.
For a band that spends hundreds of days a year on the road, it was important to choose the right time for their second live album. As Trucks explains, "We've been wanting to properly document the progress of this band for a while and it really felt like we were hitting our stride and firing on all cylinders last fall." Tedeschi adds, "It was special capturing the live performance from Oakland. The audience was great and the band played with passion. I am thankful we captured the band at this moment in time."
Trucks and Tedeschi's full commitment to making the best sounding live recording possible was evident from start to finish. "Our engineers Bobby Tis, and Brian Speiser have been tweaking our recording setup on the road over the last year so we can really capture the sound of being in the room," says Trucks. "The three of us spent countless hours in our studio after the recording to bring the tracks to life and make sure you can hear all the energy and nuances, which isn't easy with a 12 piece band. We put a lot of work in to make sure the mixing and mastering was a notch above and I think our fans and music deserve the extra effort."