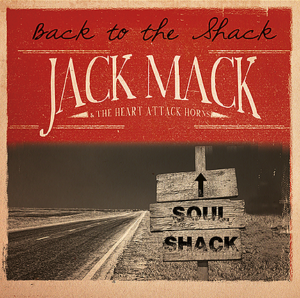 Two of the more common misconceptions about blues music are that every song is sad and slow, and they all sound the same.  Jack Mack & The Heart Attack Horns' new album Back to the Shack does not fall into that category; not in the least.  This album kicks it into high gear and doesn't look back!
Hitting the play button, we are taken back to the times that saw the great B.B. King as the swampy guitar sets the tone in "Standin' Before the King." With scorching guitar riffs and hard hitting blues piano, this song pays tribute to the man so many have called their hero and cite as the reason they were bitten by the blues bug in the first place.
"Don't Let Her Go" sends a loud and clear message that says we shouldn't take that special someone for granted, and we should be grateful for them every day. With a toe-tapping drum riff and a mind blowing sax solo, "Don't Let Her Go" is one of the most upbeat songs on the album.
A high octane number that will have listeners moving and a grooving with its rapid-fire drum intro, "Let Me In" commands attention from the start.  The song finishes with a horn section crescendo that leaves us wanting more!
This album's production is spot on in all the right spaces, and the mix is well done. The sound quality really lets the music pop, and speak for itself.
Jack Mack and The Heart Attack Horns have hit a home run with Back to the Shack.  This album does not disappoint, and its' hints at Stax days gone by, and Motown accents of yesteryear are very much appreciated.  Make sure you get your copy today!
Back to the Shack – Jack Mack & The Heart Attack Horns
SSR Freeroll Records
10 Tracks
42 Minutes