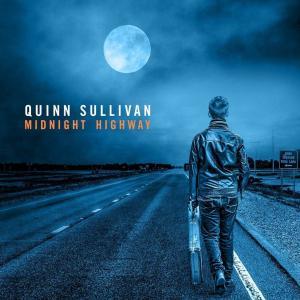 In his short but storied life, Quinn Sullivan has already accomplished more than most musicians could hope to. He's played onstage with The Tedeschi Trucks Band, Joe Bonamassa, and even Eric Clapton at Madison Square Garden. He's also been mentored by Buddy Guy, who took him under his wing at the tender age of seven and has nurtured his mind, his spirit, and his musical potential.
His third album, Midnight Highway was just released in late January and is his strongest effort yet. We caught up with Sullivan recently and he shared with us what it's like recording and working with the best musicians on the planet, being mentored by Buddy Guy, and how lucky he is to do what he loves.
Barry Kerzner for American Blues Scene:
I read somewhere your first guitar was actually a toy guitar you got for Christmas. What was your first "real" guitar?
Quinn Sullivan:
I consider my first guitar a Fender Squire Start. I was tired of playing a little small guitar. I had a little red quarter-sized guitar; the one I gigged around a lot when I was six, seven, eight, nine years old. The first real Strat I got was the Squire. My dad got it for me for my birthday one year. It did the job for me at the time. Actually, I played it when I was on the Ellen DeGeneres show the first time. I played "Twist and Shout" with it. The first time I met Buddy Guy, that was the guitar I was playing too. I did a lot with it, and I got a lot out of it, which is great.
When exactly did you know in your heart you wanted to be a musician?
I knew I wanted to be a musician when I was about five years old. I was a huge Beatles fanatic, and I still am. I did John Lennon tribute show at this place called Smugglers. It was a little bar next to where I live. That was the first time doing my own show in front of actual people. I realized to myself, 'This is SO cool!' I could picture myself doing this for the rest of my life. Being five years old at the time, that's kind of a crazy thought to have. I felt that if I kept doing it, I could do something with it. I kept playing, never gave up, and I just loved it.
What's the best time you have you've had (so far) playing a show?
There have been a lot of memorable experiences for me that I am very thankful for, but I think this will be a hard one to top. I got to play Eric Clapton's Crossroads Guitar Festival at Madison Square Garden with Buddy Guy. That for me was a total highlight because I never played on a stage that big before. I was thirteen at the time and I remember getting the call telling me that Buddy wants me to do this, and I almost fell off my seat. That's the call that every guitar player dreams of getting! I couldn't believe that I was able to get that opportunity to do that. It's the most amazing time I've had onstage for sure.
What was the worst thing that has happened to you while performing, that you would want to share with us?
There's been a few – but luckily, there has not been that many. The thing that sucks about touring and playing that sometimes you get sick. I remember one night we were in Canada and I was doing a mini-tour with my band and I got a really bad head cold and chest cold mixed together and it was a rough few days. Having a really bad cold and trying to play is not fun, but you still have to do it and people came to see you so, you gotta give them everything. That would be a worst moment for me is playing with a cold.
What do you want to accomplish with your music?
I think the thing that I really want to do is help people. Whether it's to heal people or make them happy. I think that there's a lot of crap that's going on, especially with everything that's going on in the world, and I think that it is an important time to be playing music. I recently saw Tedeschi Trucks Band, one of my favorite all-time bands, at the Chicago Theatre, and everyone was just so happy, and they put on such a great show.

That's just a great example of a band that just comes out and gives it their all every single night, and people feel something from that. I certainly feel something from that. So, that's what I want to do with my show and whatever album I put out. I just want people to feel something when they listen to it.

I guess that's the search, for me anyway. Aspirations used to be, 'Oh, I hope I'm famous one day. I hope to win Grammys.' That's kind of gone away from me a little bit, the thought of that. I mean obviously it'd be great and cool, but I think now getting older, all I really want to do is to play for people that enjoy great music.
Let's talk about your new album, Midnight Highway. You put out Getting There in 2013, so you've had time to grow. You've said that you "wanted to see how far we could get musically on this album." You also said, "I had a lot more creative input on this one and was more active in writing, so it's something of a mixture.  I didn't want to completely break away from the blues – that'll always be my home ground – but I just wanted to stretch out."
This record that we have now is one that me and Tom Hambridge, the man who produced this, spent a lot of time on. It was done in Nashville, Tennessee, at a few studios, mainly Blackbird Studio, which is a great studio. I was very lucky to record there because so many great artists and bands have made really great records there.

I have to give credit to the musicians as well, people like Rob McNelley on guitar, and Reese Wynans playing keyboards, and other guys like Michaels Rhodes, and Tommy Macdonald. These guys were just like, so… there.

When I said I 'wanted to see how far we could get musically on this album,' I just meant how far we could get with the songs and the writing process. For me, it's really important to grow with each album you make, and I think this one, I've grown a bit. I cowrote three of the new songs on this record. My goal is to become a songwriter as well as a singer and a guitar player.

We did four or five songs for a weekend and then a couple of months later we did another couple of songs until we had about 12 or 13 songs.
So what was it like to play with Reese, and some of the other folks you mentioned. What was it like to play with that level of musicians?
Most people, especially my age, do not get to record with that level of musicians. actually, the last three albums have been made with musicians like that. It's been amazing. I can't even describe what that's like, walking into a room with musicians that played on records that you grew up listening to. Not only are they great musicians, they're great people.

And obviously, they have crazy cool stories about what they went through, and all the stuff that happened to them over the years. So it was just a learning experience for me to be hanging with those guys in the studio. Playing wise, I learned a lot too, working with people, and reading what people are thinking in the moment… I learned quite a bit of that.
When folks talk about "an education you can't buy," that's it.
Exactly! I'm not learning that in math class.
Buddy Guy took you under his wing and mentored you. Again, that gets back to the "education you can't buy" concept. Would you like to share a bit about that with our readers?
The friendship that I have with Buddy is very unique. There's really no describing how great it is because it's one of those things I never ever expected to happen the first time I met him. The first time I met him was at the Zeiterion Theater in my hometown of Medford Massachusetts, and he was cool; a really gracious guy.

I hadn't listened to much of his music, and I wasn't heavily into the blues at the time, but I did see him on Eric Clapton's Crossroads Guitar Festival. I didn't have know much about his records and what he's done, only because I saw him that one time, and what he did. That grabbed me so much; it was everything he did when he played. That whole thing completely grabbed my attention because the presentation there was just so cool, to a six-year-old. I was like, 'Next time he comes, I have to go see him.'

Honestly, I wasn't expecting to meet him or play with him. I just wanted to go to the show to experience a Buddy show. I had heard that 'You have to go!' So we went, and I got my guitar signed, and we got a picture. Then he said, 'play a few licks for me.' So I did it and then he said, 'You be ready when I call you.'

Ever since that time, he's really taken me under his wing, and he's been the greatest mentor anybody could ever ask for. He's really the reason that I'm doing what I'm doing now. He's been there the whole time; he's been there since I'm eight years old. He never gave up. There was a long period of about ten years not having a record label, not having any of that. So, now to have that, feels really good and it's because of him.

We've been lucky that he has actually been able to take me around the world. Whenever I go out with him, I'm always able to have a seat on the bus, and he's been very generous to me, my mom, and my dad. There's really no one like Buddy, and I think any other guitar player would agree that there's no one like Buddy. He'd do anything for you. If you didn't know him, he would still do anything for you.

He lives in Louisiana part time now, and he just bought a house over there. So every Christmastime he visits there and he bought the whole town turkeys, which was beautiful. You don't see a lot of people like that today, that do stuff like that. Some of it goes unnoticed. I know it all, and I've seen it, and I know what kind of person he is. I owe everything to him.
Being a younger artist, what are your thoughts on services like Spotify? Also: Why do you think folks have no problem paying $6 for a cup of coffee, but they don't want pay to download music?
As far as Spotify, Apple Music, and Amazon, all the streaming stuff, I think it's really helpful for up and coming artists like myself. It really helps you engage with your following I think, and it helps your grow your audience. That's where my generation is turning to, that kind of thing. A lot of people my age probably aren't going out buying records, so yeah, I think it's really helpful. It's really the direction, and the digital age is growing more and more every day. I think it's gonna be hard to turn back because of how far technology and all that [has come].

Youtube has helped a lot of artists; it's helped myself. There's a few videos that I have out that have gone somewhat viral. It's definitely something that you can't ignore because it's there, and it's helping a lot of artists. I'm not really turned off by that; kind of more just trying to go with what the movement is at the moment.

As far as people buying music, and you mentioned the great example of someone buy a cup of coffee for $6, but not buying music, and it's a very valid point. I think that there's just so many different ways to get music now, then when you were my age. You hear about how artists or bands put out records and somehow it gets leaked out, before they even put the record out. That's really sad, and it sucks for the artist and for the band because of loss of money and the record company is pissed.

It's like you can't do anything about it. I know that certain really big artists have removed themselves from Spotify. Someone like me, that's just up-and-coming, I think I need that stuff, because what's gonna boost my career, is those kind of things. I don't know; there's just no way of avoiding it. I think the future of music is playing live.

I think developing a live show and connecting with people onstage, to me, is a 50/50 thing. It's having the album out, but also being able to play live. You go to a lot of shows now and a lot of them are really good and great. You go to some and you're just like, 'Well the album was really good, but the show really wasn't.'
Well, thanks for spending time with us.
Thank you for spending time with me. I really appreciate it.