One of the most dark, morbid, yet brilliant songwriters of our generation was Leonard Cohen. His songs have been some of the most covered in pop music history, with over 900 covers, and counting. Today, we offer up 10 Things you may know not about the "Godfather of Gloom."
1. Leonard Norman Cohen was born on September 21st, 1934 in Westmount, Quebec, Canada. Raised as an Orthodox Jew, he studied music and poetry in high school. He taught himself to play acoustic guitar, and at age 17, formed his first band, a country-folk group called the Buckskin Boys. He graduated from McGill University with an arts degree in 1955. The following year he published his first book of poetry, Let Us Compare Mythologies.
2. Cohen had a habit of living as a semi-recluse. In the 1960s, he purchased a house on the Greek island of Hydra. With intermittent electricity, he shared the house with his girlfriend, and muse, Marianne Ihlen. During this time, Cohen wrote more books of poetry, at least one novel, and music for his first two albums. Songs From a Room, contained the tune, "Bird on a Wire", which became one of his most covered songs. At least 78 versions of the song have been recorded by other artists. When he and Ihlen broke up, he wrote the song, "So Long Marianne". Ihlen died of leukemia on July 28th, 2016. Upon news of her illness, he wrote her a letter saying, "Know that I am so close behind you that if you stretch out your hand, I think you can reach mine." Cohen died just over three months later, on November 7th.
3. Other relationships included artist Suzanne Elrod, who was the mother of his two children. She is pictured on the cover of his album, Death of a Ladies' Man, and is also the inspiration for the character of the "Dark Lady," in his book, Death of a Lady's Man. In the 1980s he maintained a relationship with French photographer, Dominique Issermann, and in the 90s, actress, Rebecca De Mornay. At one point, in 1968, he also had a tryst with Janis Joplin. The lyrics of his song, "Chelsea Hotel No. 2", are a stark description. "I remember you well in the Chelsea Hotel, You were talking so brave and so sweet, Giving me head on the unmade bed, While the limousines wait in the street."
4. His big break in music came with his meeting folk singer/songwriter, Judy Collins. In 1966 he had published a poem entitled, "Suzanne Takes You Down," in the book, Parasites of Heaven. It was the story of a friend's wife, Suzanne Verdal, with whom Cohen had a platonic relationship. As the poem suggests, they did walk around old Montreal, and she did invite him to her apartment for tea. Cohen sang the words to Collins over the phone, and later that year she recorded it. Collins went on to record several of Cohen's songs.
5. The subject matter in Cohen's songs is often morose. In fact, it became somewhat of a trademark for his music. He battled manic depression his entire life. His lyrics seemed to be a way of winning the battle, or at least, getting his feelings out. When asked why he didn't take drugs as relief, his response was to the point. "The recreational, the obsessional and the pharmaceutical – I've tried them all. I would be enthusiastically promoting any one of them if they worked."
6. Cohen was never quite satisfied with his writing. He would spend days, months, and even years re-writing song lyrics until he was content. One example is the song, "My Secret Life." He began excitedly writing the tune in 1988. It finally came to fruition, 13 years later as, "In My Secret Life," on the album, Ten New Songs. Cohen said, "I can't discard a verse until I've written it as carefully as the one I would keep." Another of his best known strains, "Hallelujah," was written in one sitting, in his room at the Royalton Hotel in New York. Over 80 verses were drafted for the song, and left Cohen sitting in his underwear, banging his head on the floor. A much-covered Cohen classic, "Hallelujah," has been most famously done by John Cale, Jeff Buckley, and Rufus Wainwright. There have been, however, over 300 covers recorded in nearly as many languages.
7. In 1995, Kelley Lynch, Cohen's former manager, began putting together a tribute album called, Tower of Song: The Songs of Leonard Cohen. For this project, she gathered artists including Don Henley, Sting, Bono, Elton John, and Aaron Neville. She also made contact with Phil Collins, who turned her down. Upon hearing of Collin's refusal, Cohen sent him a fax which read, "Would Beethoven refuse the invitation of Mozart?" Not to be outdone, Collins faxed back, "No, unless Beethoven was on a world tour at the time." That got the point across.
8. Lynch, who managed Cohen for 17 years, and whose family were friends with the artist, was accused, by Cohen, of stealing over $5 million from his personal accounts. He won in court in 2005, but Lynch soon disappeared, making sure that Cohen would never receive the money back. In 2012, Cohen again took her to court, this time for harassment. Apparently, Lynch had sent him thousands of abusive voicemails, and emails making the artist fear for his life. Lynch was convicted, and sentenced to 18 months in prison, and five years probation.
9. Although raised in an Orthodox Jewish household, and being the grandson of a Talmudic Rabbi, Cohen found peace in other forms of spirituality. During the mid-60s, he was a vegetarian. Later, he took up yoga. A long time acquaintance of the Roshi, Kyosan Joshu Sasaki, Cohen moved into the Mt. Baldy Zen Center, near Los Angeles, in 1994. He lived there for five years, serving as personal assistant and driver for the Roshi, who was in his 90s. In 1996, he was ordained a Buddhist monk, and took the Dharma name, Jikan (the silent one).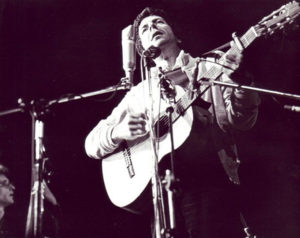 10. When Cohen first wrote the song, "Bird on a Wire," again, he wasn't satisfied with the outcome. He was quoted as saying he, "hadn't finished the carpentry." Others felt differently. The popular song has been covered by artists including Joe Cocker, the Neville Brothers, Johnny Cash, and Tedeschi Trucks Band. Although Kris Kristofferson once accused Cohen of stealing part of the melody from another country song, he also promised to put the first few lines on his tombstone. If he keeps that promise, Kristofferson's epitaph will read, "Like a bird on a wire, like a drunk in a midnight choir, I have tried, in my way, to be free."