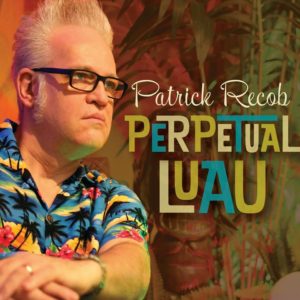 Patrick Recob is an old soul. That phrase gets bandied about, but in Recob's case, it couldn't be more true. His debut album, Perpetual Luau, is testament. Here is a talented, blues multi-instrumentalist, that in all respects should have been sharing stages with the Chicago greats 60 years ago. If he'd been alive then, that is.
Currently based in Kansas City, Recob has an impressive résumé. A member of the Gary Primich Band in the mid-90s, he then spent nearly a decade with Lee McBee & The Confessors. After McBee's passing in 2014, he took over vocals for the group, and also plays with Hank Mowery & The Hawktones. As infomercial guru, Ron Popeil would say, "But wait. There's more!" Recob has recorded with Steve Gerard & The National Debonaires, and Smokin' Joe Kubek and Bnois King. He's toured with James Harman, and several other groups, and, is a much sought after session musician.
Now comes his debut album release, Perpetual Luau. For this project, produced by James Harman & Nathan James, Recob has gathered a flight of top-notch musician friends. Harman brings his harmonica mastery to the tracks. James' unmistakable guitar, the drums, and percussion of Marty Dodson, and Mike Tempo, respectively, and guest guitar slinger, Laura Chavez, round out the group. Recob, himself, provides the vocals, bass, and acoustic guitar.
Perpetual Luau is a cohesive collection of 13 original tracks. They're each as familiar as the streets of our home towns, yet fresh, and inviting. From the time we pushed play, and James' slide guitar introduced us to, "Frustration Blues," we were absorbed. This is simple, classic, blues. Nothing elegant, rather the kind of music that surely whirled up from the depths of Theresa's Lounge. Recob has a strong, deliberate voice. You can hear the influence of the masters he so admires, yet he's no copycat artist. The longest track on this offering, it's the perfect opener for what's to come.
Next up is, "We Have Got It Going On." Written for his wife, Lisa, this one is also a tip of the hat to the late, great Arthur Alexander. For those too young to remember, Alexander was an underappreciated genius. His mixture of country music, and soul was passed on to the masses by artists including the Beatles, Rolling Stones, Bob Dylan, and George Jones. Recob nails the vibe, even adding lead guitar to this breezy, loving tune. Another, along this vein, is "Let Me Give You All." A loving nod to the earliest days of rock n roll, James' guitar is dripping with tremolo.
"Words Are Like Bullets," transported us to the Windy City's South Side, where Elmore James, and Jimmy Reed held court. Chavez' guitar rocks this one from beginning to end. She is not just a phenomenal female guitarist, she is a phenomenal guitarist period. Speaking of Chicago, the West Side sound is well represented on, "I Kept My Cool." This belly-rubber, again, has Chavez in top form.
Our favorite picks from this offering are three-fold. All of the artists involved in this recording seem to have a knack for channeling the influential masters of the craft. Nowhere is that more evident than on the BB King inspired vibrato guitar, and soul-soaked vocals of "Help! Is On The Way," or the obviously Magic Sam influenced, "Find The Answer." Our third choice is the hard-driving, "Grave Yard Woman." Not only does it have that quintessential blues beat, but demonstrates some absolutely killer slide guitar. Recob's vocals are powerhouse on this one, and who doesn't love a song about the devil?
Our one complaint, is the lack of audible bass. Whether on electric or doghouse, Recob has been a talented, prominent bassist for decades. He's provided that fat, bottom end on some great music, but here, those talents seem to be lost in the mix.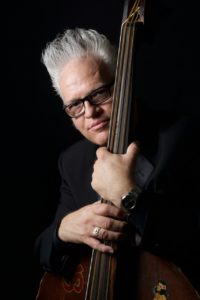 Funny thing about this record. Whether it's the funky, instrumental, "LaMieux's Jungle Strut," the back porch acoustic sounds of, "Soul Cry," or the beatnik poem set-to-music, "For Love's Desire," we could picture ourselves, somewhere, on a beach. Maybe it's because it was recorded at Sacred Cat Studios in Oceanside, California. Maybe it's just the album title getting in our heads before we even began listening. Maybe, just maybe, be it Chi-Town, Muscle Shoals, or Memphis, it seems many of Recob's influences came from near water. Ok, maybe that last one's a stretch.
Regardless, this record is pure, relaxing, enjoyment. It makes the listener feel, somehow, at ease. Even though the world, with all it's complexities, swirls around us, there's always time for a warm, tropical breeze, some splendid blues, and a cold Mai Tai. Perfect for those upcoming, summer evening gatherings, get yourself a copy now!
Artist: Patrick Recob
Title: Perpetual Luau
Label: Mr. Lucky's Blues Recording Co.
Release Date: May 5th, 2017
Tracks: 13
Running Time: 48:05