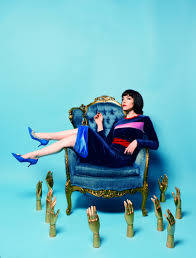 On August 4th, S-Curve Records/Awesome Music will release Elise LeGrow's debut album Playing Chess, a collection of dramatically re-imagined songs from the Chess Records catalog. Produced by soul legend Betty Wright, S-Curve Records founder Steve Greenberg, and studio wizard Michael Mangini – the Grammy-winning team behind Joss Stone's multi-platinum Soul Sessions – the album features eleven tracks with contributions by special guests Questlove and Captain Kirk Douglas of the Roots, the Dap-Kings horns and more.
With a track list that includes "Can't Judge a Book," "Who Do You Love," and "Rescue Me," you've heard many of the songs on Playing Chess – but never like this. Her interpretations transport these tracks to a world where the past and present are inextricably intertwined, and LeGrow's one-in-a-million voice is front and center.
"Elise possesses a flair for crafting a timeless song into her own," says Wright. "She's got a voice filled with emotion, strength, and credibility. You almost forget how good the original is because her take has such a strong identity."
"We definitely had a vision for what the sonics of the record would be, but we also left a lot of space for experimentation," says Toronto native LeGrow, whose father hails from Chicago, the home of Chess. "The album's eclecticism results from the spontaneous collision of my own musical influences with those of everyone in the studio, spanning decades and genres."
LeGrow's interpretation of "Who Do You Love" is less Bo Diddley and more George Clinton. She re-imagines The 50's doo-wop of Johnnie and Joe's "Over The Mountain" as a 70's acoustic guitar-and-piano-driven track. "Can't Judge A Book" mashes up "You Can't Judge A Book By Its Cover," and "You Can't Catch Me" into a feel-good anthem of individuality, and self-expression. Questlove plays drums on "Long And Lonely Nights," a song originally recorded for Chess by his late father's band, Lee Andrews & The Hearts.
Want an example? Check out LeGrow's dramatically different take on Chuck Berry's, "You Never Can Tell."
LeGrow will be in the US next month at the Mercury Lounge in New York City, in support of Playing Chess.