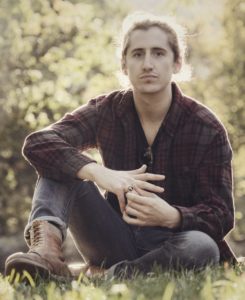 Inspired by paradoxical elements of life and examining his own transition into his current lifestyle, Alan Getto finds a perfect balance between various dualities through his artistic expression.
In his music, Getto is inspired by rock, blues and folk legends, such as Tom Waits and The Band, and newer folk artists including, Steve Gunn, Lady Lamb, The Tallest Man On Earth and Deer Tick.
"Change" is one of 11 impressive tracks on Getto's upcoming album Versus, out in August. He describes the song this way:
"Change" isn't a blues (or even an A blues), but it is arguably the blues: it's the catharsis of a shitty job. It's about the mundanities of life giving way to something unique and worthwhile.

We kept this one bare-boned, to distil that simple, rhythmic routine of doing the dishes or the laundry, with hypnotizing lulls and drags. Zack Kardon's slide guitar, as well as the interplay between instruments and parts, however, pushes and pulls you out of the hypnosis.
Having recently located to an unfinished farmhouse in Western Pennsylvania from Brooklyn, Versus presents Getto's personal confrontation with his own ambivalence. The album intentionally plays with cliché oppositions such as nature vs. the city, good vs. the bad and male vs. female. One can't exist without the other, and for anything to exist, there must be a degree of conflict: "the versus."
Getto's guitar-driven, simple melodies act as a backbone for the lyrical emphasis in his music. Having studied literature, theology, and philosophy in college, his lyrics pay homage to these intense, existential topics, but with a unique, irreverent spin.