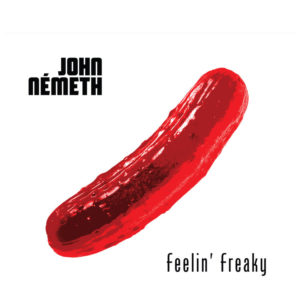 John Németh has become a much-appreciated mainstay of the Soul Blues family, having been nominated for 19 separate Blues Music Awards, including five for the prestigious B.B. King Entertainer of the Year Award. With his new record Feelin' Freaky, just released on May 19th, Németh's accolades should not be slowing down anytime soon.
Available on 18-gram vinyl, MP3, and CD, the record was produced by Luther Dickinson at his Zebra Ranch in Coldwater, Mississippi, and features 11 original songs. It's been three years since Németh's last release, Memphis Grease, which he recorded with Memphis soul band, The Bo-Keys. For this record, Németh put together a new band, The Blue Dreamers, which consists of Danny Banks on drums, Matthew Wilson on bass and guitar, and Johnny Rhoades on guitar, who has since left and been replaced by Blake Rhea. Guest artists include on the organ the Rev. Charles Hodges, who has recorded with the Rev. Al Green and Albert Collins.
American Blues Scene welcomed the opportunity to talk with Németh about Feelin' Freaky, which is on his own new label, Memphis Grease. Németh spent considerable time with us describing the project in detail with his trademark sense of offbeat humor.
Stacy Jeffress for American Blues Scene:
You know the first question had to be about that song on your record; what is a Kool-Aid Pickle?
John Németh:
It's a thing, primarily in the Deep South, Mississippi, Arkansas, and Alabama.
Have you tasted one?
I've had one in every flavor! First time I had a Kool-Aid Pickle was at the Jackson Rhythm and Blues Festival in Jackson, Mississippi.
I didn't even realize it was a thing. I thought you made it up.
I saw this big line for this food stand, and I thought, "I'll just ease up and see what they're serving." I asked the young lady what they were serving, and she said, "Kool-Aid pickles," and I said, "Kool-Aid pickles!" She said, "What, you've never had a Kool-Aid pickle?" I said, "No." She said, "You're the guy up there playing, hold on a minute." She grabs one of every flavor. The band and I watched Macy Gray and ate Kool-Aid pickles. It was a grand experience.
So what was the best flavor?
Cherry's my favorite, but they're all pretty good.
I'm astonished. Are they sweet or sour or both?
Sweet, sour, both.
So when the character in your song is in a "Kool-Aid Pickle," what does that mean?
It means life is kinda funky. There was a gal sitting in a chair at the Kool-Aid stand talking on the phone. She was talking trash about her boyfriend or husband, so that's where I got the idea for the song. I put myself in that guy's shoes.
You really do take songs just right out of what you're observing.
Exactly! Real life experience.
Talking about real life experience, it took me a few times listening to "Under the Gun" to suspect what it's about. What is "Under the Gun" about?
"Under the Gun" is just exactly what the old saying is. I had this opportunity over in Denmark. The tour manager wanted me to go see these old German bunkers. It was amazing; they're preserved on this beach. It's amazing the lengths people go to to protect themselves or hurt others.

We're always dealing with guns in the United States. It's good we have them, and they can be a huge problem, too, in the wrong hands. And in general, everybody works so hard these days, working long hours, working from home. It's a general song about the times; the breakdown of things we hold dear in society.
You mention Sandy Hook. Knowing you have two precious little kids, I got that part. I'm assuming you selected the song order. Does the fact that "Under the Gun" is first mean anything in particular?
I think the album gives the listener an idea of someone's story in life. I did a lot of things on this record that were very new to me. I wrote this record over a couple-month period. We cut it down at Luther Dickinson's studio.
I was going to ask about that. How did you decide on Luther as someone to help pull this together?
The last time I was on the Blues Cruise, I ran into Luther on the pool deck or somewhere. I said I was moving to Memphis, and he said I should come down to Zebra Ranch sometime and cut some music. At that time I'd already planned to record with the Bo-Keys. When the opportunity came along to get a record together, I gave him a buzz and asked if he would be interested in doing the project.
I should back up and ask about the project as a whole coming after Memphis Grease, which was such an amazing production of sound and color and touring with the Bo-Keys to support that record. Now you've come back to your core band. Did you have specific goals for this record?
I think this band and their treatment of my material is really cool. I really like what they're doing. It's a different band; it's really hip. I've listened to a lot of records, and I never heard one like this before. These guys really know how to groove. I like the way they read me as a vocalist. Danny the drummer was actually playing some of my music back when he was a teenager. He would drum and sing. That would give somebody good insight on how to drum behind the vocalist that's your boss.
You said it was an unusual record. Tell me what you think it is that sets it apart?
I didn't copy anybody's lines. Usually, you might choose some things that may be familiar. That happens a lot in blues and soul. For this one, when I came up with the melodies for the songs, I sat down with the band, and we organized every lick in the section to be a groove. Like this song, "Gave Up On You." It has this chicka chicka and the bass goes mmmm mmmm mmm.

So it's a call and answer part and holds the whole song together with the drums. I really love it. A lot of my musician friends like that tune a lot, especially the ones who know about the blues and its origins. You get lucky sometimes. You get the riffs and the licks and they all tie together in a real cool tune. Basically, all these songs really came out of some good serious head sessions.
Tell me about the S.T.O.N.E.D ball caps.
S.T.O.N.E.D is the way to go.
Are you the blues equivalent of Willie Nelson?
That's pretty funny. I guess I can be compared to Willie Nelson. Blues guys smoke a lot of grass.
In the song "Do You Really Do Want That Woman" (from the Name the Day album of 2010), you concluded that you didn't want that woman. But now in "You Really Do Want That Woman," did you decide you had to come back and address that issue?
That's such a fun tune. It wasn't even on my mind. We got onto a riff – I had this harmonica line. I had these lyrics I was just spouting off, I wasn't even thinking about the relation with the song.  But this is a completely different song, so I went with it.
I love "Kool-Aid Pickle," the song with the discordant harmony.
It's always fun to figure out a way to sell the wrong note.
On the record, you laugh and say, "That shit's wrong." And then the funky stuff – "Get Offa Dat Butt." You have a Parliament thing going on.
I love that tune – that guitar part. I was singing it to the guitar player just as an idea for a lick. He was playing it so cool, putting the whole treatment on it; you could make a whole groove out of that part.
There's a lot of soul in that playing.
If I need to fill a dance floor NOW, that song will do it every time.
The "Long Black Cadillac" song I thought was kind of depressing.
It sure is, isn't it?
It ends the record. Did you want to send everyone off so they could commit suicide?
That would be terrible! It's one of my favorite tunes. That song is so different; it feels like it belongs in the Blues. That song got kick started on a European tour. We were hanging out in Amsterdam.
Is it important that it was a long black Cadillac that took her away, or could it have been an Audi?
No. It has to be a Cadillac. I'm sorry it depressed you. It's kind of an all-inclusive record. There's a lot of emotion.
We haven't talked about "Feelin' Freaky." Are you getting in touch with your psychedelic nature?
I wasn't feeling psychedelic when I wrote those tunes. There is a part of me that's psychedelic. I came up with that harmonica lick and then the drum part – on the ride cymbal – ding dinga ding dinga ding. Danny Banks and I got that lined up. I just started singing some stuff, and Johnny picked up on a lick and got in a groove. Wilson had the idea for a two-guitar thing.

Old Chicago blues used to do that, two guitars, harmonica, and drums back in the early Little Walter days – Muddy Waters, Junior Wells. We're jamming this tune, and I thought what the hell is this? I got the idea that it was feeling freaky, so voilá!
You've had a lot of critical acclaim in addition to your massive fan base. After you get so many BMA nominations for Entertainer of the Year and so on, does that give you freedom to explore these offbeat songs?
In show business, if you've been recognized for something you've done, you're taking a big risk to do something different. Look at George Jones; he had the same haircut for decades. I like to experiment. I think every record I've ever made has been a departure from the last one. But definitely, elements from the last one show up here and there. I don't KNOW if there's any pattern to it.
There was that song on The Jack of Harps "Fetch That Wood," and then there's a reference to wood on this album. I had to go check the lyrics to make sure I was hearing that right.
"A long-ass chain on my heart and a hard-ass chain to my wood." There are parts on the record where I get a little adult maybe.
You're going to have to explain all this to [son] Otis when he gets of age.
It'll be interesting if he thinks it's ok or not. The beauty of life is you just never know how you're going to turn out. I had no idea I was going to turn out like this.
And neither did [wife] Jaki! You were wearing those suits with the fedoras, and now you look like a gas station attendant with a captain's hat on.
I'll just say that turning 40 in Memphis can be hard on the waistline. I'm not walking the hills of San Francisco anymore.
So was the jumpsuit a deliberate style choice or more for comfort?
I was thinking, "What in the world could I wear that would be comfortable that I wouldn't have to worry about plumber butt?" Elvis is everywhere in Memphis, and I saw Isaac Hayes' jumpsuit. I saw pictures of Rufus Thomas in a jumpsuit. They had it right back then.
They had glitter on theirs.
If you know me, I'm a little more low-maintenance kind of guy. Some regular old Dickeys are great. There was the moment where I had them tie-dyed. Depending on my mood I'll be wearing different tie-dyes.
And you wear the captain's hat in honor of Chuck Berry?
Yes, that's right. My first gig, we did so much Chuck Berry. The Grubstakes Saloon in Horseshoe Bend, Idaho. This was like the Blues Brothers movie without the chicken wire to protect you. During that time, line dancing was popular.

We didn't want to play country music, but we knew we could play Chuck Berry, and people would be able to line dance to it. Chuck's phrasing, the groove of his guitar – he was a one-man show for sure. He drove the bus. I was highly influenced by his music.
Will you be adding duck walking to your repertoire?
No, I used to do that stuff, but I'm tired.
It could have something to do with the S.T.O.N.E.D.
Yeah, and all of the M.E.A.T. My smoked meat habit is out of control. There's so much great BBQ all over Memphis.
We've talked about several of the cuts. There's that other funky song, "I'm Funkin' Out."
I love that song. I was playing a harmonica lick and thought it would make a cool bass line. Matthew set it right in there; his bass line on that tune is wicked. There it was, this one-chord jam. He definitely has a psychedelic element to him. I'd like to mention a big shout out to Mark Franklin, the trumpet player, and arranger on the record. I just let him go for it. He's got all the right ideas. On the "Rainy Day" song, he arranged strings and horns on that.