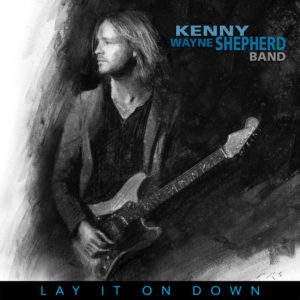 The ninth album from 5X Grammy nominee, Kenny Wayne Shepherd is scheduled for release. Lay It On Down will hit the streets in the US on August 4th. Released by Concord Records European fans can get it earlier, via the Provogue label, on July 21st.
Recorded at Echophone Studios in Shepherd's hometown of Shreveport, Louisiana, and produced by Shepherd with Marshall Altman, the album was largely recorded live in the studio to analog tape. Lay It On Down features his long-time lead vocalist Noah Hunt, and the rhythm section from Shepherd's supergroup side project The RIDES, Chris Layton (drums), Kevin McCormick (bass), and keyboardist Jimmy McGorman.

"I'm proud of the album we have delivered to the fans and I think they'll be excited by what they hear," notes Shepherd. "The band we've assembled did a fantastic job bringing these songs to life and conveying the musical message to the listener. Now we are looking forward to bringing this new music to the live show to watch it develop even more."
The KWS Band will celebrate the album's release with a US tour that kicks off August 9th in Westbury, NY.

https://www.youtube.com/watch?v=UbRchxgZocI%20