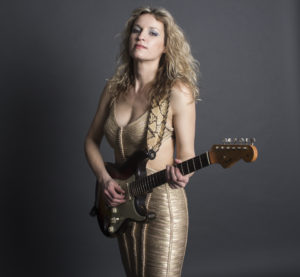 Acknowledged as one of the greatest guitarists of our time, here is 10 Things you may not know about powerful guitarist Ana Popovic, the "Serbian Scorcher."
1. Ana Popovic was born on May 13th, 1976 in the old town of Belgrade, Serbia (at the time, Yugoslavia). Her father Milutin plays both guitar, and bass, and often invited friends to the house for jam sessions.
He also had an impressive collection of blues and soul albums. It was in this environment that Popovic was raised, first picking up her father's guitar at 15.
2. Ana was a guitar prodigy early on. She fast surpassed her father's teaching abilities, and although not a wealthy family, her parents hired a private guitar tutor for her. She learned quickly, surprising her teacher by developing her own unique style.
She formed her first band, Hush, while studying graphic design in college. They were soon playing over 100 gigs per year, and with the fall of communism, were finally able to travel. They began playing festivals in neighboring countries of Hungary, and Greece. In 1996, Popovic played slide guitar on the Serbian rock band Piloti's album, Dan Koji Prolazi Zauvek. Two years later, Hush released their debut album, Hometown.
3. That same year, Ana Popovic was offered a position at the Utrecht Conservatory of Music in the Netherlands. Studying jazz guitar, she formed The Ana Popovic Band a year later, in order to pay the tuition costs. The band took off, becoming extremely popular in the Dutch and German music scenes. They appeared alongside artists such as Buddy Guy, Taj Mahal, Double Trouble, and Eric Gales.
In 1999, she signed a record deal with Ruf Records, and in 2000, traveled to Memphis to record the album, Hush!.
4. Popovic has set a number of "firsts and only"s in her career. She was a contributing artist on the album, Blue Haze: Songs of Jimi Hendrix. In 2003, she became the only continental European artist to be nominated for the WC Handy Award (now Blues Music Awards) for "Best New Artist."
At Belgium's Rhythm & Blues Fest, she was invited on stage by Solomon Burke. Based on that performance, he immediately invited her to accompany him for the rest of his tour.
While racking up blues award nominations, she also won the prestigious French award, "Jazz a Juan-Revelation," for her contributions in the genre of jazz music. In 2006, Popovic became the first European artist ever to be invited on the Legendary Rhythm & Blues Cruise. She is also the only female guitarist to appear on the all-star Experience Hendrix tours, 2014-2017.
5. Ana recorded an album with her father — after much convincing. In their 11th floor apartment in Belgrade was an enclave known as the "Blue Room." It was there, listening to and discussing blues, soul, and rock music, that Popovic and her father shared their best times.
In 2015, after ten years of trying to convince him, Ana recorded an album with her father. Blue Room by Ana and Milton Popovic, is a collection of the music upon which she grew up. Masterful covers of artists including Robert Petway, Jimmy Reed, John Lee Hooker, and John Lennon appeared on the album. Milton (Milutin), taught himself to speak English by listening to classic blues albums.
6. Popovic was on the cover of the first American Blues Scene Magazine. Now focusing online for faster response, ABS once published a series of print magazines. As a nod to the blues' vast modern influence, a young serbian-born woman blues guitarist was chosen for the first cover.
7. Even through hundreds of shows, touring still takes a back seat to family. A mother of two, Popovic believes that spending time with her children is more important than touring.
She relies on her husband, Mark, for support, but has said, "A lot of them (blues artists), tour 300 days a year, and that is not really, in my opinion, the way to lead a good life. If you have children, you need to be there. You can't just leave it all behind."
Popovic, when home, turns off the television and computers promptly at 5 PM, to make room for family time. When her son Luuk was a baby, he accompanied her on tour. She believes that she got to spend more time with him than a mother who works in an office. She'd spend all day with the baby, and then perform at night, while he was asleep.
8. Each Ana Popovic record specifies a moment in her life. Still Making History, takes on the memories of growing up under the regime of accused war criminal, Slobodan Milosevic. Blind For Love has her touching base on all aspects of love. From true love, sex, and forbidden lust, to the song, "Part of Me," which was written as a lullaby to her son Luuk. Her latest release, Trilogy, looks forward to the future of the music business. In her words, "In an era where most are skeptical about the current state and future of the music industry, I wanted Trilogy to tell a different story. The record biz might be broken and Spotify might rip us off, but that can't keep an artist down. Creativity is very much alive, and music is the celebration of life."
9. While studying music in the Netherlands, Popovic became a fan of jazz music. It's a genre she incorporates into her music today. The combination of jazz and blues may seem complicated, but she draws inspiration from artist who came before her. Loving music in general, she has often said her major influence was Albert King. However, closely behind were the jazz-tinged blues guitars of Gary Clark, Jr., and Ronnie Earl. She learned slide guitar by listening to Elmore James, and Bukka White, and she plays it flawlessly, but one can always hear the jazz influence of her college days in the mix.
10. Popovic broke barriers with provocative album covers — and shrugged off criticism. Her leggy photo on 2013's Can You Stand the Heat, and the cover of her 2012 Unconditional, where she appears in nothing but a vintage Stratocaster, certainly helped spark conversation.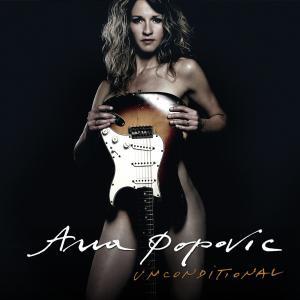 The covers drew the ire of some blues purists, assuming she was using the old, "sex sells," adage to cover for a perceived lack of talent. However, the music within speaks for itself — that year, Ana was nominated for three Blues Music Awards and Unconditional landed in the top 15 of Guitar World's top Blues and Roots Rock Albums.
In a 2012 interview with Blues Blast Magazine, she set the record straight on those album images. "Well, the cover is my take on blues. A lot of people, when they think of blues, think of an old man with a guitar in his hand and the picture should be in black and white. I am aware of the basics and am aware that less is more. And it's also about being one with your instrument. That's what Hendrix and Robert Johnson and Elmore James had. They were one with their instruments. So basically the cover is about the beauty of the basics and being one with your instrument."