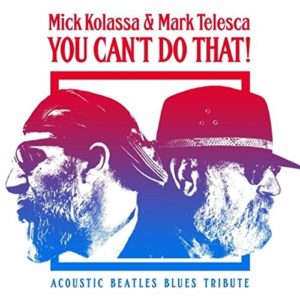 It's well known that the Beatles began as a skiffle group in England. Steeped in blues and R&B influences, they almost single-handedly created the genre of pop music. But what would have happened, had they directed themselves away from the sounds of Chicago, and more toward those of Clarksdale? Two Delta blues disciples, and major Fab 4 fans, have figured it out.
"Michissippi" Mick Kolassa and Mark Telesca have done what many said couldn't be done. They bluesified a small chunk of the Beatles songbook. What's more, they've done it brilliantly. You Can't Do That! on the Swingsuit label is parenthetically described as an Acoustic Blues Beatles Tribute, and that description is spot on.
Kolassa (vocals, guitar, percussion), who finds his greatest joy in finding the blues hidden in every song he hears, found a Beatles soul-mate in Telesca (vocals, guitar, bass) at the International Blues Challenge in Memphis a couple years back. They began sharing their individual interpretations of blues style mop top songs, and before long were collaborating on the creation of this album.
Memphis based blues wild man, Jeff Jensen joined the mix, adding both his incredible guitar and producing prowess. The remaining artists are made up of James Cunningham (drums/percussion), Marc Franklin (trumpet and flugelhorn), Eric Hughes (guitar and harmonica), and Tommy Boroughs (fiddle and mandolin). Then the magic really began.
This is a completely acoustic release. There are no amplifiers or effects pedals. Instead, we get the back porch feel of resonator and acoustic guitars, along with other traditional, and some not-so traditional instruments. Furthermore, the combination of vocals provided by Kolassa and Telesca, as oxymoronic as it may first seem, blends into an astonishingly delicious stew.
When we hit play, the muted Dixieland trumpet of Franklin blessed our ears. But, this can't be a Beatles song – can it? "I've got every reason on Earth to be sad. I just lost the only girl I had." That's blues, all blues and nothing but the blues. They're also the opening words to the 1964 Lennon/McCartney song, "I'll Cry Instead." Originally so rooted in country/western that Chet Atkins covered it two years later, it comes across here as swanky, and blues-filled.
The second track, "Can't Buy Me Love," has Telesca providing the vocals on a capricious version of the #1 hit. Perhaps the most poppish of the songs on You Can't Do That!, it was also the original A-side of the title track on 45. Speaking of the title track, Kolassa again does the singing on a not-so famous classic. The duo decided on this one as a title for two reasons. One, the original song has a deep blues connection in the writing, and two, because that's what a lot of people told them when they heard about the project. Hughes provides both guitar and harmonica on this one, coming across as true country blues.
Hughes' harmonica also adds some appetizing appeal to the slow drag rendition of "I Feel Fine." On "Fixing a Hole," it's Telesca providing some sweet Spanish guitar work, and a powerful vocal delivery. We first hear Boroughs on "Lady Madonna," his gypsy style, crying fiddle adding some perfect accompaniment as well as a tasty little solo. "Why Don't We Do It In The Road," originally from the notorious White Album, gets the full on blues treatment with some satisfying slide flavor.
Mixing a combination of hit songs, along with some lesser known classics, gives You Can't Do That! another step above some earlier attempts to bluesify the Beatles. This is not just a blues tinted greatest hits project. It is rather, a collection of personal favorites, dissected by a group of master craftsmen, then given new life, sans electricity.
Retaining the songs' origins by keeping all the tracks under the four minute mark, our personal favorite is the shortest track on the album. Clocking in at just 1:38, "She Came In Through the Bathroom Window," is a bluegrass hit. An upbeat finale', including Boroughs' deft mandolin playing, it's like all the fireworks going off at once.
Songs written by Lennon and McCartney have been covered ad nauseum. John wasn't really a fan of most Beatles music, while Paul seems thrilled whenever anyone covers his songs. There are Beatles fanatics that won't like this album. "Sacrilege!" we can hear them cry. But to our ears, You Can't Do That! is pure bliss. Kolassa, Telesca & Company have taken the heartfelt lyrics of one of the world's most popular songwriting teams, and matched the music to their individual moods. We can't imagine it being any better – unless of course, they come out with a sequel.
Artist: Mick Kolassa & Mark Telesca
Title: You Can't Do That! Acoustic Beatles Blues Tribute
Label: Swingsuit Records
Release Date: May 5th, 2017
Running Time: 37:04