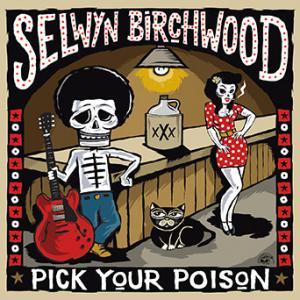 Chicago, Illinois – Guitarist, songwriter and vocalist Selwyn Birchwood has released the first video from his new CD, Pick Your Poison. It is for the song "Guilty Pleasures." The video, depicts Birchwood happily sinking into the depths of decadence (but with a surprise ending). The Alligator Records release currently sits in the Top 10 on the Billboard blues chart.
On Pick Your Poison, Birchwood, along with his band—saxophonist Regi Oliver, bassist Huff Wright, and drummer Courtney "Big Love" Girlie—takes a major step forward, crafting visionary blues for a new generation of forward-looking fans.
Birchwood, who attacks his guitar and lap steel with searing intensity, wrote and produced all 13 songs on Pick Your Poison. The cutting-edge songs are made all the more impactful by his gruff vocals, untamed musicianship and the band's seemingly telepathic accompaniment. "I write and sing what I know," says Birchwood, whose innovations are as expansive as his influences. "This album has a broad reach. It's for young, old and everyone in between."
Birchwood's blistering instrumental skills, his trailblazing, instantly memorable songs, and his gritty, unvarnished vocals place him among the brightest young stars in the blues. His deep familiarity with blues tradition allows him to bust the genre wide open, adding new sounds, colors and textures, all delivered with a revival tent preacher's fervor and a natural storyteller's charisma.
Birchwood and his band will spend the summer performing across the US and Canada.
Jun 18, 2017 – Bull Run Restaurant – Shirley, MA
Jun 20, 2017 – Beachland Ballroom & Tavern – Cleveland, OH
Jun 21, 2017 – LAV Village Motorsports Summertime Blues Grand – Rapids, MI
Jun 22, 2017 – Buddy Guy's Legends – Chicago, IL
Jun 23, 2017 – Vegetable Buddies – South Bend, IN
Jun 24, 2017 – The Beale on Broadway – St. Louis, MO
Jun 27, 2017 – Dawson Street Pub – Philadelphia, PA
Jun 28, 2017 – Saint Georges Country Store – Saint Georges, DE
Jun 29, 2017 – The Lizzie Rose Music Room – Tuckerton, NJ
Jul 01, 2017 – Festival International de Jazz de Montréal – Montreal, QC, Canada
Jul 02, 2017 – Blues on the Battlefield – Thorold, ON, Canada
Jul 05, 2017 – The Alamo – Springfield, IL
Jul 06, 2017 – Shank Hall – Milwaukee, WI
Jul 07, 2017 – Rockin' The Bay Music Festival – Gladstone, MI
Jul 08, 2017 – Famous Dave's Uptown – Minneapolis, MN
Jul 09, 2017 – Fat Fish Pub – Galesburg, IL
Jul 14, 2017 – OM Bar & Chill Lounge – New Smyrna Beach, FL
Jul 21, 2017 – Ace's Live – Bradenton, FL
Jul 28, 2017 – The Palladium Theater at St. Petersburg College – St. Petersburg, FL
Jul 29, 2017 – The Palladium Theater at St. Petersburg College – St. Petersburg, FL
Aug 04, 2017 – The World Famous Buckingham Blues Bar – Fort Myers, FL
Aug 05, 2017 – The Alley – Sanford, FL
Aug 11, 2017 – Terra Fermata Tiki Bar – Stuart, FL
Aug 12, 2017 – High Dive – Gainesville, FL
Aug 16, 2017 – Paradise Bar & Grill – Pensacola Beach, FL
Aug 18, 2017 – Jackson Rhythm and Blues Festival – Jackson, MS
Aug 23, 2017 – Sellersville Theater – Sellersville, PA
Aug 25, 2017 – American Folk Festival – Bangor, ME 08/25/17-08/27/17
Aug 28, 2017 – Time Out Pub – Rockland, ME
Sep 01, 2017 – The Hamilton – Washington, DC
Sep 03, 2017 – Blues, Views & BBQ Festival – Westport, CT
Sep 16, 2017 – South of the River Roux – Walnut Grove, MS
Oct 21, 2017 – Biketoberfest – Daytona Beach, FL
Nov 01, 2017 – The Rhythm Room – Phoenix, AZ
Nov 02, 2017 – Boulder Station Casino – Las Vegas, NV
Nov 04, 2017 – Arcadia Blues Club – Arcadia, CA
Nov 05, 2017 – Moe's Alley – Santa Cruz, CA
Nov 08, 2017 – Biscuits & Blues – San Francisco, CA
Nov 09, 2017 – Biscuits & Blues – San Francisco, CA
Nov 11, 2017 – Sutter Creek Theatre – Sutter Creek, CA