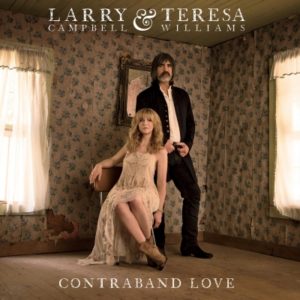 On September 15th, Larry Campbell & Teresa Williams, "The First Couple of Americana" (Mojo), will release their new album Contraband Love on Red House Records. Produced by Campbell and comprised mostly of new and original songs he wrote, the 11-track album is the follow up to their critically lauded 2015 debut.
Campbell and Williams have embarked on their own recording and touring journey after decades of marriage, and seven years working closely with Levon Helm. Campbell was bandleader and producer (for which he won three Grammys), and Williams was a singer. Contraband Love features Helm playing drums on the Carl Perkins classic "Turn Around," in what would be one of his last recording sessions. Other special guests on the album include Little Feat's Bill Payne, plus another veteran of Helm's band (and current member of The Lumineers) Byron Isaacs.
On Contraband Love, Campbell's songwriting takes a darker turn, with three of the eight new tunes exploring themes surrounding addiction. The track "Three Days in A Row" soundtracks the critical seventy-two hour period directly following an addict going cold turkey. "I was thinking about the things I've quit in my life," Campbell recalls. "The last time was cigarettes. I remembered the dreams I had in withdrawal." Title track "Contraband Love," a waltzing vocal showcase for Teresa, takes on the other side of the story, when a loved one realizes their only recourse for dealing with an addict is to stand "with arms wide open."
Larry Campbell & Teresa Williams have long provided musical firepower for fellow artists including Helm, Bob Dylan, Mavis Staples, Little Feat, Phil Lesh and Friends, and Rosanne Cash. Their 2015 album Larry Campbell & Teresa Williams earned widespread praise.
To accompany the announcement, the duo has released the lead single from Contraband Love, the original Campbell-penned track "Hit And Run Driver."
The duo will preview songs from Contraband Love this summer with a handful of shows including two nights at Joe's Pub in NYC, July 12th and 13th. They embark on a lengthy nationwide tour with Shawn Colvin on September 30th.