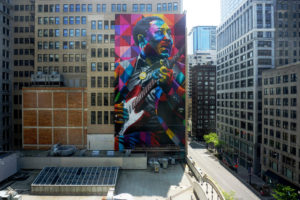 The city of Chicago will be dedicating a nine-story mural of blues legend Muddy Waters on Thursday, June 8th. The mural, designed by Brazilian artist, Eduardo Kobra, was painted a year ago as part of the Wabash Arts Corridor "Big Walls" Project. It was funded by building owner Anne Voshel, and Columbia College Chicago.
The dedication is a kick-off to the 34th Annual Chicago Blues Festival which takes place this weekend in Millennium Park. Participants in the dedication ceremony include Waters' daughter, Mercy Morganfield (Muddy Waters Foundation), Mark Kelly (Commissioner of DCASE; and founder, Wabash Arts Corridor), Voshel, and Kobra.
There will also be a performance by the Muddy Waters Legacy Band featuring Waters' sons Mud and Big Bill Morganfield, and former band members, John Primer, Rick Kreher, Studebaker John, Edward McDaniel, Donny Nichilo and Kenny "Beedy Eyes" Smith. Che "Rhymefest" Smith, and Blues Festival headliner, Billy Branch, will also perform.
The mural is located at 17 N. State St., and festivities begin at noon on the West sidewalk between E. Randolph and E. Washington.