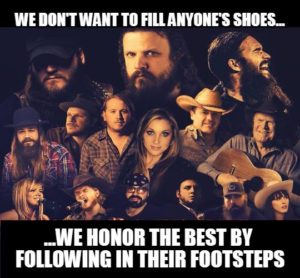 Just 15 minutes from downtown Kansas City lies the town of Sugar Creek, Missouri. Once the home of the Osage people, the area was part of the Lewis and Clark expedition. It became an important port area, supplying early pioneers on the Westward trails. Jesse James even had a hideout nearby. The perfect place to host Tumbleweed: America's Outlaw Country Music Festival, July 28th & 29th, 2017.
Outlaw Country dates back some 50 years. Artists who opposed the commercial control of the Nashville recording industry, began to mix honky-tonk, rockabilly, blues, and southern rock into their own brand of country music. The genre's founders grew their hair long, traded their Nudie Suits for blue jeans and leather, and begat their own counter-culture. Primarily based in Texas, the genre of outlaw country took the entire nation by storm.
More recently, another Nashville twist, that of pop-country, inspired a new generation of outlaw country artists to follow in the footsteps of much admired artists such as Waylon Jennings, Willie Nelson, Townes Van Zandt, Ray Wylie Hubbard, Steve Earle, and Billy Joe Shaver. These new outlaws consider their music to be "real" country, and some of the very best will be gathering at La Benite Riverfront Park this weekend to celebrate it.
Tumbleweed offers everything a true outlaw would want. Two days and three nights of outlaw country music will fill the air over the Missouri River. RV and forest tent camping sites, beer gardens, canoeing, hiking, fishing, country boutiques, and even helicopter rides add to the fun. The draw though isn't the river. It isn't the camping. It isn't even the beer. It's the nearly 20 acts that bring their bearded, boot-stomping, 21st century country sounds to the crowd.
Shaver himself will be performing, as well as popular artists including Jamey Johnson, Cody Jinks, Whitey Morgan, and Roger Creager. Those that love their country music a little more toward the Jessi Colter side, can enjoy those incredible outlaw women, Sunny Sweeney, Jaime Wyatt, and Courtney Patton, to name just a few.
A flag honoring, family oriented, no bullshit event, Tumbleweed even offers FREE 2-Day passes to veterans and active duty military. Just fill out the form HERE and pick up your tickets at will call.
The Tumbleweed credo is simple. "Tumbleweed brings together friends and families from every single state in this Great Nation. From every walk of life, we come together for a weekend of incredible country music. We're all brothers. All sisters. All together on the beautiful Missouri River beneath the shade of century-old trees and the grace of God."
For more info, tickets, artist lineup and more, just click the link below.