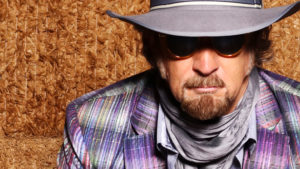 Chris "Bad News" Barnes has been infusing comedy into blues music (or is it the other way around?) since he left his native Scranton, Pennsylvania, for New York City at age 17. He quickly scored a job at Tramps blues club on 15th Street, a very popular venue in the 1970s which hosted the Alligator Records roster among others. Barnes served as the warm-up act for the blues icons who played there.
As a cue for the blues performers to set up onstage at the end of his set, Barnes would improvise a song with his harmonica based on audience suggestions of a woman's name and a household object, i.e. Alice and frying pan, "Her name was Alice, she was a girl of the land, then she hit me with a hot frying pan." When legendary drummer Willie "Big Eyes" Smith told Barnes what he was doing was "hokum blues," Barnes' fascination with the sub-genre began.
In celebration of the release of his new CD, Hokum Blues, on VizzTone Records, Chris sat for an interview with American Blues Scene to share his observations about how his experiences working as an improvisational comic (Second City), comedy writer (Saturday Night Live), and actor (The Carol Burnett Show, Life With Bonnie, Curb Your Enthusiasm, Thirty Rock) have served him well as a bluesman.
Stacy Jeffress for American Blues Scene:
Why hokum blues and why now?
Chris Barnes:
First of all, my base is comedy. I started as a comedian and still consider myself a comedian. One night [at Tramps] I was opening for Pinetop Perkins and Willie "Big Eyes" Smith, then after the set, we were out in the alley talking and having a smoke.  Big Eyes said, 'You're doing what we call "hokum." We call that "hokum blues."'

Big Eyes told me, 'W.C. Handy used to say, "We're going to hook 'em with the hokum." We always had a comic act before the blues act to hold the audience. That was their job.' It's a legitimate style that is broad in its description because it's a style of blues that also had an element of stagecraft. It was based on ludicrousness. There are dances associated with hokum blues; the Cakewalk, and the Buzzard Lope.

One of the characteristics of this specific genre it that it was an all-around performing entertainment. It had monologues, dances, and humor. It was in the late '20s and early '30s that hokum blues came to be. The great thing about it was, from there I went on to write for Jim Belushi at Saturday Night Live. I wrote songs and parodies for him.

I then went on to Second City in Chicago where I was doing political and social satire and also going to clubs and playing with Sugar Blue who used to come to my shows at Second City. We became very good friends. We would get onstage and improvise blues songs with the harmonica. I was going to Kingston Mines and all the great blues clubs, and it was just an organic mix for me. I went on to Saturday Night Live to write for Jim Belushi. So it fits me very very well.

Then I got into television. I was on Seinfeld, Curb Your Enthusiasm, Thirty Rock, Life With Bonnie, and The Carol Burnett Show. That occupied most of my time. And then I hit bottom. I had a bout with drugs and alcohol. I just dropped everything, all entertainment, all arts, and just focused on getting sober, and I did that.

Then I got back into it. I started to perform blues and came back to Pennsylvania and started working with some blues musicians. I met some musicians who wanted to take it a bit further, and one was Ann Klein whose husband owned a recording studio in Brooklyn, New York. He had some songs, and I had some songs, and that's how we did our first album. Bette Sussman, who also plays on this album, played on that first album. After that I started to perform in New York City a lot with the band, getting a little bit of a following.

I got involved with the Blues Foundation through Janiva Magness who is a very good friend of mine. About two years ago, I was at a dinner with Bill Wax [SM Sirius radio host of BB King's Bluesville] and Bob Porter [blues radio host, writer, and record producer], and all these heavyweights and being introduced around as a comedian who does comic blues.

Bob asked if I'd heard of hokum blues. I said I just did an album of more contemporary hokum, and he said, 'No no no, you have to do the original, you have to do the Hokum Boys.' I said, 'Let me do some research,' and I really got into the Hokum Boys. I said, 'That's it, I've got to do this album.' It took me a year of research and then a year of planning.
I don't know how you found time to get all of the stellar folks who play on this record together.
I was having coffee with Will Lee [James Brown, Late Show With David Letterman] one day and talking about it, and he said, 'I've got to produce that album.'  He said we could do it in two days at the Carriage House Studio up in Connecticut. Will was able to get the band together, the studio time, and the engineers. Jimmy Vivino [Late Night With Conan O'Brien] is in the Fab Faux with him; he's an authority on hokum blues. I had done a National Lampoon show for Comedy Central with Jimmy Vivino as my musical director. Will said we're going to get Shawn Pelton from Saturday Night Live on drums.

I'm a harmonica player, but I'm not at the level of Jimmy Vivino, Will Lee, Shawn Pelton, and Bette Sussman. I met Steve Guyger [Jimmy Rogers Band] down in the Village at Terra Blues and hung out with him. I think he's one of the greatest harmonica players alive. I always said that if I had an opportunity to work with him, I would. I called Steve, and he said he'd love to do it. He just kicked it out of the park. He was phenomenal.

The original Hokum Boys of Tampa Red and Georgia Tom performed as the Dorsey Brothers, one a piano player and one a guitar player. The solos go back and forth between guitar and piano, but there are also a lot of horns, clarinet, and trombone, that you would hear more so in jazz or ragtime, but it's certainly blues. That was the approach. Honoring and staying committed to the blues but also honoring the style of '30s blues which did have a little more jump in it, a little more New York City blues, and some New Orleans blues. That's what we shot for, and we definitely captured that.
It's a wealth of fun, and one thing you didn't particularly mention is that hokum blues often has a naughty side, a lot of double entendre.
One of hokum's descriptions is kind of a raunchy blues side with explicit references to sexual practices and what not, and as you said, double entendre. As a Second City comedian, all that meant to me was, there is political and social satire, and there's a lot of that in this music because during that time sexual practices were considered immoral, indecent, and people were arrested. A lot of the songs talked about that back then.

But in the end, the target is one's own self and one's own insecurities. From the beginning of time until now, that's where we all have a bit of insecurity, an area we're not comfortable with. That's where you have to go if you want to do really good comedy.
When I started looking at the hokum blues songs on YouTube, there are so many. How in the world did you pick these 14 songs?
I liked the musical energy of them and thought that the pace of them worked for today. That was the great thing about having Jimmy Vivino. When we got to a song like "Keep Your Mind On It," and it was beginning to sound like the rest of them. Jimmy said, 'Why not treat that as a rhumba?' I said, 'Yes, exactly.'

I also wanted to make sure that my first album wasn't too blue, too risqué because then I think you're going too far for the sex joke. Songs like "It Hurts Me Too" and "Things About Coming My Way" have been recorded by Clapton and everybody else. Those are great American blues songs.

I wanted to use a deft touch with the ironies on this album. Now I might do an album doing the blue side of hokum, but right now I wanted it to be an excellent introduction to the blues community, or reintroduction for some, of the songs I felt had substance and meaning and are enjoyable. I wanted to tickle and tantalize the audience.
There's a lot of humor involved. On some of them, were you singing through a harmonica mike, the way your voice is sounding?
No, I was able to effect that on my own. As a Second City actor, we're taught theatrically to bring a different nuance vocally to a song. It came very naturally to me. It's not really singing; it's an affectation. There was no megaphone, no scratching. Maybe a little bit of treble, but basically pretty straightforward.
It brought to mind "Winchester Cathedral" and that kind of thing, almost vaudevillian.
It's so funny you said that. When I was in second grade at St Clair's, me and two of the guys had two songs; one was "Winchester Cathedral." My one friend had his sister's ukulele, and my other friend had a 12-string Spanish guitar which was bigger than him, and I had my little drum set. We did "Winchester Cathedral" and the theme from Batman. Wait, we also did Herman's Hermits' "There's A Kind of Hush."
As someone coming from such a strong comic background, is it ever difficult to be taken seriously, or do you want to be taken seriously, as a blues recording artist?
The truth of it is, life has taught me I'm not responsible for anyone's understanding of who I am. I'm just responsible for what I do when I walk out onto a stage or into a studio. I know that I have a love of the blues. I know that Big Eyes looked me in the eyes and told me, 'You're a hokum bluesman.' I don't need anybody to justify me after that. But again, it's none of my business what you think of me. My business is to take care of my end.

I wouldn't say I'm a great singer. My power and talent is in the stagecraft. My talent is in performing, the way I handle what happens between the songs, my ability to connect with the audience. The best thing I know from being in Second City is that you surround yourself with the best possible people who do their job, i.e. the musicians.

I know a lot of people don't consider the Blues Brothers a blues band, but they're responsible for a whole generation [being introduced to] the blues. We would certainly say John Lee Hooker was a bluesman. He had an enormous amount of movie time as a result of John Belushi and Dan Aykroyd. Their love of the blues is unquestionable. The song they wanted to do was "Rocket 88," and it was Steve Cropper who said, 'Why don't you guys try "Soul Man"?' That's probably the song they are best known for, but the only reason they got to "Soul Man" was through their love of James Cotton.

Dan Aykroyd is a bluesman. John Belushi was a bluesman. But they were also comedians. Big Eyes said there were a lot of bluesmen who were comedians or comic in nature. We just entered Tommy Brown into the Blues Hall of Fame two years ago who was a comedic bluesman.

Whether the blues community is willing to take me seriously is none of my business. My dedication to blues will not alter or change as a result of anyone's opinion. I do what I do. I know there is a specific legitimate genre that W.C. Handy, who they call the father of the blues, is known for saying, 'We hooked 'em with the hokum.' I've got a lot of history on my side as to whether I'm a bluesman.
You talked about connecting with an audience. I know you worked with Carol Burnett. I'd imagine you learned a thing or two about connecting with an audience from that lady.
Yes, I did Carol Burnett's last variety show for CBS that was shot at her original studio. If you watch The Price is Right, that is her studio. That was built for her by CBS. It's the only television studio that has theater seating. That's why when they call your name, and you come on down, and if you think about when Carol would do the questions and answers, they were sitting in theater seats. I worked that theater, I worked that stage, and Tom Scott was the musical director. We did 13 shows, and I did over 20 two-person scenes with her. I am still in touch with her at least every other month.

Carol taught me how to be in a scene and be able to go outside the scene and come back to the structure. She was a firm believer that structure's main goal was to allow you to go outside of the structure only to return to it to end the scene. If that's not the definition of a blues song, I don't know what is. It was the greatest gift of my life working with that woman.
She's a role model for so many people. I remember watching her Monday nights and watching her tug her earlobe and knowing what that meant.
It was not long after that show ended that I hit bottom, because I knew had peaked with my greatest artistic experience, and it would never get better than that. That was my belief. It wasn't until I found this, the hokum blues, that I have found something once again that is boundless, and I can honor the structure yet still go outside of the structure and come back for the final notes of the piece.
I saw you at IBC this year. Was that the first time you'd been to that event?
That was my third time. This is the only genre where you can have a garage band, or you could be a band in Canada, a band from Jackson, Mississippi, or you could be a band from Chile, and you can come to an event – a challenge not a competition. I'm one of the people who believe it's a challenge of one's own self and not a competition between you and me.

I sat next to Jarekus Singleton when he competed. They announced the winner, and it wasn't him. I saw him go, 'Wow.' I looked at him and said, 'Are you kidding me? You're beyond this. The greatest thing was we all got to hear you, and you got signed by Alligator. You mastered your challenge. It's not the point whose name is announced at the end; it's what was your experience this week. We're in Memphis, Beale Street itself opened its doors to allow all of us to partake in the history.'

Hokum Blues was developed on Beale Street. We all get to come here, and in one week hit every club on that street and see what everybody around the world is bringing to the blues today. Someone who's never going to be seen can be spotted, meet a DJ from Chicago, meet a blues festival organizer, or meet the Blues Cruise people. There's no such thing in any other genre. There's not a reggae challenge somewhere.

That's what's so amazing about the IBC and the Blues Foundation. You get to be part of a community. If you see it as something else, you're missing the point. I'm a guy in my 50s that is able to be part of something that has such creative artistic, and for me, satirical power. Where else am I going to find this? And I'm just scratching the surface.
Speaking of scratching the surface, will you be touring in support of this record?
I hope so! I have the SUV with the hitch, and I'm ready. I've got the musicians, I've got the material, and now I'm ready to start booking the dates. That is my goal – to get on the road and get as many people to hear this record as possible, and the next one, and the next one.