CLARKSDALE, MS — The Delta Blues Museum will celebrate the centennial birthday of blues icon John Lee Hooker with a month-long series of events and programming this August to commemorate the milestone, including a newly-unveiled interactive website feature that allows visitors to "Explore & Learn" more about the life and music of the legendary musician.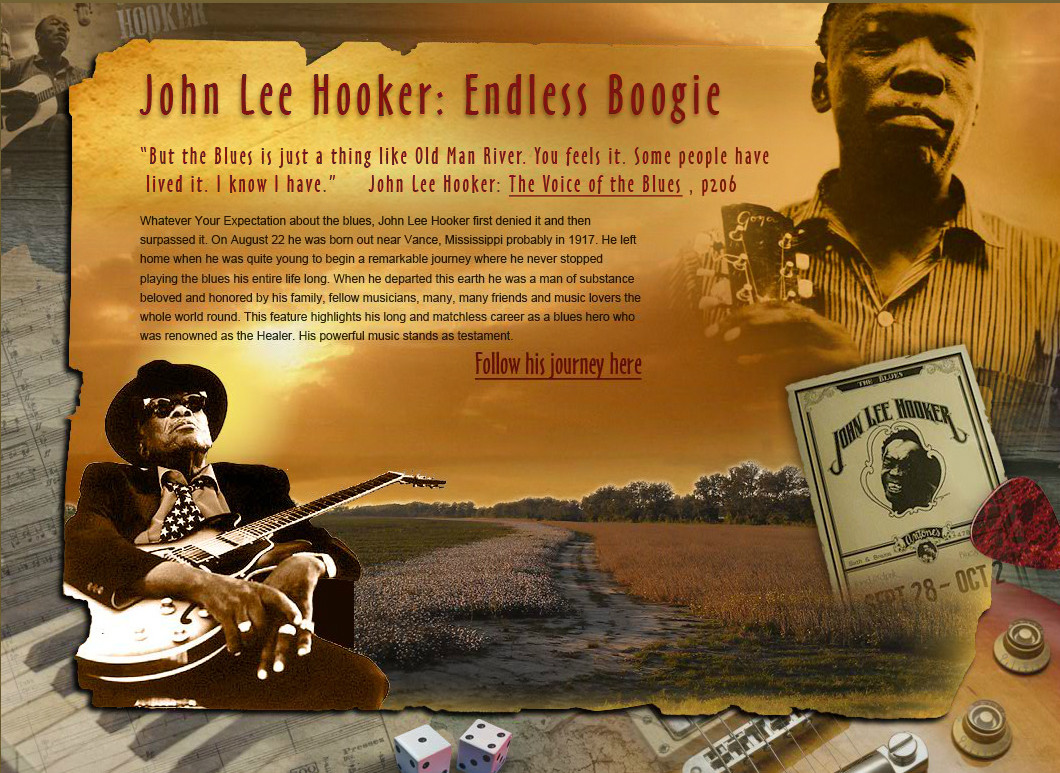 Through a grant from the Mississippi Delta National Heritage Area, the Museum has created the "John Lee Hooker: Endless Boogie" website feature that traces the musician from his Clarksdale roots through his career and legacy.  Museum Director Shelley Ritter says that, like the Museum's other online educational resources on Muddy Waters and Son House, this interactive web exhibit was created to expand experiential offerings for blues fans worldwide.  "The Delta Blues Museum wants to honor John Lee Hooker's place in music history and give fans everywhere an interactive opportunity to discover the deeper story of his rise on the international stage," offers Ritter, adding, "'Endless Boogie' was created as a tribute to John Lee's well-deserved place in the pantheon of American roots artists."
A separate gallery exhibit will be installed at the Museum with John Lee Hooker artifacts and personal items on display, in collaboration with the John Lee Hooker Estate. Rare vinyl albums and 78s from the Museum's own collection are also part of the planned exhibit.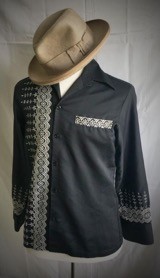 John Lee Hooker Exhibit / Specialty Items Available for Purchase: Merchandise available online and in the Delta Blues Museum Gift Shop during normal business hours.
Personal effects such as gear, rare vinyl records from the artist's own collection and much more, as part of the Museum's John Lee Hooker Exhibit. Hat on loan courtesy of the John Lee Hooker Estate.
A list of the Museum's John Lee Hooker Centennial events and programs follows.  For more information on these events or other programs, please call  (662) 627-6820, or visit the Museum web site.
Events Throughout the Month
Blue Star Families Receive Free Admission – As part of the Blue Star Museum Program; available to active duty military and their family members through Labor Day
Special Cigar Box Exhibit – In advance of the Cigar Box Guitar Festival
August Events and Programs:
August 11 – 13th | 30th Annual Sunflower River Blues & Gospel Festival – On the DBM stage, schedule available at http://www.sunflowerfest.org; special Museum hours on Sunday, August 13th from 1 – 5PM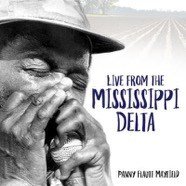 August 11th | Q&A with Panny Flautt Mayfield, author of Live From The Mississippi Delta
Join the award-winning journalist and life-long Delta resident as she discusses her first book–a collection of rare photographs and stories about musicians from Robert Plant, B.B. King and ZZ Top to local Mississippi artists, documenting decades of blues and gospel music from the author's career as a live music photographer.   In the Museum classroom, at 4PM
August 12th | Q&A with Panny Flautt Mayfield, author of Live From The Mississippi Delta  – In the Museum classroom, at 5:30PM
August 13th | Q&A with Delta Blues Museum Ambassador Charlie Musslewhite
As part of our John Lee Hooker Centennial programming and as an official Mississippi Bicentennial Celebration event, the Grammy award-winning musician and Rock & Roll Hall of Fame inductee will join host Jim O'Neal to share his thoughts on John Lee Hooker's legacy and the "state of the Blues."
Panny Flautt Mayfield will offer additional Q&A sessions on her new book, Live from the Mississippi Delta, before and after Mr. Musselwhite's talk.
In the Muddy Waters Wing, time TBD–please call the Museum or visit the website for confirmed time.
August 21st | Movie Night: The Blues Brothers (1980) – August is John Lee Hooker Month at the Museum, and the blues legend makes an appearance in this iconic film–as do many other Mississippi blues artists.
August 22nd | John Lee Hooker Centennial Birthday Celebration – Free cupcakes all day long at the Museum
During business hours, while supplies last; sponsored by Kroger
August 24th | Diane Williams presents, "The Historic Journey of the African-American Quilter"
In the Museum classroom, from 1 – 3PM; sponsored by the Mississippi Humanities Council Speakers Bureau