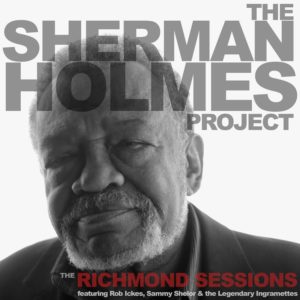 There is one surviving member of the iconic trio, The Holmes Brothers. Founding member, singer and bassist, Sherman Holmes, now 77, releases his very first solo album July 21st on M.C. Records. Released under the moniker, The Sherman Holmes Project, the record is aptly titled, The Richmond Sessions.
This is also Holmes' first recording since the passing of his brother and musical partners, Wendell Holmes and Popsy Dixon, both in 2015. But his solo debut, dedicated to their memories, is no somber affair. The blend of bluegrass, gritty rock & roll, and joyful gospel will be familiar from the Holmes Brothers days. With some of his strongest vocals on record, the album shows Sherman is still an artist in his prime.
"Sounds pretty good for a 77-year-old, doesn't it?" Holmes laughs. "I was overjoyed to do this, because I didn't know how I was going to restart my career. We chose a good collection of songs that we wanted to do. We got some gospel in there, and some bluegrass. It's a good mix of the Americana music, as I like to call it."
Make no mistake, the music of The Richmond Sessions took us to church. We're not talking about one of those Megachurches often seen in evangelical broadcasts. This is tent revival, foot stomping, back to the roots of it, church. The very first track sets the tone. Filled with fiddle, banjo, dobro and lofting vocals, the traditional hymn, "Rock of Ages," rocked our socks off. Other great, gospel classics include the Holmes favored, "I Want Jesus," and "Wide River."
Throughout the album, background/choir vocals are provided by the Legendary Ingramettes, Richmond's "first family of gospel," 50 years standing. Founded by Sister Maggie Ingram, the group is now led by her daughter, Rev. Almeta Ingram-Miller, and includes Cheryl Marcia Maroney, and Ann Cunningham. Rev. Almeta solos a verse in "Rock of Ages," with her voice reaching the very heavens.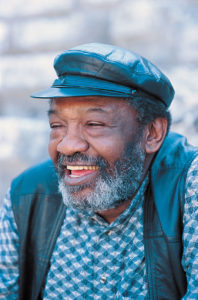 Producer Jon Lohman, who also plays harmonica, made the new album a Virginia-style family affair. Along with the Ingramettes, he brought in Rob Ickes (dobro), Sammy Shelor (banjo), Jared Pool (mandolin/guitar), Jacob Eller (upright bass), David Van Deventer (fiddle), Brandon Davis (guitar), Stuart Hamlin (piano), Calvin "Kool Aid" Curry (bass), and Devon "DJ Harrison" Harris (Hammond B-3). Drumming duties were shared by Harris, Randall Cort, and Clarence Walters, with Holmes providing vocals, bass and keyboards.
From the high-flying traditional gospel of "Rock of Ages," we're treated to a cover of the Vince Gill hit, "Liza Jane." Holmes and company slow this one down, but keep all the bluegrass feel of the original. Speaking of bluegrass, Holmes covers the Stanley Brothers paradigm, "White Dove," with all the heart a fellow Virginian can muster.
Things get a little more funky on Marvin Gaye's "Don't Do It" (nodding to The Band's famous cover). Harris' B-3 prowess, the Ingramettes choir-like backup vocals, and Lohman's harmonica all stand out, but it's Holmes' sexy-as-I-wanna-be voice that really makes the song. Along with the years in his voice, we can also hear the mileage, and experience.
Another first-rate cover that came as a surprise was "Green River." Penned by John Fogerty, and made a hit by Creedence Clearwater Revival, this was one of the last songs that the Holmes Brothers worked on as a group. This updated version features a fresh arrangement, with Ickes' dobro taking the famous guitar lick. It's still as swampy as it was meant to be, and in contention as one of our favorite tracks.
Notable guest Joan Osborne duets with Holmes on "Dark End of the Street." As Holmes explains, "I knew her before she even started singing. She came to New York to study film and one night she walks past Dan Lynch's, the club we always used to play. She heard our voices outside and walked in; she was almost afraid to say hello because you know, we were a little rough. But we've been friends ever since."
A little gospel, a little bluegrass, a little rock & roll, and whole lot of soul make The Richmond Sessions a delightful must-have.
Artist: The Sherman Holmes Project
Title: The Richmond Sessions
Label: M.C. Records
Release Date: July 21st, 2017
Tracks: 11
Running Time: 51:40