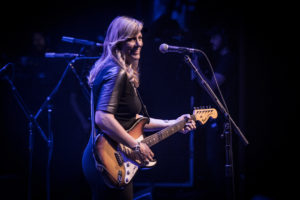 The Tedeschi Trucks Band ushered in the July 4th holiday a night early with a 12-member juggernaut of a band at Saratoga Performing Arts Center, the third night of a major summer tour that is pure fireworks.
Never mind that Derek Trucks' wife and co-band leader Susan Tedeschi has a voice like Bonnie Raitt plugged into six 12-volt batteries.
Never mind that he's backed by a three-piece horn section powered by veterans whose credits include Eric Clapton, The Dirty Dozen Brass Band, and John Legend.
Never mind that he took a page from his 17-year stint with the Allman Brothers in having two drummers whose credits include John Mayer and Truck's wife Susan Tedeschi's Band.
Never mind that he has three backup singers including midnight moaning Mike Mattison, founder and lead singer of the rockin' blues band Scrapomatic.
Put all that fire power behind him, and Derek Trucks still runs away with the show and makes you all but forget everyone else on the stage.
Growing up in the presence of his Uncle Butch Trucks, founding drummer of the Allman Brothers, Derek first sat in with that iconic band at age nine, and was morphing Duane Allman and Dickie Betts riffs into a more contemporary version of that band along with Warren Haynes as a permanent member at the age of 19. Derek is like Clapton in his versatility and like Warren Haynes in his aggressive assaults, but he bests both in his bending of notes and an unparalleled dexterity on a slide that he applies with the finesse of a pick player.
Not since the days of Johnny Otis in the early '50s has there been a rhythm 'n blues band this big or nimble. Eric Clapton, Joe Cocker, and Leon Russell fronted "super groups" in the early '70s that pumped up the sounds of the psychedelic era, but those groups were buried under their own weight unable to sustain themselves economically or creatively with too many cooks in the kitchen. Tedeschi Trucks have here mounted a 21-date summer tour with two other acts, Hot Tuna and The Wood Brothers, both legacy groups strong on evolving the great American songbook.
Listening to Tedeschi Trucks, I'm reminded of the car salesman's comment to me when I was trying to decide on a 4-cylinder or 6-cylinder Honda. "You don't need the extra cylinders, but they're there when you want them." Trucks uses the fire power of the band to accelerate on the straightaways but keeps their power in reserve on the dangerous curves where he simply overpowers them with his playing that calls upon an encyclopedic knowledge of American musical history.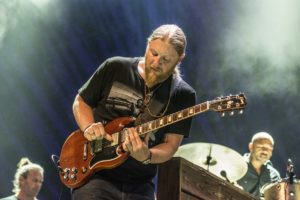 Like Jerry Garcia did, Derek is educating a younger generation of music fans about the legacy of American popular music with a repertoire that reaches across multiple genres of music spanning almost a century of legacy from Sleepy John Estes' "Leavin' Trunk" – he was born in 1899 – to "Will The Circle Be Unbroken" written in 1909 with the most popular version released by the Carter Family in 1935 to "Ain't Waistin' Time No More" from The Allman Brothers' 1972 LP Eat A Peach. All that is supplemented by originals from this band's own repertoire and Derek and Susan's individual bands before that including "Don't Know What It Means," "Laugh About It" and "It's So Heavy" and "Get What You Deserve." And as versatile as that set list is, more than 75% of the songs presented are different from the numbers performed on the first night of the tour in New Hampshire.
While blues and rock audiences love charismatic guitarists, they also idolize a band leader who commands center stage as a focal point singer. Guitarists who don't sing, regardless of how good they are, have a tough time with this issue. Ask Jeff Beck or J. Geils. Derek Trucks just may have overcome this problem. By marrying his singer, touring with a band in the same league as B. B. King's and still commanding the lion's share of the attention, he has drawn the spotlight on himself while advancing the heritage of American music like few others in the 21st century.