Here's a guest post from our friends over at ZingInstruments.com who are almost as obsessed about blues music as we are!
First released in 1961, the song Wang Dang Doodle is one of the quintessential blues songs of the 60s era in Chicago. The song, which spans a mere 2 minutes and 20 seconds in duration, was initially released as a 7-inch 45-RPM record by the Chess Studio and recording label. It was defined by one music critic, Mike Rowe, as "an urban party song in an urban style, with a massive, rolling and exciting beat,"—a song that went far in redefining America's love for the blues.
In the following article we will highlight the very significant history of Wang Dang Doodle, including the artists that wrote and recorded the song, some words regarding its origin and lyrics, and the many tributes to the song that have since followed.
History of Wang Dang Doodle
In the 1950's, towards the end of his songwriting career, Willie Dixon composed the lyrics and music to Wang Dang Doodle. The song was first recorded by the bluesman Howlin' Wolf in 1960, who was originally hesitant to record the song due to what he called its "old-timey sound—like some old levee camp number." Dixon remarked years later in his autobiography that he wrote the song especially for Howlin' Wolf, not long after he heard the singer perform in the early 1950s, but saved it until 1960 because he believed the song was far too advanced for the singer at that point of his career.
About the Name "Wang Dang Doodle" and Its Lyrics
Some music historians have suggested that Wang Dang Doodle was based on an "old lesbian song" known as the Bull Daggers Ball, a claim that Willie Dixon later denied.
According to Dixon, the name of his song, Wang Dang Doodle, translates to having a good time in the city (of Chicago, in this case), especially if the person "came in from the South."  A "Wang Dang," according to Dixon, meant a party or a night out on the town, with plenty of music, dancing and whooping it up; and a Wang Dang Doodle, then, was the process of having that party or good time, or a style of "rocking out." The lyrics of the song seem to reflect Dixon's definition, including these lyrics, which occur about midway through the track:
"Tell Kudu-Crawlin' Red, tell Abyssinian Ned

Tell ol' Pistol Pete, everybody gonna meet

Tonight we need no rest, we really gonna throw a mess

We gonna to break out all of the windows

We gonna kick down all the doors

We gonna pitch a wang dang doodle all night long"
The Two Main Versions of Wang Dang Doodle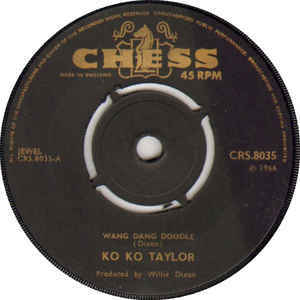 It was in June of 1960 that Howlin' Wolf first recorded the song Wang Dang Doodle, in the same recording session that was also responsible for his blues classics Back Door Man and Spoonful. When Chess Records released Wang Dang Doodle, as the B-side to Back Door Man, it achieved moderate popularity, although neither song (as recorded by Howlin' Wolf) would ever hit the charts. Wang Dang Doodle is also included on the album Howlin' Wolf, the singer's popular 1962 compilation.
The blues singer Koko Taylor joined Chess Records in the summer of 1964. Willie Dixon immediately loved her sound, and in December of 1965 he convinced her to perform Wang Dang Doodle for Checker Records, a subsidiary of Chess Records. Taylor's rendition was released in 1966 and quickly achieved critical and popular acclaim. This particular version would rise as high as #4 on Billboard magazine's Rhythm and Blues Charts, and #58 on the magazine's Hot 100 Pop Charts.
Koko Taylor breathed new life into Wang Dang Doodle, and because of that, her version of the song was inducted into the "Singles or Albums" category of the Blues Foundation Hall of Fame in 1995.
Other Versions and Tributes to Wang Dang Doodle
Many other artists have either recorded or performed the blues classic Wang Dang Doodle over the years. Some of these groups/singers include:
Love Sculpture—recorded in 1968

Savoy Brown

—recorded in 1971

Grateful Dead—began performing the song in 1983

ZZ Hill—recorded in 1982
The very popular Pointer Sisters brought Wang Dang Doodle back to life in 1973, very early on in their recording careers, reaching #24 and #61 on the R&B and Pop Charts, respectively. The song was also performed at the 2011 Grammy Awards by Cyndi Lauper, Maria Muldaur, Betty Wright and Mavis Staples.
Finally, the "Wang Dang Doodle Festival," held annually in the town of Forest, Mississippi, celebrates the very best of Blues-style music, great food and fun.