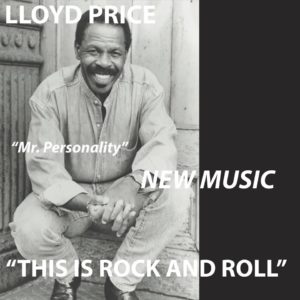 If anyone knows what rock 'n' roll is, it is Lloyd Price. Price was there at the beginning … well, before the beginning. His debut 1952 release, the game-changing single, "Lawdy Miss Clawdy," has been credited with helping to usher in rock 'n' roll music. The song topped the charts for seven weeks, and its historic success made Price the first American teenager to sell a million copies.
The Rock and Roll Hall of Famer, well-known for his other crossover smash hits, "Stagger Lee," and "Personality," returns with a vibrant new album, This Is Rock and Roll, that finds him looking to the past, present, and future. Due out on September 22nd via Double L Records, the New Orleans native travels back to his roots by covering a pair of Fats Domino numbers (Domino played piano on "Lawdy Miss Clawdy," by the way), as well as making stops at the Brill Building and Motown. However, the newer tunes, which lead off the album, demonstrate how vital a music-maker the 84 year old Price remains today.
With a roar of bluesy rock guitar, and a wail of saxophone, "I'm Getting Over You" gets This Is Rock and Roll off to an energizing start. Price says that this tale of heartbreak and survival, "tells the truth on how people really feel — everyone has something to get over."
This Is Rock and Roll is a wonderfully well-rounded combination of original tracks, and cover songs. From his silky smooth vocals on "The Smoke," to the funk-driven "Nobody Loves Anybody Anymore," Price delivers as vibrantly as ever. He's re-worked his 1969 hit, "Bad Conditions," into the modern day social commentary song, "Our World."
Price also puts his own stamp on a Carole King smash hit, and a joyous rendition of "I Can't Help Myself," that turns into a Motown medley. Anchoring the center of the CD is the title track, which is coupled with "Peepin' & Hidin'." The old Jimmy Reed gem receives a bluesy, Ray Charles-style rendition, punctuated by a Mick Gaffney guitar solo, before flowing into Price's celebratory call-and-response shout-out, "This Is Rock and Roll!" This track holds added significance because it was recorded live at the Cutting Room in New York, the 2014 performance that inspired Price to make a new record.
Born in Kenner, Louisiana on March 9th, 1933, Price showed an interest, and ability, in music from a young age, and was playing in a New Orleans jazz/R&B combo while in high school. He was working in his mother's restaurant, the Fish N Fry, when prominent New Orleans producer/talent scout Dave Bartholomew stopped in one day for food. Overhearing a teenage Price singing "Lawdy Miss Clawdy," the impressed Bartholomew signed him to Specialty Records. Price soon found himself recording that song in a New Orleans studio with a band that boasted Fats Domino on piano and Earl Palmer on drums.
It was not only one of the year's top songs, but it served as a foundation block for New Orleans' now well-known R&B sound. It also set the stage for the rock 'n' roll revolution. Specialty Records' president, Art Rupe, has stated that "Lawdy Miss Clawdy" was the first black record to cross over to white audiences, particularly Southern white teens. Elvis Presley was one such teen, and he recorded the song in 1956, continuing to play it throughout his career.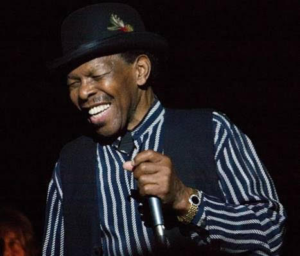 Army service during the Korean War, sidetracked Price's career in the 1950s. He tells the story of how Rupe phoned him while he was stationed in Japan, saying he needed a new act since Price was in the Army. Price recommended a then unfamiliar performer named Little Richard and the rest, as they say, is history. "I knocked my own self down," Price admits with a laugh and no regrets. After the war, Price climbed back into the charts with hits like "I'm Gonna Get Married," "Stagger Lee," and "Personality." All told, Price has seen 15 of his records become top ten R&B hits, and be covered more than 600 times.
Price has been a nightclub, and record label owner (His Double L label, helped launch the career of Wilson Pickett). He co-produced, with Don King, two of Muhammed Ali's most famous fights, manufactured sports equipment, built a housing community in the Bronx, founded a thriving food company, been an actor, and authored his autobiography. A man of many parts, Price never left the entertainment world behind, and This Is Rock and Roll, is proof.