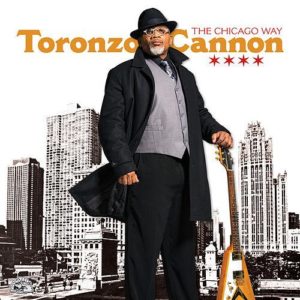 Toronzo Cannon does things the Chicago way. By day, he's a Chicago Transit Authority bus driver. By night, on weekends, and during vacation, Cannon is a celebrated, top-notch bluesman.
On Wednesday, September 13th, Cannon will don the red, white, and blue jersey of the Chicago Cubs, and take the mound at Wrigley Field. He'll be throwing out the ceremonial first pitch, prior to the game between the world champs and the New York Mets.
According to Cannon, "As a native Chicagoan, I'm excited and honored to be throwing out the first pitch and supporting the Cubs on their way to winning another World Series. That's the Chicago way."
Cannon has become one of Chicago's most recognized and most popular bluesmen through the sheer force of his music, his songs, and his live charisma. His Alligator Records debut, The Chicago Way, features all self-penned songs, inspired by Cannon's deep, homegrown Chicago roots and powered by his blistering guitar playing and soul-baring vocals.
CNN.com recently filmed Cannon leading a tour of Chicago blues clubs. Writer Ted Gioia says, "Toronzo Cannon is a bus driver for the Chicago Transit Authority by day. But by night, he is one of the hottest blues performers on the Chicago scene." And powerhouse local television station WGN won a local Emmy Award for their profile of the rising blues star.
Cannon has battled his way to the top of the ultra-competitive Windy City blues scene. He's played multiple tours of Europe, and continues to deliver roof-raising performances around the U.S.A. Cannon, along with Alligator president Bruce Iglauer, won the 2016 Living Blues Award for Producer Of The Year (New Recording) for The Chicago Way.
The album also won the 2017 Living Blues Critics' Award for New Recording, and Contemporary Blues Album of the Year. Their Reader's Award went to Cannon for Best Blues Album of 2016 (New Recording). Toronzo was also recently nominated for four Blues Music Awards, including Album Of The Year, Contemporary Blues Album Of The Year, Song Of The Year for "Walk It Off," and Contemporary Blues Male Artist Of The Year.