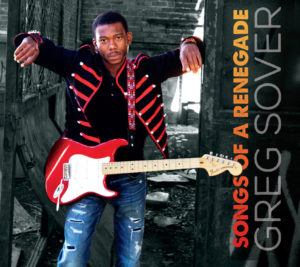 We're not sure how this album flew under our radar for over a year. From the Philadelphia area comes Greg Sover. A self-taught guitarist, singer, and songwriter, his debut release, Songs of a Renegade, is a blues-rock gem.
A slow burner is not how we expected it to begin, but it works. Not exactly a rock ballad, but not exactly blues either, "My Moment," makes his intentions clear. "Rules are made to be broken, and I'm gonna shine. This is my moment." Sover's lyrics leave no doubt that this is his time. His guitar playing, influenced by an array of artists including Jimi Hendrix, Gary Moore, and Stevie Ray Vaughan, really shines in the breaks.
Sover handles lead guitar, as well as acoustic and resonator guitars, and lead vocals. His compeers are Garry Lee (bass, percussion, background vox), Allen James (second guitar), Tom Walling (drums), and Wally Smith (keys). Together, they form a true Philly sound that is recognizable the world over.
"Heroes" is a solid rocker, and "Preacher" is amazingly unique. With a rock influence, it also has an upbeat, almost-gospel rhythm. Imagine attending a southern church with Ronnie James Dio giving the sermon. Brilliant.
Next comes "Quicksand," an edgy, soulful tune, comparing love to addiction. For anyone who has been in love, the analogy is spot on. Things slow back down with "(Make Me) Say Yeah." Although sometimes simplistic, Sover's lyrics are solid. We predict he'll only get better with time.
The blues makes a grand appearance on "After Me." The unadorned beginning on resonator guitar, is only enhanced when the rest of the band kicks in. "Deja Vu" offers a taste of the Islands, while "Superman" brings another rock ballad. Tucked between these two is, without doubt, our favorite track. Sover unapologetically electrifies the Bill Withers classic, "Ain't No Sunshine." The absolutely stunning guitar work makes it the most distinctive and singularly noteworthy covers we've heard.
In a superb act of tracking, Songs of a Renegade ends with the song, "Cherie." A heavy Caribbean beat carries the song, with Sover singing in French. It gives a nod to his Haitian background as well as to his very musical beginnings. Becoming fascinated with the guitar at age 13, the first song he learned was "La Maladie d'Amour," taught to him by his father.
Rumor has it that Sover and company are working on their next project. We can't wait to hear what he has in store for us next. Songs of a Renegade could be his breakout release. It's time the rest of the world got turned on to what Pennsylvania audiences have been relishing for some time.
Artist: Greg Sover
Title: Songs of a Renegade
Label: Grounded Soul
Release Date: June 24th, 2016
Running Time: 40:36