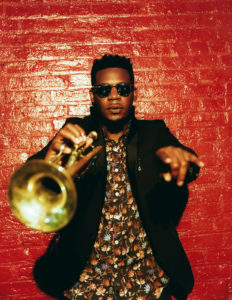 Keyon Harrold is one of the leading jazz trumpeters today. A Ferguson, Missouri native from a family of eleven, and graduate of the School of Jazz at The New School in New York, he's released one solo album to date. His sophomore release, The Mugician, hits the streets on September 29th, via Legacy Recordings.
Although this will only be his second solo release, Harrold has appeared on nearly 100 recordings from Beyonce', and 50 Cent to David Sanborn, and Nina Simone. His work has  been nominated for several GRAMMY® Awards, and he supplied all the trumpet playing on the Miles Davis biopic, Miles Ahead. With Don Cheadle portraying Davis, and Keith Stanfield as Junior, Harrold did all the actual playing. Miles Ahead won the GRAMMY® for Best Compilation Soundtrack for Visual Media this year.
Here's 20 Questions with the man Wynton Marsalis referred to as, "The future of the trumpet."
Who are your musical idols/influences?
Miles Davis, Aretha Franklin, The Beatles, Jimi Hendrix, Quincy Jones, Sarah Vaughn, Marvin Gaye, Jay-Z, Motown, John Coltrane, Chaka khan, Bob Dylan, The Clark Sisters, Clifford Brown, David Ruffin, Bill Evens…
What are your top 5 albums of all time?
Michael Jackson – 'Thriller', Marvin Gaye – 'Here, My Dear', 'The Miseducation of Lauryn Hill', Radio Head – 'In Rainbows', and John Coltrane – 'A Love Supreme.'
How would you describe your sound to someone who hasn't heard you yet?
My sound starts with the trumpet as the focal point. It is a collaborative mesh of genres melded together to make thoughtful, original, statements musically. The vibe is adventurous, melodic, mood driven, groove oriented, chanty, improvisational, rich and sophisticated. Compositionally each song is a journey; Jazz to hip hop, rock to classical orchestrations. It is socially aware music from love to politics.
How do you describe your style?
My style of trumpet playing is uniquely personal, raw yet poignant, emotionally expressive, gritty but sexy, and warm, and most importantly from the heart.
What significance does the title of your new album hold?
The title 'The Mugician' was derived from a conversation between Don Cheadle and I at SXSW last year. I was the trumpet voice of Don, in his portrayal of Miles Davis in the Biopic 'Miles Ahead'. Don expressed that from a difficulty standpoint, what I brought to the movie and sound track was magical, the work of a magician. Since I am a musician that exchange morphed into the word Mugician.
Did you have specific goals in mind while making this record? If so, what were they?
When I made this record, with the help of my friends, I wanted to convey truth, honesty, and the spirit of love through music. I wanted to use all of my musical attributes; as a trumpeter, singer, music producer, composer. My goal is for people to be moved, challenged, and changed from some of the captured moments on the album. I do believe that my job as an artist is to paint and reflect our times; forging soundscapes that resonate from the speakers into your soul.
What are your creative spaces — the places where you created the songs and recordings for this album? Where did you record it, and why there?
I create in a variety of spaces. I love working in the hotel room sometimes after a show, putting down ideas after the rush of a show. I am inspired by everyday life so I use my iPhone's voice notes almost daily. I take those little motifs to the studio and expand upon them. For this album I recorded in New York City and Los Angeles, where many of my collaborators are based.

I recorded the bulk of this project at Shelter Island Studio in NYC. I have been working out of there for most of the year on other projects because of a great sound, close to home, and I felt comfortable creating in the space. In LA I was able to cut a few tracks at Bronson Island studio. As a matter of fact, two songs on the album, 'Stay This Way' and 'Wayfaring Traveler.' where cut there and are the only songs that survived after my music was stolen from my car. I lost at least seven year's worth of musical content, humbling and heartbreaking. In fact, I lost an entire album that would have come out months ago probably. But I imagine the universe didn't intend for that album to see the light of day.
From the music you were hearing to personal issues, what was going on in your life that made its way onto the album, either intentionally or unintentionally?
During the process of this album, which has been a long process, I was influenced by everyday life. I am constantly reading the headlines which happen to be a real life 'Circus Show here in America' from the standpoint of politics and social life. I was influenced by heartbreak and love. I was influenced by my upbringing and the very real effects of the systemic challenges of Ferguson. People matter to me so the everyday happenings are my inspirations.
Do you have a favorite song(s) on this album and why?
I love every song on the album but I can't go through them all.

'Voicemail' is one of my favorite pieces on this project because it is simply an ode to my mother. She was the first voice I heard and on this song it is her unaltered message of love to me, that I had the opportunity to put music to. So every time I hear the song, I am reminded of her. She is my Hero.

'Stay this Way,' ft. Bilal and Big K.R.I.T, stemmed from a melody I wrote to sing to my son before he was born. So that melody is one that has been in my spirit for years before it came to fruition. When Bilal and K.R.I.T added their lyrical beauty, the song was elevated. A timeless love that is so perfect and pure that the moment should be preserved like a Polaroid, is that dream state that I wish I could be in constantly.
You want people in the right frame of mind to listen to 'The Mugician.' What would you tell them about it to get them ready to listen to it?
Be ready to listen to this album as a curated playlist. It is Jazz and improvisation, it is hip hop and lyrical excellence, it is R&B and soul, with rock and classical elements. This album is a journey through the blues. It is political, it is humor, it is empathic reflection, it is family, it is love all wrapped into one project. I feel like there is something for every type of music listener.
Did growing up in a large family have any influences on your music?
Growing up with such a big family absolutely affected my music. Since there was so many good musicians in our musical family (laughs). I learned the importance of teamwork which is important in collaboration which usually yields beauty. The element of healthy competition really taught me to be on par with my siblings and I had to dig even deeper to standout as an individual.
Can you name a few moments from your life that set you down the road to music?
I come from a family where music has always been paramount. From my grandfather's Drum and Bugle Corp to the church; I remember seeing my brothers, playing instruments, and me adorning the possibility of being able to play just like them. I remember my sisters bringing down the house at church functions, they both were inspiring to me. Music was always playing in the living room in our house. I recall the moment watching 'Motown Live' when Michael Jackson announced going solo. His performance of 'Billy Jean.' His artistry still resonates with me.
What are you listening to these days?
Avery Sunshine, Kendrick Lamar, Mumford & Sons, Terrace Martin, Robert Glasper, Sza, Anderson Pakk, Bruno Mars, Kenneth Whalum, Gregory Porter, Adrian Younge, Alabama Shakes.
Hobbies? Passions?
Photo: Deneka Peniston

I love watching and playing sports. Basketball, football, baseball, golf, boxing, pool, ping pong whatever, no matter how good or bad I am.

I really enjoy going to book stores and finding that new read. I love to continually grow knowledge and gain more perspectives.

I love to cook, I make a mean spaghetti and miso cod!

I love to learn about the world, so traveling is a prerequisite and is a perk of my profession.
What are you currently reading?
I am reading a few books; Bill Strickland's 'Make the Impossible Possible,' 'The Broken Ladder,' and Nelson Riddle 'The Man Behind the Music.'
Favorite places you've visited?
I have been fortunate to travel the world. Some of my favorite places to visit are London, Tokyo, Melbourne, Paris, Rome and Amsterdam. Of course there are more. I like to frequent these places because of the unique culture; the food, shopping, sites and architecture, and of course the people, who appreciate my art.
What is a typical weekend for you?
Typically, I perform on weekends but when I am not, I love to get outside in NYC, go people watch at parks. Go to a Broadway show or hear some music, find a new restaurant to try, and get a cocktail with friends. Basically I like to be with loved ones.
What is your most treasured possession?
My mind is my most treasured possession. Without it being exercised and healthy, I am nothing. What I put into my mind comes out in my music.
What instrumental gear can you not live without?
I do not leave home without my trumpet, my Mac laptop, my UA Apollo audio interface, and a microphone. I have to have the option and equipment to create at all times.
Describe The Mugician in five words.
'The Mugician' = A… Cinematically Adventurous, Artfully, Soulful Mash-up.