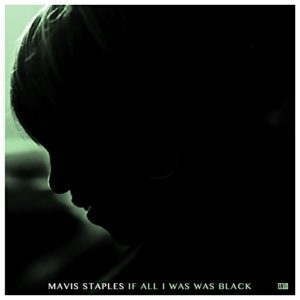 At the beginning of her eighth decade of singing truth, Mavis Staples is delivering If All I Was Was Black via ANTI- Records. Ten songs about America today, where the present is filled with ghosts of the past. "Nothing has changed," Mavis said in early August, just days before the world watched neo-Nazis march with swastika flags in Charlottesville, Virginia, as a young woman was murdered. "We are still in it." She does add however, "We didn't make the songs point to a specific person. If you follow the lyrics it's about yesterday and today."
If All I Was Was Black represents Staples' third collaboration with songwriter, producer, and Wilco frontman, Jeff Tweedy. Their first partnership in 2010, You Are Not Alone, won a GRAMMY® Award for Best Americana album. Their second effort together, One True Vine, was a GRAMMY® nominee. But, If All I Was Was Black marks the first time Tweedy has composed an entire album of original songs for Mavis' legendary voice and a nation she's uniquely poised to address.
Explaining why he decided to tackle the state of the union, Tweedy said, "I've always thought of art as a political statement in and of itself—that it was enough to be on the side of creation and not destruction. But there is something that feels complicit at this moment in time about not facing what is happening in this country head on."
"We're not loving one another the way we should," Staples added. "Some people are saying they want to make the world great again, but we never lost our greatness. We just strayed into division."
Emerging from this pairing is an interracial, multi-generational collaboration. If we've fallen short of our brightest promises, this record stands to remind us what we're still capable of. The partnership itself is part of the point.
After years of working with Mavis, Tweedy tried to imagine the words that she would want to sing, and also wrote music with the sound of her band in mind. The first track, "Little Bit," swells into a cautionary anthem of all the ways in which those regarded as suspicious have to weigh their actions just to survive day to day. The joyous groove of the title track then tackles the same issue by directly addressing those who respond to someone's race without seeing their shared humanity. "If all I was was black, don't you want to know me more than that?"
Talking about writing for Staples, Tweedy said, "The love I have for Mavis and the desire to be part of some kind of positive change are a big part of this album for me."
If All I Was Was Black contains elements of many styles that Mavis has performed in her lifetime, tying them together with the closing number declaring that she would "Do It All Over Again." Handclaps on "Peaceful Dream" recall the Staple Singers' legendary use of the same percussive technique. "Ain't No Doubt About It," a duet between Staples and Tweedy, underlines the fluidity between the gospel, soul, rock, and country genres of the Americana roots music in which both artists have innovated and built careers.
Arriving in handcuffs at the West Memphis police station on a fateful night in 1964, the Staples were recognized by the police chief and the custodian. Producing the receipt showing they had paid for gas, they instantly obliterated the station attendant's false accusation of robbery. The chief and his men released the Staples family, and even made a point of coming to one of their shows soon after.
Without their celebrity, however—and without that receipt—what would have happened? If All I Was Was Black doesn't turn away from that part of America, but it embraces the idea that the country can redeem itself, that we can, one by one, each rise above our worst selves.
"Bring us all together as a people—that's what I hope to do. You can't stop me. You can't break me. I'm too loving," Staples says. "These songs are going to change the world."
Mavis Staples is currently on a US tour, including 18 stops with Bob Dylan.
Artist: Mavis Staples
Title: If All I Was Was Black
Label: Anti/Epitaph Records
Release Date: November 17th, 2017