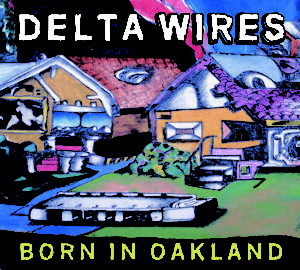 The genre known as West Coast Blues, historically began when Texas blues players moved to California in the 1940s. Delta Wires frontman, Ernie Pinata, however, traced the evolution from the Mississippi Delta to the West Coast via Chicago as a college project some 30 years ago. Either way, the sound is distinct. It's slick, polished, urbanized, and Delta Wires do it right.
Their latest release, Born in Oakland, hit the streets in late June via Mudslide Records. Their seventh album, it keeps the modern blues sound going, while paying homage to the Delta origins. It starts out with "Sunny Day," a funk-infused opener with shades of their Long Beach neighbors, War. It's crisp, and tight, with a slightly latin flavor that we found extremely palatable.
Delta Wires is an exciting seven-piece group of musicians. Pinata handles vocals and harmonica, while the rest of the group is made up of Tom Gerrits (bass, background vox), Richard Healy (guitar), Tony Huszar (drums, congas, tambourine), John Christensen (trumpet), David Bowman (trombone), and Gerry Jonutz (tenor, alto, and baritone sax). Combined, they are a non-typical blues group. The majority of their music is original, and the intricate horn arrangements mesh well with the jazzy guitar, and solid backline.
Pinata has a substantial voice, and, if his harmonica solos are any indication, the lungs of a deep-sea salvage diver. "Fine and Healthy Thing," is a more blues-based song, but still very upbeat with Pinata voice hitting a couple surprising notes. Oooh-WEE! "Vacation" quickly became our choice for favorite track. The sly, Batman theme-ish, horn intro leads into a song all about the ups and downs of urban life. Healy has some tremendous guitar riffs backing this one up, and the abrupt stops are reminiscent of early rock and roll. Again, Pinata shows his harp skills holding some seemingly impossible notes.
Things slow down a bit on "Your Eyes." Healy's guitar mixes with the horn section creating a satisfying summertime vibe. A dancing with your baby in the sand tune that also features a sweet trombone solo from Bowman. "Days of the Week," picks it back up at the records mid-point. There's nothing particularly flashy about the song, or the entire album for that matter, but the band is known for paying tribute to the Delta origins of the genre, keeping it simple, but solid.
Delightful, jazzy tunes include "Devils in My Headset," and "Fun Time." We were surprised more than once though by the genre-bending changes that happen during the course of the songs. "I Don't Care," could easily have been used in the soundtrack of Animal House. It has that party sound that was blasting from frat houses all through the mid-60s, and we love it.
Then comes "In the Middle," taking us ahead to the unadulterated funk of the pre-disco years. This instrumental allows the band to take turns showcasing their stunning talents. Not to be left out, Pinata provides a scorching harp solo midway through.
Born in Oakland closes with "All I Have to Give." The second-longest song on the album (after "In the Middle"), it again has some saucy lyrics, a little latin spice, and some great guitar/sax give and take.
This is one of those rare records that covers a wide range of genres, all having been birthed by the blues. Delta Wires is an extraordinarily talented show band that keeps us guessing, and then, like Mr. Chesterfield, satisfies. With holiday parties on the horizon, Born in Oakland is the perfect soundtrack. Whether your guests want to dance, or simply enjoy remarkable music that won't put them to sleep, Delta Wires are the ticket. Put it on repeat, they won't mind.
Artist: Delta Wires
Title: Born in Oakland
Label: Mudslide Records
Release Date: June 30th, 2017
Running Time: 41:37