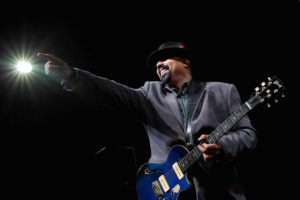 Wayne Baker Brooks has been blessed. He is the son of famed Chicago blues singer and guitarist Lonnie Brooks. He is also the younger brother of Chicago guitarist Ronnie Baker Brooks. Collectively, they have been referred to as "The First Family of Chicago blues."
Being a member of the Brooks family has implications and expectations in the tight-knit blues community. High standards are always the order of the day when it comes to conduct, making music, and taking care of people in the community. They don't know any other way.
Wayne is active in his community. Brooks has performed with everybody that is anybody in Chicago blues. He first played in his father's band in 1990 and formed his own band in 1997. In 1998 along with his father and Cub Koda he cowrote Blues for Dummies, for which he earned a Real Blues magazine award (Keeping the Blues Alive). He performed for then First Lady Hillary Clinton at Chess Records, as well as playing the Chicago Blues Festival. He appeared in the movie The Blues Brothers 2000. All in, he's earned six Real Blues Magazine Awards. His music is a blending of blues, rock, jazz, and even a bit of Hip-Hop.
Earlier this year, Brooks (and the blues community) lost his beloved father Lonnie, and in September, they lost his sister Jackie as well. Brooks was very generous with his time and spoke with me about his family, his music, helping others, and his upcoming album.
There is always so much to talk about and so little time! I started by expressing condolences for his sister Jackie, and noting that it's been a rough year with the family losing Lonnie as well. "That's a lot going on in our family right now and I'm sad, but I'm blessed too man because I had both my dad and my sister in my life for almost 50 years. That's a blessing. This year's the first year that anything in our family, such as losses like that in our immediate family. It's the first time going through it. So, we've been blessed all this time. It's part of life man. When you get old, or older, things like this happen. I'm blessed enough to have known that their time was coming. We knew that they were sick for a while, so it didn't abruptly happen or shockingly happen; we knew it was coming.
"You know, sometimes you gotta look at the bright side that maybe that's God keeping everything from going too bad, although it has to happen. Ain't no getting around death. You gotta live your life man, and be strong for others during times like this. That's what I try to do."
I mention that the Brooks family are often referred to as like the first family of blues in Chicago. So these loses have to be all the more devastating. "Yeah. Yeah. The beautiful thing about it is – I always look at the bright side of things, we lost the king of our castle, of our house. Another king is gonna present himself. Not only that, but that king's legacy will keep going through us. I figure I got another forty, fifty years on me to keep doing this. Same with Ronnie [Wayne's brother]. My point is is that it's gonna continue. He made sure of that, prepping us. At an early age, he just made it so fun. He did it the right way. He didn't do it like Joe Jackson. Joe Jackson you know, like, forced his kids into it."
As he continues, I can hear the love in his voice. "No, he made it fun for us. He did the total opposite to where we wanted to do it over and over and he would use it. Like, 'Go clean up your room before we do this.' We'd go hurry up and clean up the room. By him prepping us for these times I guess, he knew that someday he's not gonna be here, to do this.
"Now you have extensions, you have branches that could reach out further to this part of the world or this part of the world. That's the bright side; we lost someone but we're here —  not only to continue his legacy, but to create our legacy. He's still here with us. His music will always live on and we'll always be the Brooks family dynasty, no matter who's alive."
I tell him that folks talk about how his father taught the boys never to take players from each other or from other bands. Little things like that, that he had taught them. In the little things that he taught were what was important in life, to do the right thing, and represent him well out in the world. Brooks acknowledges this enthusiastically.
"Absolutely!," he says. "It directs us in the right route. We witnessed people telling him 'Get so and so. You should hire him.', because that guy was on the album. We're looking at this. He'd say smoothly and calmly, 'Man, I'm not taking my friend's bass player. I'll find my own bass player.' And that's what he did. He just thought that was the wrong thing to do. We saw him consistently make decisions like that. It shaped us; it shaped us into who we are. It's just about being a good human being."
Of course, as we all know, no matter how well we are taught, we are all still human, and we make mistakes and sometimes we disappoint each other. Brooks agrees, but he doesn't let the negative aspects of day-to-day get hime down. "I see it, I felt it, I been through it. I just keep moving man. I don' let anything negative put me down. If I had listened to all the negativity towards me, about me, for me, I would have been quit this music man. This music, and what I'm doing is bigger than me.
"I always took the right side of the road, the positive side. I know why I'm here on this earth. I think that's the reason why I take that path.
"I'm here to make other people feel good man. To make them forget their world for two hours. Whatever negative is going on in their world, for those two hours, I can make you forget those bad times or whatever you want to forget. That's what I'm here for. We need that! The whole purpose is to give you some relief and let you shake your ass for a few hours, let you forget what's going on in the world, and dance like you have no care.
"If I could do that, I've done my job!
"It took me a while to figure it out. I had to go though some hard shit, negative stuff, to finally realize, 'This isn't what I want. I don't want to be around negative people. I don't want to do negative things.' You know, when you experience things, I hope you learn from them. I've learned from every experience I've taken, whether good or bad.
Pausing for a moment, Brooks tells me "I try to transpose all that positive energy into my music. Every real life experience I go through, I'm gonna write about, no matter how bad or how good it is. If I don't let it out, I won't let it go."
Brooks participated in this year's PCa Blue Sons & Daughters events that raise money for and awareness of prostate cancer. He performed and acted as musical director. His grandfather lived with the disease. "Actually, he didn't die of prostate cancer. He lived with prostate cancer; he died of something else, but it wasn't prostate cancer.
"That's my experience with prostate cancer is knowing that my grandfather had it, but he lived with it for a while. I got involved with PCa Blue through Lynn Orman Weiss. She told me about the Sons & Daughters of the Blues and the other portion of the PCa bLue events, with Buddy Guy, Bobby Rush, and I was very interested. She wanted me to be the musical director and co-producer with some of these events. I'm like, 'Oh yeah.'
"I'm independent, so I put on shows myself, already, and she's witnessed a lot of shows I've produced and promoted and everything. So, she presented me with the ideas of what she wanted and I was like, 'Oh yeah.'  Especially, with something that's going to help save lives through awareness. I'm all with it.
"She introduced me to John Lupton, and he was the CEO. We met at the House of Blues here in Chicago, and we talked about his vision and how he would like me to be a part of it. Unbeknown to me, this man was sick."
He stops for a moment, and then continues. "I didn't know that he was literally in his last few months. It was great because I always wanted to be a part of something big and I never knew that it would be PCa Blue.
"It took off. We went down to Memphis and we did the Sons & Daughters at Buddy Guy's Legends earlier this year. We had Kenny Neal, Shirley King, Eddie Taylor Junior, Freddy Dixon, Mark Clay, Otis Clay's son, Jimmy Reed's daughter, Rose Reed. It was fantastic! It went well. So we were like, 'We've got to do this again.' So, we ended up doing it again. It was great. Buddy came to jam with us with his daughter Carlise, and Greg Guy was up there jamming. It was fantastic."
Brooks feels that besides helping raising awareness and money these shows have another benefit for the community. "I gotta book this. This is a huge statement on how blues keeps living on. This is a huge statement. This is a way on how to keep blues alive."
Brooks has his hands in so many pots, all the time. He never stops moving forward. I asked him if he plans to put out a new album soon. First he laughs and then he is animated as he begins to tell me about it. "Yeah! It's the most progressive music I've ever created." Naturally, I ask whether it is rock, blues, jazz; what? Without missing a beat Brooks replies, "Everything I do is always gonna be blues based. This one… Oh my God! You're gonna have to hear it man. I like to write my own material; it's all original. We did do three cover songs; I don't wanna say right now. I wouldn't really call them cover songs, just songs that people have already done.
"Whenever I do a 'cover song,' it's always gonna be something that everyone doesn't do. I can not wait till this album comes out. I'm doing it myself; I don't have a label. I'd like to have a label, but I like to own my own everything. I'm gonna act as a full-fledged record company with this next album."
Brooks proudly informs me, "I picked up manager Paul Nelson, who used to manage Johnny Winter up until his death, about a year ago. He's raving about it! He said it's major label stuff. I note that The Paul Nelson Band released Bad Ass Generation last year, which was well received. "Yeah, Paul is not only a fantastic producer / manager, but he's also a fantastic guitar player. He's on the new album as well."
There will be guest appearances and spots are open but the difficulty comes in trying to work around everyone's touring and recording schedules. Brooks confirms, "That's the holdup right now. We've got spots open for certain people and waiting to get them in the studio to nail it. It is what is. I'll tell you man, this album would stand by itself with no one else on it!"
I mention all the talent of the generation coming of age in Chicago, basically Brooks' general age group, players like Corey Dennison, Mike Wheeler, Toronzo Cannon. (Well, Toronzo is huge everywhere now, but still…) That age group that's just getting the recognition it has deserved for so long. So many talented players that folks outside Chicago aren't so familiar with (yet). Then too, there's Eddie Taylor Jr. Right away, Brooks offers up "Absolutely. I was listening to him while we were doing the Sons of Blues and I was like, 'Man, he got that classic sound, that is SO deep.'"
Naturally, when I bring up Corey Dennison and how ridiculously great his chording and lead runs are, Brooks is enthused and jumps right in. "Oh yeah. He learned from Carl Weathersby. He's definitely, I'd say, one of the best students of Carl Weathersby. And, he's created his own voice." I can't in good conscience forget to mention his brother, Ronnie, who is a force of nature. Again, Brooks chuckles and tells me, "My brother? Shit. He's on both sides of the fence. Both of us actually, because we got to tour with the real legends like Buddy, like BB, like Albert Collins, Albert King, Bobbie Bland, Koko Taylor, Luther Allison, Junior Wells. Not only play and learn from them, like be around them. When you learn from the best, what do you do? You do best."
"Here we are and those guys are gone now. What I'm saying learning from my dad, that goes without saying. All these legends, we knew personally. They knew us. They're gone now, so, somebody got to rise up." Then, I throw Lurrie Bell's name in the ring and all bets are off. Brooks doesn't miss a beat. "Lurrie is the first Chicago blues artist other than Buddy Guy out of Chicago to be nominated [Grammy Award for Best Traditional Blues Album for Can't Shake this Feeling.] by himself, without a compilation, without other artists. He got nominated and was close to winning. It's been a while for someone to come out of Chicago like that."
Before I let Brooks go, I ask if he will be writing a followup to his 1998 book, Blues For Dummies, or if he will write on something else entirely. "I do want to write a followup to Blues For Dummies. I'm just waiting for the sign of the times to settle in so I can get a feel of what this blues community gonna look like, with our forefathers gone. You know, the ones that held the torch for decades.
"I want to do both."