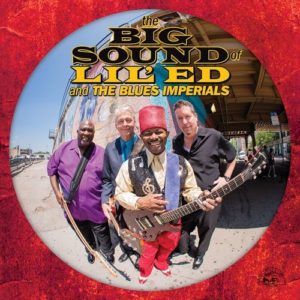 World-renowned bluesman Lil' Ed Williams and his band, The Blues Imperials, will celebrate 30 history-making years together with a live performance at B.L.U.E.S. in Chicago on Friday, November 17th, 2017. The Blues Imperials, made up of Williams, bassist James "Pookie" Young, guitarist Mike Garrett, and drummer Kelly Littleton, have been traveling the world, delivering their brand of rollicking, and deeply emotional blues for three decades.
A group of special guests will be on hand to help celebrate this milestone. Alligator Records founder, Bruce Iglauer, will be on hand, and well as Williams' label-mate, Toronzo Cannon. Hungry fans will be able to sample Williams' and Garrett's secret recipe barbeque ribs, which the musicians will be cooking prior to the show.
Lil' Ed & The Blues Imperials won the BMA in 2017 for "Band of the Year," making it the third time they've won the coveted award. They also received the Living Blues Award for "Best Live Performer" three times in five years. Their latest Alligator release, The Big Sound of Lil' Ed & The Blues Imperials was touted as one of the ten best blues albums of the year.
Williams, whose uncle and teacher was the legendary Chicago slide guitarist J.B. Hutto, plays smoking guitar boogies and raw-boned shuffles, along with the deepest slow-burners we've heard. The Chicago Tribune says, "Williams represents one of the few remaining authentic links to pure Chicago blues."
Over the course of nine Alligator Records albums and countless live performances, Williams has earned his place as one of the most honored bluesmen of his generation. A three decade anniversary is an achievement rarely matched in any genre, and almost unheard of in the blues.
Concert information:
Date: Friday, November 17th
Venue: B.L.U.E.S.
Address: 2519 N. Halsted St.
City: Chicago, IL
Phone: 773-528-1012
Showtime: 9:30pm
Ticket price: $10 door