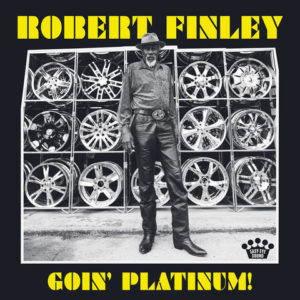 Robert Finley has lived, as he says, for three generations in the hamlet of Bernice, Louisiana. Now 63 years old, he's been making music since the age of 10. Losing his eyesight made him retire from his trade as a carpenter, but brought him back to the music. It also brought him to Dan Auerbach and his label, Easy Eye Sound.
Finley's debut album on Easy Eye Sound, Goin' Platinum, was released on December 8th. Recorded in Nashville with a band made up of drummer Gene Chrisman (Elvis, Aretha, Dusty Springfield), keyboardist Bobby Woods (JJ Cale, Bobby Womack), the Preservation Hall horns, and iconic guitarist, Duane Eddy, it is one of the first albums to be released on the new label.
Recently we had a chance to sit and chat with Finley for a bit. He spun yarns about his youth, his town, and his church. Mostly however, we talked about what he's doing now.
JD Nash for American Blues Scene:
First of all, congratulations on your album, Goin' Platinum. It's been out a few days now. Is it everything you expected it to be?
Robert Finley:
Man, I'm gonna tell you the truth. I was in the studio, working with those guys who have been recording for 50 or 60 years. Those guys recorded with Elvis, Aretha Franklin, Ray Charles. I knew I was in the studio with the best of the best musicians. Watching them create the music created an energy in me. I knew then I had to give it all I got.

When they said to me, 'you've got what it takes,' I started to believe. If someone tells you that and they aren't in the business, it doesn't have that same effect. But when these guys said it, I knew I couldn't let them down.
Did you do any live performances with that group?
Oh yeah. One day we was riding in the tour bus and I was telling Dan how much fun I had. I told him, 'man I'd like to go with you on another gig sometime.' He looked back at me and said, 'are you kidding? You can go with me anywhere I go.' So now we have the same booking agent, the same management team, and it looks like we'll be touring together.
How did you all come together in the first place?
It all started with the Music Maker Relief Foundation. Then I went to Fat Possum Records and did the first album. That opened to the door to Dan, and after our first meeting, our first conversation really, we knew. It's like electricity. Like a light bulb. It doesn't matter how many watts it is, if you don't put no electricity to it, it's not going to shine. When Dan started Easy Eye Sound, and chose me, it was my time to shine.
It's hard work recording an album.
Yeah, it was long hours, and some folks say it would be hard work. But we had a lot of fun too, and a lot of laughs. There was such a positive attitude in the studio, that nobody was complaining about anything. Dan would tell me to take a break, and he'd work with the band. He never did take break. I would go up to the top of the studio, look out over the city and just start praising God for the opportunity.
Can you pick one high point of the experience so far?
When Dan brought me up on stage with him in the middle of his show. A lot of guys might let you open up for them, but he brought me up right in the middle of his set. He put his judgement on the line doing that in front of all his fans. Now, all his fans know me too.
Where did the album title, Goin' Platinum come from?
Like I said, when Dan put that much faith in me, bringing me into his label, and his studio, I knew I couldn't let him down. We had to make this work. So we named the album Goin' Platinum because we actually believed it. And then we tried to speak it into existence. Sometimes you gotta just claim things. If it doesn't go platinum, it won't ever be said that it was because we weren't out there trying.
Music wasn't always your profession right?
I love what I do, or I wouldn't be doing it. I will tell you, had I not went blind, I wouldn't be doing this. Sometimes the Lord has to force you to be yourself. I was a carpenter, and I worked with my hands ya know. There ain't too many houses around town here that I ain't put a nail into. But I got where I couldn't see to read the tape measure, or make those exact cuts. So I got frustrated and I quit. I got the blues, and wound up playing the blues.
So it's been all about the music from then on?
The music was all that I had. I was forced into it. There was nothing else I could do. I can't drive. I can't take myself to the store. There's so many things that losing my sight took away from me. I used to throw myself a pity party and cry about it. But now, I've come to the awakening that there was nothing to cry about. I always liked being on stage better that being on top of a house with a hammer in my hand anyway. (laughs) God gave me another talent, and I'm living my childhood dream right now.
Do you have plans to move to the city? Closer to the action?
I probably could stay anywhere in the world I wanted to, but I'm settled where everybody knows everybody. I can fly to the city and do what I gotta do. But then I come back and hang out in the country. The country is the place to write a song, you know what I'm saying? You gotta go through it to do it. I mostly sing about life.
Is there anything special about Goin' Platinum?
These songs, on this record, are put together so it's like reading a book. Each one is like reading a little novel, and then they all fit together. There's more to this for me than having a good voice. The thing about this album is it's saying something positive. It's special when you're saying something positive, saying it through your music, and people are listening. And, of course these talented musicians. Just being in the presence of these people was special in itself.
How would describe your sound to someone who hasn't heard you yet?
I don't know. (laughs) I would say it's real. I would say different. I try to give out energy. I try to help people take their minds off their problems for a minute and enjoy themselves. I've found that music, and a smiling face, works in any country, anywhere. So many people walk around frowning all the time when laughter don't cost nothing. I try to keep a smile on my face at all times, and I think that comes across in my music.
What advice would you give another performer who's just coming up?
Courtesy of Easy Eye Sound

With me, working on this album was a dream come true. Working with Dan opened up lots of other opportunities. I was making music videos in Los Angeles. I never thought I'd be doing that. Dan's advice to me has always been 'be yourself.' I can be that better than anything else. I don't know any other way to be. Dreams do come true. Hold on to your dream and don't never give up. Everything happens within its time, not when we want it to happen. If you don't believe in something, then nothing's gonna happen.
Dan Auerbach & the Easy Eye Sound Revue featuring Robert Finley, Shannon Shaw with special guests Shannon & the Clams begins a North American tour on Saturday, February 10th, 2018 at the Vogue Theatre in Vancouver, British Columbia.