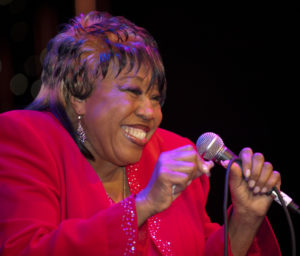 On January 8th, Denise LaSalle died, surrounded by family, at Vanderbilt Hospital in Nashville, Tennessee. She was 78. LaSalle had been suffering from heart problems for some time, and complications from a fall saw the amputation of her right leg in October. None of these things slowed her down a bit.
Denise LaSalle was born Ora Denise Allen on July 16th, 1939. The youngest of eight children, her sharecropper family worked the fields in and around Leflore county, Mississippi. Young Ora worked with the family and sang in local Gospel groups and church choirs until her early teens when she moved to Chicago.
Unapologetically strong. SO much so it was as if she sanctioned the women around her, inspiring us to stand in our own truths – without apologizing. Kinda brings a different meaning to the phrase she was so fond of.. 'You got to stand up in it!' – Janiva Magness
By the age of 15, Ora was selling stories to the magazine, Tan and True Confessions. She also began writing songs and changed her professional name to LaSalle, because, "it sounded French." She had a lifelong love of country music, and mixed it with the blues to pen dozens of hits.
LaSalle began recording for Billy "The Kid" Emerson's Tarpon label, on which she achieved a sizeable local hit, "A Love Reputation," in 1967. In 1969 LaSalle and her then-husband Bill Jones formed Crajon Enterprises. She both wrote and recorded for Crajon, Westbound, MCA, and ABC Records. The LaSalle-penned "Get Your Lie Straight" was a major hit for Bill Coday on the Crajon label. Her first #1 R&B hit was "Trapped By a Thing Called Love," in 1971.
As a singer, she was unique and different and she knew what she wanted in song, she knew how she was gonna say it, and whether you liked it or not, she said it. She was a good writer and a good human being. She was my dear friend. She is gone but she will not be forgotten. – Bobby Rush
In 1984, LaSalle signed with Malaco Records in Jackson, Mississippi. There, she recorded a long list of albums, and also contributed songs to artists such as ZZ Hill, Ann Peebles, and Little Milton.
Between 1967 and 2010, LaSalle recorded and/or penned no fewer than 35 albums, and over 50 hit singles. Beyond that, LaSalle founded the National Association for the Preservation of the Blues in 1986. She and husband James Wolfe also owned the Blues Legend Cafe in Jackson, Tennessee, as well as a local radio station.
Blues enthusiasts, mourning the death Koko Taylor, formally passed the honorary royal title of "Queen of the Blues" to LaSalle at the annual Jus' Blues Music Foundation conference in Belzoni, Mississippi, in July of 2009. In 2011, LaSalle was inducted into the Blues Hall of Fame. Inductions into the Rhythm and Blues Music Hall of Fame, and Mississippi Blues Hall of Fame followed in 2015. LaSalle was nominated for three Blues Music Awards in the category of Soul Blues Female Artist of the Year. Those nominations were in 2013, 2014, and the day after her death this week.
When I was twelve years old my mother took me to a concert where Denise was performing. I was awestruck by her beauty, and sound. I was so happy when I got the call to record guitar on her 'Right Place Right Time' and 'Rain and Fire' albums. I told her about my preteen crush, and we had a big laugh. Thank you Denise, for your kindness, encouragement, and beautiful down home spirit. – Vasti Jackson
A memorial service for LaSalle will take place on Thursday, January 11th from 4:00 to 7:00 PM at Christ Missionary Baptist Church 494 S Parkway E Memphis Tennessee. Funeral services will be held on Saturday, January 13th, 11:00 AM at Liberty Hill High School in Jackson Tennessee. Visitation will be held prior to the service, beginning at 9:00 AM.
Denise LaSalle was the undisputed "Blues Queen." A singer, song-writer, producer, label owner, mentor, and entrepreneur, her music and her legacy will live forever.
What are your memories of the late, great Denise LaSalle? Let us know in the comments below.
*Feature image ©2011 Marilyn Stringer