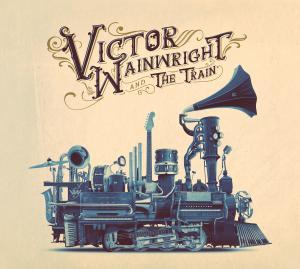 It had to be a train. The name of Victor Wainwright's new band – and the sleeve image of their debut album – is also the most fitting of metaphors. As Wainwright himself hollers in the ivory-pounding title track: "If you wanna boogie get aboard this train/Get yourself a ticket or get out of the way…"
The eponymous release Victor Wainwright and the Train hit the streets on March 9th, via Ruf Records.
When some multi-award winning artists would be slowing down a bit, this Georgia born piano man is stoking the furnace bringing us a dozen original tracks.
Starting things off is the barrelhouse blues of "Healing." We could hear the engine building speed to launch what could very well be the album of the year. This is how you kick off an album.
Wainwright handles the vocals, piano, B3, and more on this collection. Pat Harrington is the guitar man, Terrence Grayson lays down the bass, and Billy Dean keeps the clock on drums and percussion. All three band members add vocals on 3 of the 12 of the tracks as well.
A gathering of ace musicians guest on the album. The horn section is made up of Mark Earley and Doug Woolverton. Guest guitarists include Dave Gross, Greg Gumpel, Josh Roberts, Monster Mike Welch, and Jeff Jensen. Invited vocalists Reba Russell, Nick Black, and Patricia Ann Dees add a sweet ambiance.
Things get swamp funky on "Wiltshire Grave." The old saying goes, "the devil is in the details." The adage couldn't be more true than on this song. Woolverton's muted trumpet, Russell's sanctified shouts, and Dean's use of non-traditional percussion instruments including a knife, bicycle bell, and baseball bat just goes to show that a little creativity can produce wondrous results.
The title track is a crowd-riling, boogie-woogie masterpiece. If this one doesn't get you going, hit the button on your LifeAlert. Things slow back down on "Dull Your Shine," with Wainwright's vocals conjuring images of Dr. John meets Leon Redbone. Then it's all about the funk on "Money." Wainwright has always been on the soul side of the blues, and "Money" doesn't let us forget it. His talking parts throughout the song had us feeling we were right in the studio with him.
"Thank You Lucille," is a tribute to the late, great B.B. King's guitar, with Monster Mike providing the lead licks. Wainwright's homage to Lucille is thankful and heartfelt. We're sure the King is smiling down.
"Boogie Desperation" is another song that begins with an audible image of a train picking up speed. Wainwright is always on top of his game when he pounds the 88s in a boogie fashion, and this is no exception. The song is about "playing the piano to cure my depression," as the big man says. Hell it cured ours too! This one is going to get tons of spins and live plays.
Wainwright takes us to church on songs like "Everything I Need," and particularly on "Righteous." Find us the church where this is played and it will be our every Sunday morning stop.
From "Righteous," Wainwright starts preaching again on "I'll Start Tomorrow." It only takes a few seconds though to realize this tongue-in-cheek tune is all about procrastination. Its cleverly written lyrics are something to which we can all relate.
Things start real mellow and almost psychedelic on "Sunshine." At almost three minutes into the song Wainwright's vocals come in, combining with Earley's flute and some killer slide guitar, with some very minimalist lyrics about the sun shining. This could easily have been an instrumental, but Victor's 20 seconds of vocals during the 7-minute song only add to it.
Victor Wainwright and the Train ends with the slow-burning "That's Love to Me." Clocking in at 8:37, it's the longest track on the album, but unquestionably left us wanting more.
Did we say this could be in contention for album of the year? Victor Wainwright and the Train will undoubtedly be in the running. If you like a little soul in your blues, appreciate the barrelhouse boogie of a master piano player, or just need a new feel-good album on your turntable, this is it!
Artist: Victor Wainwright and the Train
Title: Victor Wainwright and the Train
Label: Ruf Records
Release Date: March 9th, 2018
Running Time: 1:01:41
*Featured image by Austin Britt, courtesy of Devious Planet Media