Clarksdale, Mississippi is a must stop city for anyone traveling the highways and back roads of the Delta blues. The Delta Blues Museum is located in Clarksdale. A fistful of Mississippi Blues Trail markers designate Muddy Waters' childhood home, The Riverside Hotel, and the Hopson Planting Company as well as commemorating famous Clarksdale residents such as Big Jack Johnson, Ike Turner, and Sam Cooke. Museums, gift shops, restaurants, juke joints, and more, all recognize Clarksdale's dominant stature in the history of the blues.
And in a recent development, now you can own a piece of Clarksdale's legendary Crossroads. Serious parties may contact Dean Chow at dublinflash27@gmail.com
Another landmark towers over the intersection of North State Street and Desoto Avenue. Called "The Devil's Crossroads," it marks the old intersection of US Highways 49 and 61. According to local legend, it's the spot where Robert Johnson made his deal with the devil to play the blues like none other.
On one corner of that famed intersection, is a plot of commercial land owned by the Chow family. The long-time location of a local gas station, and more recently a U-Haul dealership, the Chows purchased the property as an investment some years ago. Now, they're putting it up for sale, but much like Johnson's Faustian agreement, there's a catch. Though it won't cost buyers their immortal souls, the Chows do insist that the land be used to recognize and perpetuate the legacy of Robert Johnson, King of the Delta Blues.
Dean Chow, one of the four siblings who own the property, told us, "We've had an offer from Walgreen's in the past, but we just didn't feel like that was the proper way this piece of property should be recognized. We'd like to do something to help commemorate the importance of the site, from a blues standpoint."
The story of Robert Johnson's life, particularly separating fact from fiction, has filled volumes of books. David "Honeyboy" Edwards, Henry Townsend, and Johnny Shines have all told similar stories about Johnson, but then again, each had their own memories of his life, music, death, and famed deal with Ol' Scratch.
Some believe the crossroads where Johnson met the devil is a stone's throw south of Rosedale, Mississippi. Some believe it's the spot in Clarksdale. Others pay no mind to the legend, believing that Johnson traveled to Arkansas where he learned his guitar proficiency from Isaiah "Ike" Zimmerman. Coincidentally, Zimmerman is rumored to have learned supernaturally to play guitar by visiting graveyards at midnight.
Whatever the case, Johnson returned a changed man. The young boy who Son House considered to be an embarrassingly bad guitarist, came back with a style that no one else could touch. House himself said, "He sold his soul to the devil to play like that." That, of course, is where the legend may have started in the first place. Whichever story is true, the fact remains that three blue guitars decorate the crossroads in Clarksdale, where many folks believe Johnson's deal was struck.
The Chow family has deep roots in Clarksdale. Dean's grandfather came to Mississippi from China after working on the transcontinental railroads. His parents opened a neighborhood, Chinese grocery store in Clarksdale in the 1950s, and now the Chow family boasts four generations of family in and around the city. The family even served up their unique "Asian-Redneck" fusion cuisine, including their signature dish, "Crawfish Cantonese," to Andrew Zimmern on the second season of his Travel Channel program, Bizarre Foods America.
"I guarantee that my mother, when she bought this property, did not know the story of Robert Johnson," Chow said. "She never sang the blues when I was young. Her favorite song to sing was 'Rock of Ages,' so I doubt she'd have been real interested in the property just because Robert Johnson sold his soul there."
"But those four corners, those crossroads there, is supposedly the devil's crossroads," Chow continued. "I really like the idea of having a Mississippi Blues Trail marker there as a specific destination. It could be a place where somebody could stop by and really learn something about Clarksdale, the blues, and Robert Johnson. That's the reason we're trying to help develop this piece of property."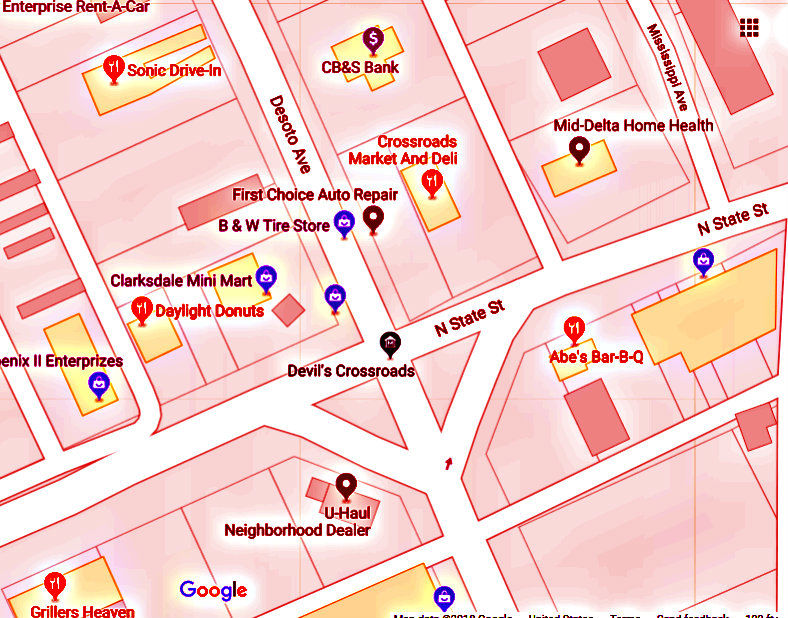 We asked what type of business Chow would like to see on the property. "I think that the Robert Johnson story is something that gets left out, and is unique to Clarksdale. People should know about it. That big sign that's there now, is right in the middle of the intersection. I think it might be better for folks to see the sign on this property. That way they wouldn't have to worry about getting into traffic and getting run over."
Chow went on to say, "The main thing is, we'd like the blues story to be told on this site. We'd like to see something that would help with tourism here. I mean, this is right under our nose. A place to stop, with maybe a small museum. Of course if somebody were to purchase the adjacent properties, the sky's the limit. With a blues marker, there could be a place to pull over, a small museum that plays blues music 24/7, a restaurant, a souvenir shop, the opportunities are endless."
Although the property is for sale, the Chows would consider leasing it out for development as long as their vision for the site is kept intact. "We want to keep the legacy of Robert Johnson and the legend of the crossroads alive," Chow stated.
The property is being offered for $840,000 and all reasonable offers will be considered.
Interested parties can email Dean Chow at dublinflash27@gmail.com