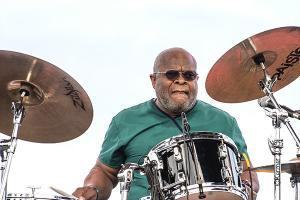 When Jai Johanny Johanson was a kid he secretly wished he had a name like Jor-El. "You know who that is," he asks. "That's Superman's daddy. In 7th or 8th grade in study hall I thought that was the coolest thing."
When Duane Allman formed the Allman Brothers, he asked Jai Johanny to join the band before he brought in his own brother, Gregg Allman. To millions of southern rock fans, Duane was Superman, and when the baritone sax player Rudolph "Juicy" Carter gave Jai Johanny the nickname Jaimoe after recording for the Brothers At Fillmore East  album in 1971, it sounded enough like Jor-El that Jaimoe in essence became Superman's daddy.
Duane died in a motorcycle accident in 1971. It was the first in a long series of tragedies and near tragedies that defined the Allman Brothers legacy almost as powerfully as their music. The group disbanded in 2014. Greg Allman died of natural causes in 2017. Butch Trucks killed himself the same year. Trucks was Jaimoe's twin drummer in the band and also an original member. His death was one more mind shattering blow to a group that had lived – and died – in the fast lane. Was Jaimoe surprised by Butch's suicide?
"Everybody was! That's like, Goddamn! That don't make no sense. Don't make no Goddamn sense, you know? It's like what is going on?  Because Butch loved living. He loved watching them Goddamn Gators, that football team, and he loved his wife. He loved his family, and his new grandson from his youngest daughter, you know, man. It's like something's fucked up here. I always say that's just another warning about things we take for granted, maybe not take for granted, but at least pay more attention to."
After the Allman Brothers' disbanded, Jaimoe played with Butch Trucks in a group called Les Breres. "That group was something else, man. I'm not talking about day one on and then five days off or some shit. I'm talking at least three days out of the week. This man was really something else, man. It sounded like the Allman Brothers." Then, he catches himself.
"No! It didn't sound like that. The Allman Brothers, no. It didn't sound like that. That base you're talking about is there, because these are the people that created that thing. To, me, Don, that shit ain't nothing but recycling. That music belongs to whoever can perform it."
It's as if Jaimoe has a reset button. Every time fate wipes an Allman band member out, he finds another vehicle that keeps him in the game. Jaimoe's Jasssz Band, his current gig, is more eclectic than the Allman Brothers. When they play Allman Brothers songs it's less about the jam than it is the compositions done straight, and I mean that in every nuance of the word.
"I tell these guys, you need to be up on your shit. We are the masters that we looked up to when we were coming along. Now that's us because just about all of 'em are dead, and we can't keep fucking around. When you go up on the stage to play, man, it's like it's the last time you ever gonna play, So, the music has to be that inspiring. If somebody is not putting in what needs to be put in, it falls short."
Jaimoe takes the best elements of the Allman Brothers and adds a strong element of discipline. "(In the Allman Brothers) we were fucked up on wine, pot, and what the fuck else. If we were that good and what we had been putting in our bodies, I say, what would it have sounded like if it hadn't have had been that situation?"
The Jasssz Band answers that question.
Junior Mack is the front man. He plays guitar and is lead singer. He's more Memphis than Alabama, and he gives Greg Allman's music a more buttoned-down approach. He has worked or shared the stage with The Allman Brothers Band, Derek Trucks, Robert Randolph, Dickey Betts and the late David Honeyboy Edwards.
Saxophonist, composer and arranger Kris Jensen has played with Maynard Ferguson, the Allman Brothers Band, Gregg Allman and Friends, Dickey Betts and Great Southern.
Trumpet player Reggie Pittman holds a bachelor's degree in music education and a masters on music technology. He has worked with Babyface, Lionel Hampton and his own bands for a total of more than 30 years.
Bass player Dave Stoltz met Jaimoe in 1990 which led to his joining Dickey Betts touring band and then to auditions for the Allman Brothers Band in 1997. He has also performed with Ellen McIlwaine, members of the Byrds, Eddie Henderson, Houston Person, and Grayson Hugh. Music informs Dave's soul and vice versa.
Brian Charette recently replaced veteran Jasssz Band keyboardist Bruce Katz. He has performed with Joni Mitchell, Chaka Khan, Paul Simon, and Cyndi Lauper.
Jaimoe, like B. B. King and Glenn Campbell, is going to go until he can't go any longer. He still rehearses like he did when he was playing for the Allman Brothers, listening to CDs on headphones. "I'll be banging away. I still do that. I do that right today. I play with anybody I want to. Get a CD, stick it on that thing, and fire it up. I love playing drums, man. Trying to play drums –  I'll put it like that. People say, 'I used to do that, but I can't keep it up.' I say, 'If you're serious about it, you'll keep it up.'"
*Featured Image by Barry Kerzner